Steve Sarkisian talks about Josh Shaw, Anthony Brown
USC coach Steve Sarkisian talked about the controversies surrounding Josh Shaw and Anthony Brown on the Doug Gottlieb Show.
USC coach Steve Sarkisian made an appearance on The Doug Gottlieb Show and talked about the two incidents that have dominated USC headlines in recent weeks: Josh Shaw's tall tale, and Anthony Brown calling Sarkisian a racist.
Sarkisian explained that he was skeptical about Josh Shaw's original story that he sprained his ankles trying to save his nephew, but said he never had a reason not to believe him.
"For me, it was, 'Okay, this sounds a little far-fetched. Let me keep digging, keep digging, keep dinging,'" said Sarkisian. "The thing about it, Josh had never given me – or anybody here – any reason not to believe him. I mean, this guy spoke at our commencement. This guy's already earned his degree. He's been working downtown. He's been elected captain by his teammates. It was hard not to believe him."

"And then when it finally came out that (he lied), it was disappointing. I felt for Josh – because I know that's not really him. He's a kid who panicked and did the wrong thing and didn't know what to do about it. I wish he had done it better from the very beginning because I know the type of person he is, and I really felt bad for him."
Sarkisian also went on to talk about Shaw's possible return to the team, saying "he's got to handle his own stuff legally" first, and once that's taken care of both he and the team will decide whether or not to allow him back.
"He put all of us in a tough situation," Sarkisian said. "None of us are pleased about it. We're all disappointed about it. But we also know Josh Shaw. We know who he is and (that) he stood for more than just this one instance. It's going to take some time. It's going to take some healing. It's going to take our leadership committee, myself (and) our coaching staff to figure that out. We don't have to rush to any decisions right now. It's not on the forefront of our minds, quite honestly. When the time comes to deal with it, we will."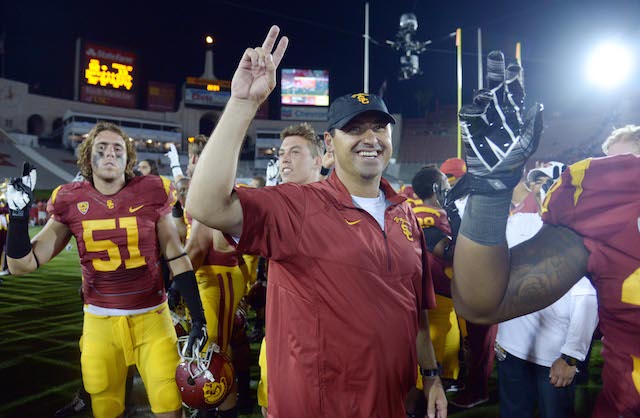 Sarkisian was also asked about Anthony Brown, who took to social media to call Sarkisian a racist after quitting the team.
"It was borderline laughable," Sarkisian said. "I think anybody who knows me and has been around me – whether it's family, friends, coaches, players – they know what I'm about, who I am as a person. Quite honestly, it was a ridiculous claim. I really didn't give it much credence."
You can also listen to entire interview here.
Permanent coach Matt Luke got big news late Thursday night

Freeman will not play in the New Mexico Bowl on Saturday

SportsLine simulated every bowl game 10,000 times for pick'em leagues and confidence pools
Grier will return to West Virginia for the 2018 season instead of entering the NFL Draft

The Chick-fil-A Peach Bowl just got spicy

Anderson had been under investigation for an incident at a bar in Cleveland County, Oklaho...