Steve Spurrier emerges from 'quiet' phase, has Gamecocks contending
Steve Spurrier has resurrected South Carolina and is eyeing a BCS bowl. But it wasn't always this smooth in Columbia.
• 3 min read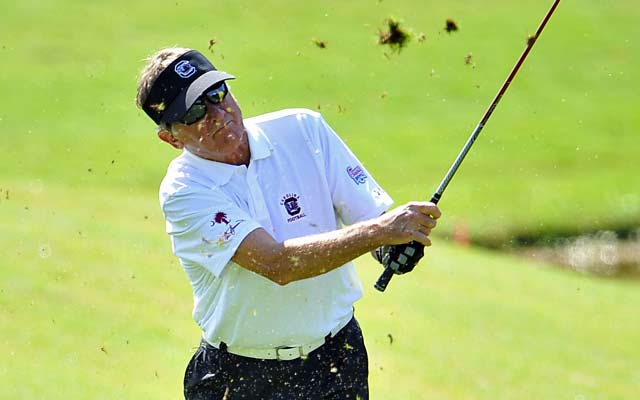 DESTIN, Fla. -- Jerri Spurrier waits in a nearby hallway while her husband talks, and talks, and talks.
Conference scheduling. Fan attendance. South Carolina football. Reporters cram in questions on several topics from the Spurrier scrum during the SEC spring meetings. After the last question, Spurrier bolts for daylight with his wife.
There was a time when Spurrier's voice wasn't so prominent. Try four years ago, when the Gamecocks were mired in mediocrity.
"Quiet," Jerri said about her husband's mood then compared to now. "A lot different."  
And around the house?
"Quiet."
The Spur dog -- who coined the phrases "Free Shoes University" and "You can't spell Citrus [Bowl] without U-T" -- in silence is like the SEC's great oxymoron.
Take South Carolina to its first BCS bowl, and Spurier might be popping off louder than Jadeveon Clowney's pads colliding with a Michigan running back.
Texas A&M beating Alabama last year was considered an upset, but right behind it should be Spurrier's rise in Columbia after averaging seven wins in his first five seasons. South Carolina had one double-digit-win season before Spurrier's back-to-back 11-win campaigns the last two years.
In 2009, Spurrier was in danger of failing for the first time as a college coach.
But as Jerri says, Marcus Lattimore happened. Clowney followed. Those stellar in-state recruiting classes took shape.
Spurrier, 67, can go out on his own terms now. Apparently, that's not for a while.
"Hopefully that would happen," Spurrier said when asked about the importance of leaving the game while still winning at a high level. "But I don't need to worry about that today. That's down the road."
He'll have to worry about old-fashioned preseason hype. Sporting News has South Carolina No. 3 in its preseason Top 25. SN columnist Matt Hayes writes, "This fall will be Steve Spurrier's ninth season in Columbia -- and he'll have his best team yet."
Consulting the coaches' handbook for quelling expectations, Spurrier said he's been telling everyone the Gamecocks should be No. 10. USC lost too many good defensive players (six of his top-eight tacklers) to be top three, he says.
But Spurrier has plenty to work with in what could be a wide-open SEC with up to six serious national title contenders. That's Alabama, LSU, Florida, Georgia, South Carolina and Texas A&M.
He's got the perfect concoction for his equal-opportunity substitution patterns at quarterback. Connor Shaw is the gritty vet, Dylan Thompson is trying to make him a benched vet. Both will get reps if Spurrier stays true to his roots.
That Clowney-led defensive line is still vicious, and there's still plenty of open-field speed on offense.
The BCS has eluded Spurrier, who pulled off the SEC bowl trifecta of Chick-fil-A, Capital One and Outback in back-to-back-to-back years.
Fans are fired up about the program, Spurrier said, but reaching a new level would be nice.
"We still have goals out there we have not achieved, like winning the SEC, like going to major bowl games," Spurrier said. "A lot of times you go 10-2 and you get to go to the Sugar Bowl. The last two years, there have been teams 11-1, 12-0. Those are two good bowl games, the Outback and Capital One."
Could Spurrier mess around and win his second career national title? With no Alabama, Texas A&M or LSU on the 2013 schedule, it's certainly possible.
Seems like Spurrier will have at least a few more cracks at it. Jerri said her husband, the third-oldest coach in the Football Bowl Subdivision, will probably coach "a long time."
"Until we run out of good players," Jerri said.
SportsLine's computer model simulated every college bowl game 10,000 times, with surprising...

Everything you need to know to watch and pick the Boca Raton Bowl on Tuesday

College football recruiting begins earlier than normal with a National Signing Day in Dece...
Getting Leavitt back was obviously high on Cristobal's list of priorities

Cristobal's first game at Oregon ended the same way Chip Kelly's did

Conner Manning and the Panthers dominated the Hilltoppers in the Cure Bowl