In a small, private, out-of-the-way room at the 2015 SEC Media Days last month, Steve Spurrier was asked to explain himself.
The South Carolina coach, who has chiseled out a hall of fame career, has never failed to entertain. But the Head Ball Coach recently stood out for a completely different reason, one of his long-standing policies.
Spurrier has no tolerance for violence against women, a standard he holds his players to and one that has made him somewhat of an outlier among coaches.
One incident -- Spurrier has long told his players -- and you're done. Kicked off the team.
These words appear annually in a practice manual given to players:
"Never, ever, hit a girl. If you do this, you're finished as a Gamecock football player."
"It's a wonderful rule and when you enforce it, you get results," Spurrier said amid the media day swirl.
While other coaches may believe in such a stance and even verbalize it, Spurrier has a written rule that could put his ability to win in peril.
It may seem like a simple mandate. It isn't. Why Spurrier's no-tolerance rule isn't boilerplate with every coach in the country is as troubling as him having to put it into words. But we know such policy isn't the norm in every program.
Certainly such a rule wasn't in place at Florida State when De'Andre Johnson was not kicked off the team until after the release of a damning video showing him striking a woman. It wasn't in place when budding star Dalvin Cook was suspended July 9 for allegedly striking a woman outside a bar.
It wasn't in place at Oklahoma when tailback Joe Mixon was allowed to return to the team after a year suspension following allegations that he punched a woman.
Those are only some of the more high-profile cases. Meanwhile, for those who argue players deserve due process and/or another chance, there's at least one coach in America who believes one despicable act outweighs all that.
Spurrier said he has dismissed two players for violence against women while at South Carolina. He did not name the players.
"You'll have to ask the coaches why they don't have that rule," Spurrier said. "Everybody knows I have one."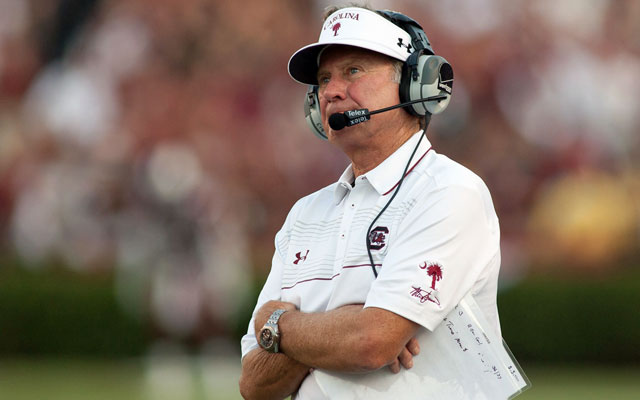 Men using their physical dominance over weaker women has been a sad issue since the beginning of time. Any expert in the field can tell you one in four women will experience domestic violence in her lifetime. One study shows that 90 percent of sexual assaults go unreported, sometimes out of fear or shame. President Barack Obama has made college sexual assault a priority.
Football's culture -- not exactly a snug fit with the law, at times -- has had to adjust.
The NFL strengthened its personal conduct policy, though it had to travel an embarrassing and unfortunate path (see: Ray Rice) to get there. Missouri Sen. Claire McCaskill delivered an emotional address to a national athletics conference in June. During her speech, she asked athletic directors to write campus police, municipal police and local prosecutors, "asking them to hold your athletes accountable like any other citizen or student."
"No special treatment," she continued, "no quiet 'heads up' to the coach or athletic director so the athlete has an opportunity to -- quote -- 'get his story straight.'"
McCaskill, a former sex crimes prosecutor, has become a dogged advocate for a change of that football culture. She has reintroduced the Campus Safety and Accountability Act. It would ensure schools have a uniform disciplinary process for all students. In other words, no double standard for athletes. The bill would also eliminate athletic departments -- or other university departments -- from handling complaints by women.
A prior landmark survey by McCaskill's office found that 22 percent of athletic departments (Division I through III) had a role in investigating sexual assaults.
Georgia coach Mark Richt is a noted disciplinarian. In two high-profile cases, he booted players accused of sexual misconduct (Jonathan Taylor, Zach Mettenberger). Taylor eventually ended up at Alabama for a brief time before being dismissed by the Tide for a similar allegation. Mettenberger transferred and became the starting quarterback at LSU.
"People say, if you get a guy in trouble, 'Don't you tell them [to straighten out]?' Richt said. "You're like, 'Of course we do,' but we're a bunch of human beings who are fallible and make mistakes. Obviously certain mistakes are more egregious than others."
McCaskill's bill would essentially remove the coach from the decision-making process. As a trustee for the American Football Coaches Association, Richt said he would support his organization at least releasing some sort of best practice statement regarding violence against women.
"Maybe now is the time," Richt said. "I might even get up and talk about that. I doubt anybody doesn't think it's not a best practice ... It doesn't have to be said for people to know."
Except that increasingly something does have to be mentioned or written down.
"There is never, ever, ever a reason to put your hands on a woman," Arizona coach Rich Rodriguez said.
Rodriguez, another AFCA trustee, would not favor the association making a blanket statement.
"I think you mow your own grass," he said. "The media attention is going to make more [coaches] stronger on that stance. That's not a bad thing. Every circumstance is unique."
Florida State has been shamed in the offseason due to the Johnson and Cook. Coach Jimbo Fisher and FSU president John Thrasher have pledged to change the perception of the football program.
Alabama's Nick Saban was ripped nationally when he took in Taylor from Georgia after the player was indicted for allegedly hitting and choking his girlfriend. Saban did boot Taylor after a second domestic charge in Tuscaloosa that was eventually dropped. Taylor later pleaded guilty to misdemeanor criminal mischief.
"I do not regret giving players opportunities," Saban said. "This is an opportunity that we gave a player that didn't work. But in fairness to the player, he didn't really get the kind of due process before he was judged."
In the next sentence, Saban added: "We do not condone that kind of behavior in our program."
LSU coach Les Miles told CBS Sports last month that he passed on Taylor because of his conduct at Georgia. But Miles also took Mettenberger as a junior college transfer after the quarterback had pleaded guilty to two counts of misdemeanor sexual battery while at UGA.
That doesn't necessarily make Miles a hypocrite. There are shades of gray, degrees of guilt in all of these cases. It does makes him part of the culture because he was allowed a say in the decision.
For those who argue Spurrier's stance would be hard to adopt nationwide, think again. These same coaches have the power to quietly run off players who don't deliver athletically. How easy would it be for coaches to adopt a similar no-tolerance stance regarding violence against women?
McCaskill's involvement has paralleled that of overall NCAA reform. With abuse comes scrutiny. When the bloated pot of unregulated money got so big, of course lawyers were going to get involved. Of course, players' rights and medical treatment were going to become an issue.
With no central authority in college football, we're theoretically talking about 128 different sexual violence policies in the Football Bowl Subdivision alone.
The SEC has made progress. The league announced in May it would ban transfers that were dismissed at their previous school for "serious misconduct," which was defined as sexual assault, domestic violence and other forms of sexual violence.
But that's one area (transfers) amid a vast culture. Over the years, Spurrier's football formations and philosophies have been copied, why not his stance on violence against women?
"Good question," SEC commissioner Greg Sankey concurred.