Stingley's already impressing Aranda, Burrow
LSU five-star signee Derek Stingley Jr. is already turning heads in Baton Rouge, and that includes defensive coordinator Dave Aranda and starting quarterback Joe Burrow.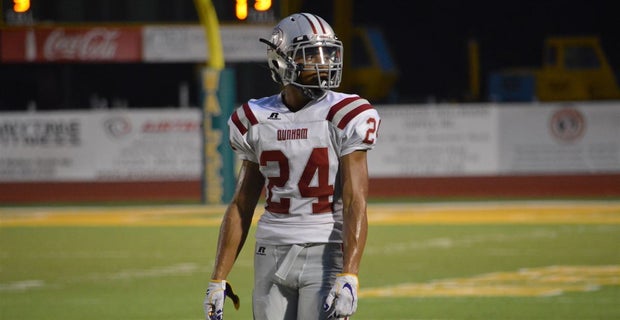 Five-star cornerback Derek Stingley Jr.. moved into his new home this week, enrolling at LSU and beginning classes as he gears up to be a full participant in the spring with the football team.
It's the head start that gives freshmen across the country the chance to make up some ground ahead of their first season on the field, adding a full semester of school to get adjusted to college life and participating in double-digit spring practices with the team.
By the time the rest of the 2019 signees arrive in June, Stingley will be well-adjusted to life as an LSU football player. If there's a way to get ahead of the curve, this was it.
But when he straps on the helmet for spring practices in March, he won't be doing so for the first time. Thanks to a last-second decision last month, he's already gotten a taste.
Stingley began practicing with the LSU football team during bowl preparations for UCF, which brought with it the chance at some first-team reps with the defense.
Despite being 17 years old and just a few weeks removed from a high school classroom, Stingley shined. And he shined bright.
Ed Orgeron called him one of the best football players he had ever recruited. After getting an eye on him in bowl practice, defensive coordinator Dave Aranda came with his own praise.
"He looks like the best guy we've got," Aranda said after the Tigers practiced without their starting cornerbacks, Kristian Fulton and Greedy Williams, during bowl practice. "In the practices we had, I think he had three picks."
For LSU starting quarterback Joe Burrow, the idea that he's returning for his senior year and will be surrounded by some talented new faces is promising. But it also comes with reservations.
"I always tell people that you can never really count on freshmen," Burrow said. "You can't bank on them being really good players in year one. If they are really good players in year one, then that is kind of icing on the cake. A lot of guys aren't ready to come in and play right away.
"I don't know if the guys are going to come in and be ready. You never know until you get into camp. But as much help as we can get, if we can get some really good players on this team, we will take it."
That's his general take on newcomers.
After facing off against Stingley, and being on the other end of the interceptions the true freshman grabbed, Burrow doesn't see a college player who went to high school across town just a month ago.
"No, he does not look like a 17-year old, I will tell you that," Burrow said with a grin.
"He's a pretty good player. I was trying him. He was only at practice for three days I think, but you know, I was impressed with him. I was trying him all three days. He stepped up to the challenge. So I was actually impressed, surprisingly."
If it takes a lot to impress Burrow, the same can be said for Aranda.
LSU's defensive coordinator is one of the most highly-regarded minds in college football, and his track record of success has kept the Tigers as one of the best defensive units in the country.
And while defensive backs coach Corey Raymond was the point-man in Stingley's recruitment, Aranda also played a key role - and had a front seat view for the action. His kids are enrolled at school in Dunham, where Stingley just graduated. He also has been on staff for nearly as long as Stingley was in high school, giving him a chance to see his development up close.
And while Stingley has already been tabbed by the 247Sports Composite as a five-star and the No. 1 cornerback in America, what does Aranda see that makes him a "can't miss" prospect at 17 years old?
"He has a real quiet, strong confidence about him," Aranda said. "So, he owns the field when he walks on it. He has great athleticism, great strength. There is a complete package there.
"You talk about how he approaches the game, there is a humbleness to him. So he's willing to learn and willing to adjust, but when it's competition, he owns it. That's the combination you are looking for."
What LSU's looking for now is a replacement for Williams at cornerback. If Kristian Fulton returns for his senior season, Stingley could line up opposite Fulton in what would arguably be one of the nation's top cornerback tandems. Orgeron has also tabbed Stingley as an early option on special teams as a punt returner.
The next question is one that likely won't bring an answer until September, but it's worth pondering in an offseason where no football is played.
Is Stingley ready to handle the pressure to perform that will come with being the program's highest-ranked signee since Leonard Fournette?
When asked that question, Aranda paused, then passed along his take.
"That's a good question," he said. "I am familiar with the Dunham program and the community there. I mean, he is a legend there. The way he handles my kids, who are big fans of his, or the way he handles the dads of random Dunham students, he's been in the spotlight before, a little bit. Obviously the light is going to get pretty bright coming up.
"But I think you look at him and his nature and that calm, quite confidence he has, I would bet on that."
CBS Sports HQ Daily Newsletter
Get the best highlights and stories - yeah, just the good stuff handpicked by our team to start your day.
Please check the opt-in box to acknowledge that you would like to subscribe.
Thanks for signing up!
Keep an eye on your inbox for the latest sports news.
Sorry!
There was an error processing your subscription.
First-year coaches Mack Brown, Manny Diaz and Geoff Collins met with the media on Thursday

Former Florida State quarterback Danny Kanell proposes a fix to the college football syste...

The rivalry seems to continue, even with Meyer no longer on the sidelines in Columbus
The final day in Hoover provided some juicy SEC nuggets

The Tigers need a jolt offensively after a sub-par 2018 and Malzahn thinks he can provide...

From Ryan Day's debut to Jim Harbaugh's pressure ... there's plenty to talk about in Chicago...