Stoops jabs at Saban's 'consolation game' Sugar Bowl comments
As he did in the 2013 offseason, Bob Stoops is once again taking square verbal aim at the SEC -- and specifically, Nick Saban's comment that the Sugar Bowl was a 'consolation game.'
More college football: Jon Solomon | Dennis Dodd | Jeremy Fowler | Latest news
In May of last year, Bob Stoops called the SEC's 500-pound gorilla reputation "propaganda." In October, he had a pointed jab for the league's supposedly impregnable defenses. And though his comments predictably didn't go over well in SEC circles, it was Stoops that had the last laugh, his Oklahoma offense shredding the alleged best SEC defense of them all to the tune of a 45-31 Sugar Bowl victory vs. Alabama .
So in retrospect, it's not surprising at all that after Nick Saban said this week that his players had struggled to motivate themselves for their "consolation game" vs. the Sooners, Stoops had a little something to say about that, too:
Stoops on Saban's consolation game quote: "So if I'm not in a national championship game, that means I've got a built in excuse"

— Brett McMurphy (@McMurphyESPN) July 23, 2014
You might think that just-this-side-directly accusing Nick Saban of making excuses would be enough verbal jabbing for one day with the media, but Stoops wasn't even close to done: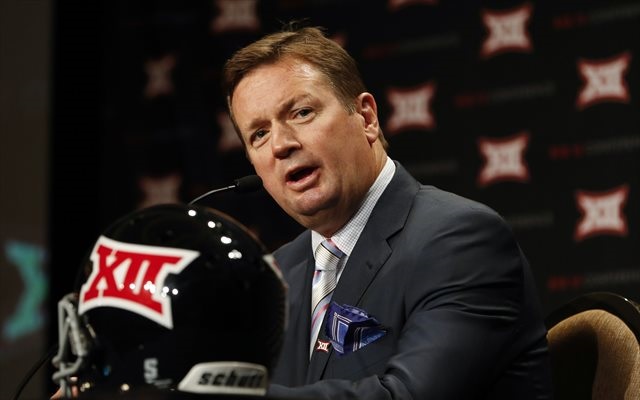 1. Expanding on his skepticism for the "consolation game" comment, Stoops said it "didn't look like [Alabama wasn't motivated] first series. They looked ready to play. Everyone thought they would rout us."
2. In response to coaches -- like, say, Saban again -- complaining that up-tempo, no-huddle offenses restrict the impact of defensive coaches, Stoops said "All those geniuses can adapt to faster pace."
3. Stoops rattled off Texas A&M's 2014 nonconference schedule -- Lamar, Rice, SMU and ULM -- from (surprisingly accurate) memory and said "Those are all of bunch of toughies."
Ouch, ouch, and: ouch. Clearly, after his headline-grabbing talk last summer, Stoops feels that Sugar Bowl win has given him the right to chirp a little more.
And you know what? Given that his Sooners beat the Tide in a manner no SEC team has in years -- in Saban's seven seasons at Alabama, he's lost a conference game by two full touchdowns only once, 35-21 at South Carolina in 2010 -- he sort of has.
Nick Saban reportedly wants to hire Freeze, but there may be things keeping that from happ...

Florida State-Miami will be on Oct. 6, and the Seminoles will play Clemson on Oct. 27

Weis Jr. was an offensive assistant for the Atlanta Falcons in 2017
Lott is joined by three current athletic directors and will serve a three-year term

These are the top guys every school is still chasing

College football lost a ton of star power, but these players are studs going into next fal...