Strong says both Wickline, Watson will call Texas' plays
A confusing situation at Texas gained a little bit of clarity with Charlie Strong's comments on the offensive play-calling duties.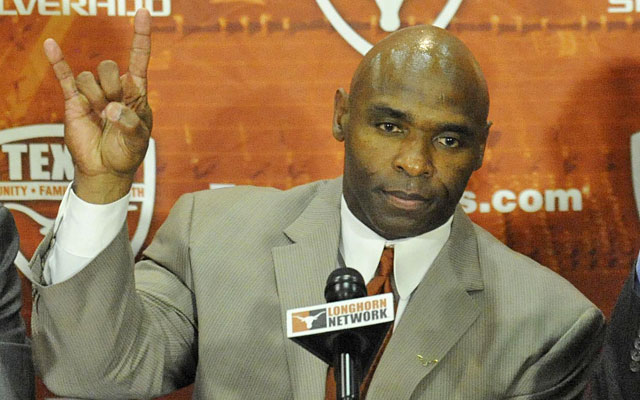 In mid-January, Charlie Strong said that new offensive coordinator Joe Wickline would call plays at Texas . Earlier this month, Strong told CBSSports.com that assistant head coach-slash-quarterbacks coach Shawn Watson would be "in charge" of play-calling. Which left the actual play-calling duties to ... who, exactly?
Strong clarified things Tuesday, telling ESPN that both Wickline and Watson will call plays at various (unscripted) times during a game -- and that he's not bothered by the unconventional set-up.
"When you talk about play-calling duties, they're mature enough. They've been around it enough. Neither one has an ego," Strong said. "Wickline ... is going to make some calls. Shawn is going to make some calls. When we go down the stretch and we have to have a call made, I think Shawn, because he's been doing it for a long time and I'm comfortable with him."
Strong said the "one final voice" in the offense would belong to Watson, the "assistant head coach in charge of offense," while emphasizing that the title of "offensive coordinator" belonged to Wickline.
Got that? It doesn't sound like the neatest, simplest plan in the world, but Strong is correct when he says that both Wickline and Watson are shrewd veteran coaches who in theory should be able to work together to make their two coordinating, play-calling heads better than one.
But that's in theory. In practice -- particularly in the white-hot heat of a tied fourth quarter of a game played by college-age athletes -- simplicity can be the greater virtue. Strong did mention that under Urban Meyer at Florida, he and Greg Mattison forged a successful coordinating partnership overseeing the Gator defense. But if the tandem of Wickline and Watson isn't up to that standard, Strong's debut season in Austin may encounter a few more hiccups than planned.
Josh Adams and Derrius Guice helped their teams to big wins in Week 8

The Eagles have started winless in Summers' second season and were 5-13 overall under him

The Fighting Irish are up to No. 9 in the latest edition of these college football ranking...
The Fighting Irish are getting more attention after throttling USC 49-14 Saturday night

Jerry Palm is back to look at where the bowl games stand after the midway point of 2017

The sophomore leads the SEC in total offense and passing