Study: 20 percent of athletic departments probe sexual violence
US senators call on NCAA president Mark Emmert and university presidents to act immediately on results from Sen. Claire McCaskill's study on sexual assault investigations.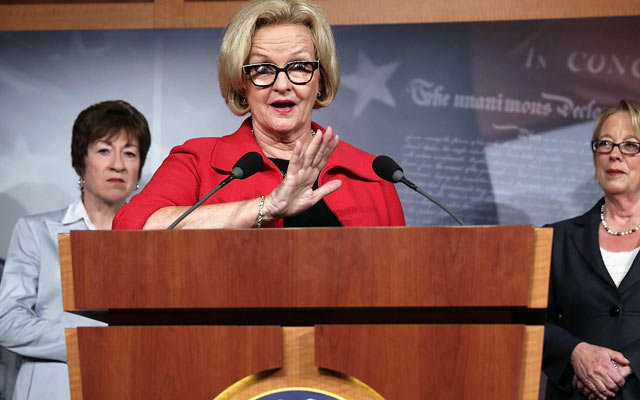 More than 20 percent of universities give their athletic departments oversight of sexual violence cases involving college athletes, according to a report released Wednesday by U.S. Senator Claire McCaskill (D-Mo.).
The report was part of a broader examination about sexual violence on campus. It was released on the day NCAA president Mark Emmert testified before a United States Senate committee, resulting in McCaskill and other senators admonishing the NCAA and its universities for allowing athletic departments to oversee sexual assault investigations.
During the hearing, McCaskill cited the number of athletics departments that investigate at 30 percent. Her report, based on a survey, was slightly lower. It said approximately 20 percent of the largest public institutions and 15 percent of the largest private schools "allow their athletic departments to oversee cases involving student athletes."
McCaskill said she was "shocked" by the survey and referenced Florida State's investigation into the allegations that star quarterback Jameis Winston raped a student. No charges were filed against Winston. In April, the US Department of Education opened an investigation of Florida State into whether its handling of the Winston rape allegations violated Title IX law.
Emmert said he only read McCaskill's sexual assault data on Wednesday and wants to better understand the results. He agreed the survey results contain an "enormous" amount of conflicts of interest that don't help sexual assault victims.
Emmert said most NCAA members "are going to be very surprised" by the sexual assault data. Several senators called on Emmert and university presidents to change their procedures immediately. 
McCaskill and other lawmakers are trying to create legislation to improve how universities handle sexual assault cases. A bi-partisan bill is expected to be introduced this summer.
The survey examined more than 300 schools and found that more than 40 percent of universities have conducted no investigations of alleged sexual assaults over the last five years.
McCaskill offered some of the sharpest criticism of Emmert, questioning why his role exists if he can't shape reform or prevent athletic departments from investigating sexual assaults.
"I can't tell if you're in charge or a minion" to the schools, McCaskill said. "If you're merely a monetary pass-through, why should you exist?"
For the second time in three weeks, Emmert faced tough questions in a public forum. He testified last month at the Ed O'Bannon trial. The issues before the Senate Commerce Committee included concussions, health care, academics, scholarships and lack of transparency. Some of the highlights:
• Sen. Jay Rockefeller (D-W. Va.), the committee chair, opened the questioning at the hearing by asking how the NCAA justifies that it has no legal duty to protect athletes. The NCAA has made the assertion in the wrongful death lawsuit of deceased Frostburg State football player Derek Sheely that involves concussions.
"At the very least, that was a terrible choice of words created by legal counsel to make a legal argument," Emmert said.
 * Emmert said college athletes should be given a "scholarship for life" and noted USC, Indiana and many Big Ten schools now offer four-year scholarships. McCaskill questioned why more universities don't do the same since the NCAA made it an option again in 2012. She named a few schools, including Harvard and Texas, that voted for the NCAA to return to a one-year scholarship.
"Why wasn't this made public at the time?" McCaskill said, holding a list of schools that wanted to stay with one-year scholarships. "I think most of these universities would be embarrassed if they were publicly called out."
Emmert said he was "quite stunned" by some of the arguments against multi-year scholarships and noted that student-athlete advisory committees voted to stay with one-year scholarships. McCaskill shot back that those athletes probably felt pressured to vote that way.   
• McCaskill wondered why the parents of players can't receive a stipend so they can travel to watch their child play. Universities are making "a gajillion dollars, and parents can't get a stipend to watch their children play?" she asked.
Replied Emmert: "I agree with you."
• Emmert agreed that it's "grossly inappropriate" for college athletes to have co-payment requirements from a sports injury. "No one should have to pay for an injury they suffered as a student-athlete," Emmert said.
Sen. Richard Blumenthal (D-Conn.) asked for Emmert's support in creating health insurance legislation for athletes.
• Former Florida State football player Myron Rolle, a Rhodes Scholar, said his success story is the exception in college sports. Rolle said many teammates struggled academically and "get spit out of this academic machinery" with no idea of their purpose and a degree that doesn't meet future interests.
Former North Carolina football player Devon Ramsay, who was declared ineligible by the NCAA due to academic fraud allegations and later cleared, said the NCAA should mandate internships for athletes. Ramsay said players who go home in the summer are "demonized" by coaches and deemed "lazy" and a "cancer to the team."
Emmert agreed with Ramsay about internships and said athletes face "far too great a time demand" from their sports. 
• Emmert cited the NCAA's effort next month to give its major conferences autonomy to provide more benefits to athletes. Sen. Cory Booker (D-N.J.), a former Stanford football player, vehemently criticized the NCAA and said the issues discussed today are the same when he played 20 years ago.
Booker questioned why the NCAA can move quickly when schools' money and reputation are at stake, but not on basic issues for athletes. Booker noted that Cam Newton's eligibility problems at Auburn were adjudicated quickly in 2010 so he could continue playing, yet Ramsay's academic issues at North Carolina took far longer.
"I want to be very clear," Booker said. "It's exploitation when athletes spend 50, 60, 70 hours a week (on sports) and cannot afford the basic necessities," and can't make money off their name. Added Booker: "This is plain and simple the dark side of the NCAA."
• Rockefeller, who has said he isn't seeking re-election in 2014, said that if the Democrats control Congress "we want to make this a continuing subject of this oversight committee. We have oversight of sports. All sports. We have the ability to subpoena. We have a special investigative unit. We are very into this subject. This is part of a process here."
Emmert said the hearing was a "useful cattle prod. It makes sure we know that the world is watching, that the Senate is watching. I believe we will wind up in the right place in a couple of months (after NCAA governance changes). If we don't, I'm sure we'll have these conversations again."
Rockefeller said America is "so soaked in ESPN and a couple other stations" in terms of watching sports that "it's undermining our values," including education. He closed the hearing by saying "we really haven't accomplished much" because people are in "self-protection mode."
Aaron was reportedly shot while trying to protect his girlfriend when a fight broke out at...

An assistant-by-assistant look at changes Saban made to the Tide's staff ahead of 2018

Find out when Nick Saban, Kirby Smart and the rest of the coaches will speak ahead of the...
It wasn't only the massive $75 million contract that got Fisher to depart for College Stat...

Weinke was injured when Florida State lost to Tennessee in the 1999 BCS title game

It was one of the busiest offseasons for the assistant coaching ranks