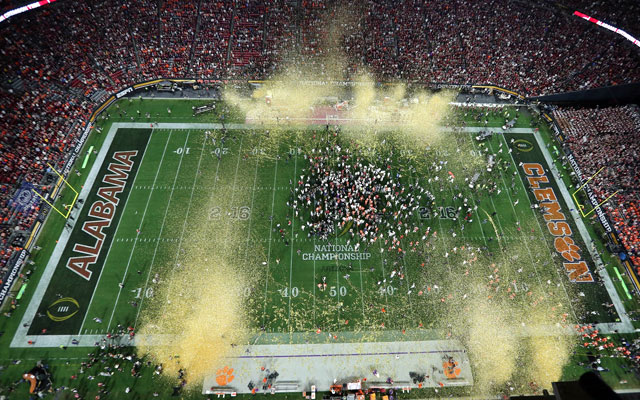 As America becomes engrossed with the NCAA Tournament, there's a new study out that highlights what it describes as racial inequalities for black male athletes at the most prominent conferences.
In 2014-15, black men were 2.5 percent of undergraduate students at the 65 Power Five schools, but 56.3 percent of football teams and 60.8 percent of men's basketball teams. Black male athletes graduated at a rate of 53.6 percent, lower than all athletes (68.5 percent), black undergraduate men (58.4 percent) and undergraduates overall (75.4 percent).
The findings from the Center for the Study of Race and Equity in Education, led by University of Pennsylvania professor Shaun Harper, are hardly new. But they're worth remembering over the next three weeks while watching the NCAA Tournament as basketball players, who are predominantly black, aren't allowed to get paid and may or may not graduate. Some will leave school without educational skills to help them for life after sports.
The study found only Miami and Northwestern graduated black male athletes at rates higher than or equal to athletes overall. Two-thirds of the Power Five schools graduated black male athletes at lower rates than black undergraduate men at their school who didn't play sports.
So if some of these athletes are neither moving on to pro sports, getting educated nor allowed to be paid in college, what exactly are they gaining from universities in return for the work put into their sport? That's the fundamental question for college sports.
Personal responsibility, of course, is a significant part of this issue. Harper encourages black recruits and their families to more expansively ask questions during their recruitment.
What's the grad rate for black men on the coach's team? Besides the few who made it professionally, what are other recent black male graduates doing? Will the coach support spending a semester abroad and a summer internship, and how many players have done it in the past? How prepared will a player be for a career in his field? What are specific ways the coach encourages academic success and the holistic development of players?
The NCAA claims Division I male black athletes graduate at higher rates than black men who don't play college sports. Harper's study states that while that may be true across all of Division I, it's not the case at the overwhelming majority of Power Five universities.
Federal graduation rates for some highly-ranked teams in this year's NCAA Tournament bear that out. These are federal graduation rates for black athletes compared to the rates for all black men at their school:
• North Carolina: 45% black athletes, 74% black men
• Virginia: 58% black athletes, 79% black men
• Kansas: 51% black athletes, 45% black men
• Oregon: 49% black athletes, 49% black men
• Michigan State: 33% black athletes, 55% black men
• Oklahoma: 51% black athletes, 52% black men
• Miami: 66% black athletes, 69% black men
• California: 34% black athletes, 62% black men
• Texas A&M: 50% black athletes, 57% black men
• Duke: 83% black athletes, 89% black men
• Kentucky: 47% black athletes, 38% black men
• West Virginia: 55% black athletes, 57% black men
• Iowa State: 39% black athletes, 43% black men
(Note: The NCAA doesn't use federal graduation rates because they don't account for students who transfer, unlike the NCAA's Graduation Success Rate. Harper said he used federal grad rates because they treat all athletes the same as other college students, and because there's no evidence suggesting black male athletes are more or less likely than other racial groups to transfer.)
Auburn leads the Power Five for overrepresentation of black male athletes in revenue-generating sports compared to the student body. Blacks comprise 77.9 percent of Auburn's football and men's basketball teams while black men make up 3.2 percent of Auburn's undergraduates, meaning the gap is 74.7 percent.
Other schools with large gaps: Mississippi State (72.2 percent), Ole Miss (71.4 percent), Texas A&M (70.7 percent) and Ohio State (69.4 percent). SEC schools make up 12 of the top 25 Power Five schools where black athletes are most overrepresented.
Athletic departments shouldn't reward fewer athletic scholarship to blacks, Harper said. But what's troubling, he wrote, is "these are campuses on which admissions officers and others often maintain that academically qualified Black men cannot be found; yet their football and basketball teams are overwhelmingly comprised of Black male student-athletes."
The study is an important read and worth the time to better grasp how race factors into the underbelly of major college sports.
Ex-Duke star: Changing NCAA requires player boycott
At the ACC Tournament last week, I spoke with some former college basketball stars from different generations about the state of college hoops. Namely, I was curious about this: Do they think players should get paid?
Former Duke star Jay Williams, who played in the early 2000s, said it's going to take a boycott for players to get paid, though he said he's not advocating such a protest. Williams laid out a hypothetical scenario of a Duke-North Carolina game scheduled for Cameron Indoor Stadium getting moved by the players to another site on Duke's campus.
"You can take the game somewhere else where all of a sudden with TV rights, they don't have the access, the fans can't watch the game," Williams said. "So the players could eventually put pressure on (the system)."
Williams supports a concept from the original Ed O'Bannon ruling: Give a percentage of money to players after graduation. He said the amount could be based in part on what a team's revenue is each year. If a player abides by team rules and graduates within a certain time frame, then let the player start the rest of his life with money allocated in escrow, Williams said.
Boycotting a game would be "very tough because the players are worried about their future income, their reputation," Williams said. "If you do something like that, the NCAA demonizes these kids and fans get on the kids. 'Well, you get paid your free tuition.' Look, you start comparing $55,000 a year (in tuition) to my jersey sale my last year did $2.6 million, and it pales in comparison. The days of coaches making $250,000 are over." (Note: Williams previously told me in 2011 that he wrote a thesis at Duke on how his jersey made $1 million.) 
Adrian Dantley, who starred at Notre Dame in the 1970s, shook his head and laughed at the thought of how much money there now is in college sports compared to his days. He said players deserve some type of stipend. (The NCAA now allows schools to provide cost of attendance stipends.)
"I remember when I was at Notre Dame, you had enough money for laundry," Dantley said. "If you wanted to go out to eat, there was no way to go out to eat."
Norman Nolan, who played at Virginia in the 1990s, said college players don't know any better about how big the industry is until it's too late and they're out of school.
"College sports is pretty much the same as pro sports," Nolan said. "You get the same fan base. You get a bunch of TV money. My question is where is the TV money going? The players are the ones that are playing on TV that people want to see. That's what media wants to cover. Where is the money going?"
Nolan said players should be allowed to make money off memorabilia, such as jersey sales. "I don't mean anything crazy or astronomical," he said. "There needs to be a third party mediator to come in figuring out what's right for both sides, and not the NCAA and university saying it."
Joe Mixon video suit heads to Oklahoma Supreme Court
The Oklahoma Association of Broadcasters is filing a petition with the Oklahoma Supreme Court seeking access to surveillance video of Sooners football player Joe Mixon punching a female student. Oklahoma media outlet newson6.com reported the development this week.
The issue isn't about shaming Mixon or disparaging Oklahoma. But let's be honest: Based on media accounts that described what the video showed, the release of the video could do just that. Mixon was suspended for one year by Oklahoma. Like the Ray Rice case in the NFL, you never know the public's reaction after seeing the punch instead of just reading about it.
The issue here is government officials abiding by public records laws for open accountability. The Oklahoma Court of Civil Appeals ruled that the judge erred by dismissing a lawsuit seeking to make the video public. Then the judge said he did not consider the video part of the court record, even though he viewed it in court and media members were allowed to see the tape in response to open records requests.
The point of open records laws is to provide transparency. The public should be allowed to examine all of the information available and make its own determination if the correct decisions were made. So the Mixon video saga moves on, this time with a petition to the state Supreme Court.
Read 'Em
Each week this space will highlight some excellent recent work by college sports media on difficult topics to report.
• Speaking of public records, nice work by ESPN's Outside the Lines and reporter Paula Lavigne for successfully making sure the University of Notre Dame Police Department can no longer operate in secret.
• The NFL's admission that a brain disease can be caused by playing football came amid new science suggesting the danger is more widespread than originally thought, ESPN's Steve Fainaru and Mark Fainaru-Wada reported. Research suggests that CTE may be prevalent among people in the general population who played contact sports, not just former NFL players.
• Disparities in basketball coaches' academic incentives raise concerns over gender equity, Brad Wolverton of The Chronicle of Higher Education reported.
• Cal basketball coach Cuonzo Martin's role in a sexual harassment scandal is under review, according to Katy Murphy of the San Jose Mercury News.
• The Ed O'Bannon plaintiffs are petitioning the U.S. Supreme Court to hear their case against the NCAA. I wrote about what the petition means and the potential risks and rewards for both sides.
Quote of the Week
"The NCAA provides free wi-fi to student-athletes at all of the team hotels during the D1 men's basketball championship." -- Twitter account for Inside the NCAA, causing people to mock the NCAA on Twitter.
Without any context, this message seemed really odd. It turns out, the message was in response to UNC-Asheville player Trae Bryant, who tweeted from his NCAA Tournament hotel, "We need wifi at the hotel. Have some school work to do @NCAA." Bryant later deleted his tweet.
Follow and read more from Jon Solomon on Facebook and Twitter.