Substitution proposal tabled, but heated debate just beginning
The NCAA rules committee tabled the debated 10-second substitution policy, but discussion on this topic in the next year will be more crucial than RichRod's 'Speed' parody
• 3 min read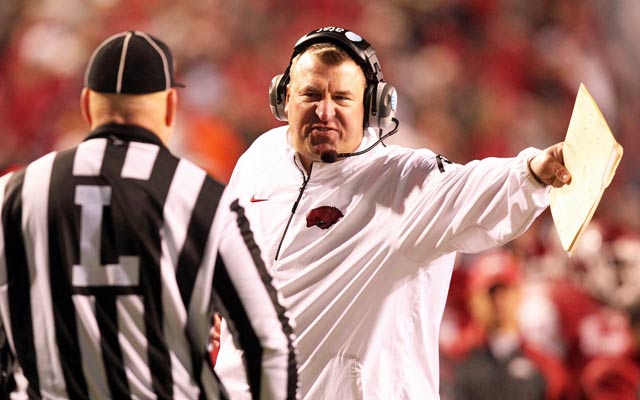 More: Committee tables proposed rule to slow down up-tempo offenses
College football's latest political debate might quell for a while, but it will stir again.
And again.
Until the Saban-Bielema tag team takes on RichRod-Malzahn in a pregame cage match, neutral site, cigarettes optional.
Oh right, that already happened. Or at least that's what the last three weeks felt like before today, when the 10-second substitution proposal was officially tabled.
Now officials and coaches can exhale, stop making movie parodies and have a sensible, year-long discussion about what's best.
That's what NCAA coordinators official Rogers Redding wants. Redding on Wednesday told league coordinators that a broader discussion about pace of play and player safety awaits over the next year.
"If it is a problem, what are the appropriate ways to measure it and take steps?" Big 12 officials coordinator Walt Anderson said. "I think what they are really doing is taking steps back so they can take a deep breath and approach it from a less emotional matter, which it obviously evolved into. It surprised people that it even came up."
Oh, it came up. Once the 12-person NCAA rules committee last month announced a proposal forcing offenses to wait 11 seconds into play clock to snap the ball so defenses could sub whenever they wanted, no-huddle coaches across the country scrambled to find a microphone.  
If you've been watching on Saturdays, you know that's a lot of coaches -- probably at least half of the Football Bowl Subdivision.
ESPN first reported the proposal had been tabled, not making it to the desk of the NCAA oversight committee for approval. (Let's just say the oversight group was not upset about the rule going away).
Everybody had a comment. Arizona coach Rich Rodriguez didn't have a comment as much as an arthouse short film -- a 'Speed' parody -- to describe his displeasure with the ruling. In contrast, this week Alabama's Nick Saban compared fast football to smoking cigarettes.
Now this is the Kooling off period. 
Maybe for a few months, the widespread complaints will dissipate. But the fundamental division between traditional power-football coaches and 20-seconds-or-less junkies remains.
This fight is still in the early rounds.
Coaches are screaming for hard data suggesting more plays per game equals greater injury risk. A recent study on this topic by cfbmatrix.com suggests the opposite, saying in 2012 the SEC lost more starters to injury (165) than any of the power conferences despite the least amount of average snaps per team (72.9 a game).
"What's safe about two tight ends, power formation with a fullback in the middle of the field?' Baylor coach Art Briles said.
If safety is the primary concern, then play six games a year and limit player weights to 250 pounds.
You get the point.
Player safety must be managed without taking the game away.
That's unlikely to mean less games or smaller bodies. Too much money. Too much viewership.
So the rules committee must consider every way to improve the game's safety while being fair to both sides of the ball.
Perhaps more leagues going to eight officials is a short-term answer. The Big 12, the first to experiment with eight officials instead of seven, believes the extra man helps defenses substitute more efficiently.
Otherwise, the public debating will fly as fast as the offenses.
"Why compromise the speed limit if it's 70 – go 70!" Briles said.
Guice was ruled out for Saturday but convinced Ed Orgeron to let him play in a limited rol...

Greg Huegel suffered a knee injury during Wednesday's practice

The Wildcats and Utes open conference play on Friday night
Eichorst's firing on Thursday sets Riley's seat ablaze, even if a decision won't be made i...

Eichorst had been at Nebraska since 2012

Three straight titles makes it seem like 'Alabama and everybody else' in the SEC