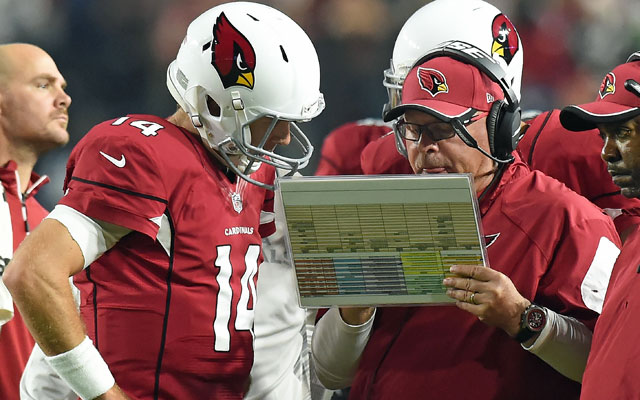 Now it's just gotten ridiculous, this slap fight between football's forward thinkers and the likes of Bruce Arians.
The Arizona Cardinals coach raised eyebrows and blood pressures last month at the NFL combine. An 18-year NFL coaching veteran who should know better painted college quarterbacks with a rather broad brush, saying:
"So many times [in the draft] you're evaluating a quarterback who has never called a play in the huddle, never used a snap count. They hold up a card on the sideline. He kicks his foot and throws the ball. That ain't playing quarterback. There's no leadership involved there."
Wait, he's not done.
Spread offense quarterbacks, Arians said, "are light years behind."
There you go, another example of football's tawdry little culture war. Arians merely gave voice -- again -- to an opposition that has yet to get it. The zone-read spread offense might be the greatest formational innovation in the game since the wishbone. It is has been the foundation for national championships. It has spawned All-Americans and Heisman winners -- for at least the past 15 years.
It is what offensive football is these days. But it almost seems like the spread quarterback has to wipe his feet and wash his hands before he makes into the NFL's living room.
Robert Griffin III has declined with the Washington Redskins. The same for Colin Kaepernick with the 49ers. What pro-style QB Jameis Winston lacks in character in the upcoming draft seems to matter less than what Oregon's Marcus Mariota lacks under center.
It's incredible to think there are some fairly smart folks who think the dominant offense in all of football -- not just college -- is a gimmick.
"I tell everybody I think the new pro-style is the shotgun," Arizona coach Rich Rodriguez said. "You can take a sixth-grader and take 10 minutes to take a three-step drop under center. But to take a kid and teach him how to catch and throw a quick game out of the shotgun, now that's a learned skill."
Your college peers thank you, Rich. Some of your pro counterparts, too. You see, Arians' comments are as hypocritical and they are inflammatory. Spread offenses are the bedrock of modern offensive football. Everyone from Tom Brady to Blake Sims is playing out of them. At least at times.
"Does [a quarterback] have functional intelligence to win games for you?" asked Rodriguez, one of the founding fathers of the spread offense going back 25 years to his time at Glenville (W.Va.) State College.
"To judge the success or lack of success based on what system they're in ... it's whether they can play or not."
Arians and Rodriguez are friends. Rich Rod has played in the Cardinals coach's charity golf tournament. Their vacation homes are in the same area.
But, wow, Bruce. College spread quarterbacks can't call plays? Let's see how NFL QBs do without that headset in their helmets.
Light years behind? RG3 was the Associated Press' NFL offensive rookie of the year in 2012. The year before Cam Newton was the No. 1 overall choice in the draft after winning the Heisman at Auburn. Newton followed that up winning rookie of the year, getting named to two Pro Bowls and leading the Carolina Panthers to two NFC South titles.
Chip Kelly parlayed his Oregon success into the Eagles job.
"Spread principles have had some pretty good success," Rich Rod said. "Twenty years ago, there were wide receivers in three-point stances, too. The game evolved."
Not enough for Arians. Memo to the NFL's get-off-my-lawn guy: It's not the job of colleges to develop quarterbacks. It's those coaches' jobs to win -- any way possible. Tim Tebow was arguably one of the greatest quarterbacks in college history. Not so much in the pros. That wasn't Urban Meyer's fault.
If those so-called college quarterback illiterates are so bad, quit drafting them. The truth is, the NFL won't. Mariota looks like he's going to be the second quarterback taken. Kaepernick -- who played in the Pistol at Nevada -- took the 49ers to a Super Bowl. RG3 won a Heisman, then probably had his career ruined by Mike Shanahan playing him with a bad knee.
"The NFL is going to draft the best player at quarterback," Rodriguez said. "The best quarterbacks have a football intelligence no matter what system they're in."
Back to the culture war. This spat sort of started in 2013, when Nick Saban intimated that hurry-up offenses were a player-safety issue. The proposed 10-second rule threatened to pit coaching brother against brother. No surprise, the proposed rule never made it to the field.
You might have noticed also that Saban has installed the hurry-up package in his pro-style offense. Everyone in college at least has it in the playbook except perhaps Army, Navy and Georgia Tech. The hurry-up, zone-read spread continues to be the most popular in the college game until some defensive mind counteracts it.
Arians' words carry weight because he is one of the best quarterback developers in the game. The Cardinals won 11 games in 2014 -- the most for the franchise since 1975 -- while Arians juggled quarterbacks.
They ring hollow because Arians' success argues against his own point.
"I bet Bruce could take any quarterback and make him a great performer," Rodriguez said.
"I'll see him," he added, "on the golf course."