Sumlin: Manziel will speak 'at the appropriate time,' not before
Waiting for another public statement from Johnny Manziel? Don't expect it this week, judging from Kevin Sumlin's comments.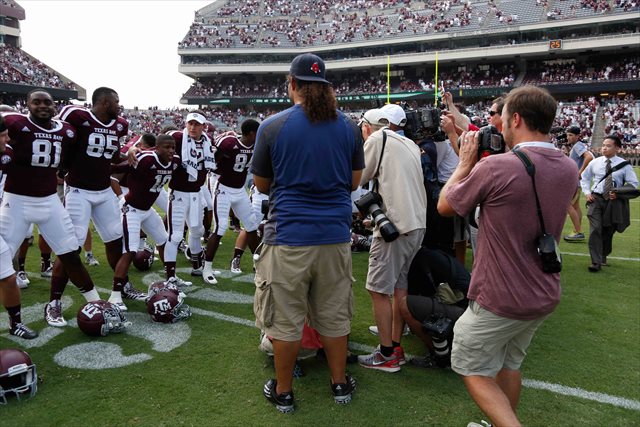 Texas A&M's Kevin Sumlin had plenty to say to reporters Tuesday, most notably who's not going to have anything to say to them for the foreseeable future.
Per Sumlin, Johnny Manziel will be allowed to speak to the media sometime this season, but that that moment will not come this week as the Aggies prepare to host FCS power Sam Houston State.
"I think it's important now based on where he is that his focus is to try to be our quarterback and a student athlete," Sumlin said, according to the Associated Press. "That's his biggest challenge right now. [It's] not his challenge to be here."
"I don't think right now that him coming here and saying the words would change some people's opinion about who he is," Sumlin continued. "At the appropriate time he'll be able to speak for himself."
Despite setting records left and right on his way to becoming the first-ever freshman Heisman Trophy winner, Sumlin's policy of making freshmen unavailable to the media meant that Manziel did not speak to the press until November of last season as well. Manziel has not spoken publicly this season since SEC Media Days in July.
But that didn't mean that Sumlin couldn't be asked about Manziel, and he spoke at length about both his dressing-down of his star player (after his much-talked-about unsportsmanlike conduct penalty) and Manziel's equally talked-about non-reaction to that dressing-down.
"When he came off the field, I basically made two statements to him, neither one of which should he have responded to," Sumlin said. "They weren't questions. They were direct statements and I can't repeat them right now. What's amazing to me is the perception that he ignored me. The worst thing that could have happened was for him to reply based on what I told him."
Despite his unhappiness with Manziel at that moment, Sumlin largley defended his quarterback, noting that the "money" gesture of rubbing fingers together was done by several other Aggie players and athletes across the country last season. But Sumlin also said he understands that the scrutiny comes with the unusual --and self-created -- territory.
"Has he kind of painted himself in a box with that, with some other issues? Probably," Sumlin said. "But no one wants to be more successful than he is. No one is going to play this game harder than he does and his teammates understand that."
Saban isn't going to win Alabama's special election, but the Crimson Tide coach got some l...

The Sooners' quarterback and Badgers' rusher stood out among their peers this season

Clark led UAB to an 8-4 overall record, 6-2 in conference this season
SportsLine simulated every bowl game 10,000 times for pick'em leagues and confidence pools

The Tigers are going worldwide for their next punter

Led by Heisman Trophy winner Baker Mayfield, the Big 12 finished with seven first-team sel...