Sumlin on Stoops: 'We'd take him up on' Sooners vs. Aggies
Kevin Sumlin has responded to Bob Stoops' barb on Texas A&M's nonconference schedule being full of 'toughies.'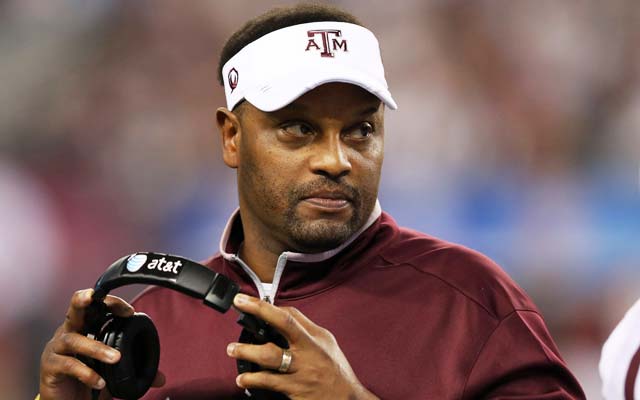 More college football: Stoops goes after Aggies' schedule
Thanks to the recent rash of Texas A&M player arrests, Kevin Sumlin had plenty to talk about at his Friday night meeting with the Houston A&M Club. But his juiciest quote was -- not too surprisingly -- reserved for Oklahoma's Bob Stoops.  
At Big 12 Media Days, Stoops listed the Aggies' 2014 nonconference schedule (from memory) and with no small amount of sarcasm called Lamar, Rice, SMU and ULM a "bunch of toughies." 
"Coach Stoops has the right to say whatever he wants," Sumlin said Friday, per AggieSports.com. "But if he'd like to play again we'd take him up on that."
"Y'all can't wait to tweet that can you?" he then cracked to the media in attendance.
It's not hard to imagine why Sumlin doesn't feel like he'd have anything to fear from another meeting with Stoops; the last time the two coaches met, it ended in a Johnny Football-fueled 41-13 Cotton Bowl blitzing by the Aggies.
There's a lot of reasons another meeting isn't likely to happen anytime soon. But in the interest of having the not-exactly-shy Sumlin and Stoops share a postgame press conference, reuniting two old Big 12 rivals with no shortage of history even before that Cotton Bowl, and generally giving college football another terrific non-conference series, we'll toss a penny in the well and wish anyway.
A concert is a nice way to break up preseason camp

Mills was arguably Georgia Tech's most important player coming into the season

Hugh Freeze's phone records reportedly show another troubling pattern for Ole Miss
They aren't necessarily great teams, but they're teams I'm really interested in following this...

The Irish will wear them on Nov. 18 against Navy

The fourth-year coach of the Nittany Lions led the program to the 2016 Big Ten Championshi...