Sun Belt, MAC to meet in Montgomery, Ala. 'Camellia Bowl'
al.com reports that the city of Montgomery, Ala., is due to announce a new bowl game pitting the Sun Belt against the MAC.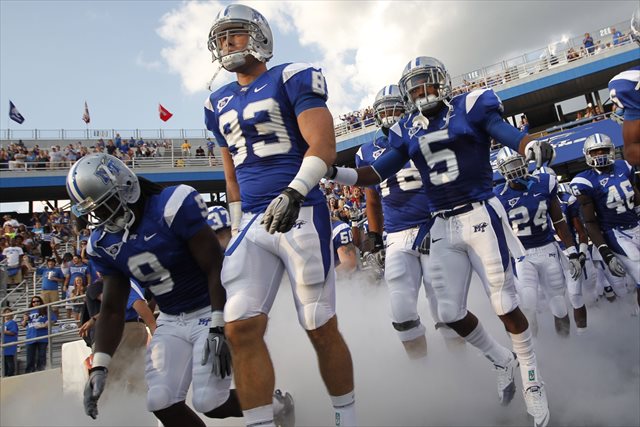 One fewer Sun Belt team and one fewer MAC team will be left out in the postseason cold thanks to a new bowl game set to be played in Montgomery, Ala.
al.com reporter Jon Solomon reported that the ESPN-owned game would be officially announced Monday afternoon in Montgomery. The name chosen and announced by the MAC and Sun Belt is the "Camellia Bowl," in honor of Alabama's state flower.
The inaugural edition will be played following the 2014 season in Montgomery's Cramton Bowl, recently renovated and with a capacity of 25,000. The game's contract runs for six years. 
"From stadium improvements and opportunities for quality hospitality, to the downtown hotel properties, rich history and the wonderful museums like the Rosa Parks Center, it all came together for us," ESPN official Pete Derzis said in a statement. "We have two conference partners excited about the bowl, a community we believe is hungry for a quality postseason event and civic and business leaders that have a great can-do spirit."
The Montgomery bowl will be the third hosted by the state of Alabama, with the state's capital joining Birmingham (which hosts the BBVA Compass Bowl) and Mobile (and the GoDaddy Bowl). 
A different organizing group had also explored the possibility of hosting a bowl in Montgomery, but in FCS Alabama State's newly renovated stadium rather than the 91-year-old Cramtown Bowl. That group has reportedly moved on to Charleston, S.C., after ESPN's decision to support the Montgomery bowl.
The game will not be able to escape comparisons -- and not favorable ones, either -- to the GoDaddy Bowl, which also pairs Sun Belt and MAC representatives but is expected to have an earlier choice from both. But teams like 2012 Middle Tennessee State or 2010 Temple won't care about; both went 8-4, out of the SBC and MAC, respectively, but sat out the postseason anyway when they couldn't snag a bowl invitation.
However well-organized the game or how good the teams, Montgomery isn't going to be seen as a glamour bowl destination anytime soon. But ask Al Golden about it in 2010 or Rick Stockstill last year, and they'd tell you they'd have been plenty happy to visit.
Guice was ruled out for Saturday but convinced Ed Orgeron to let him play in a limited rol...

Greg Huegel suffered a knee injury during Wednesday's practice

The Wildcats and Utes open conference play on Friday night
Eichorst's firing on Thursday sets Riley's seat ablaze, even if a decision won't be made i...

Eichorst had been at Nebraska since 2012

Three straight titles makes it seem like 'Alabama and everybody else' in the SEC