Sun Belt preview: Ragin' Cajuns primed to win conference title
Louisiana-Lafayette looks to win the Sun Belt Conference title, but will have to fend off Louisiana-Monroe and Western Kentucky.
For Louisiana-Lafayette, it's not about what was accomplished last season, but more about what wasn't.
The Ragin' Cajuns finished 9-4, including their second consecutive New Orleans Bowl victory, but were left with a missed opportunity they hope to seize this season.
"The last two years the Sun Belt Championship has been in our reach and it's been a one-game slipup that costs us," said senior center Andre Huval. "This offseason, we are just trying to focus on the little details so we don't have those slipups again. Whether it's somebody being two seconds late for a workout or somebody wearing the wrong socks, because when those things start to slip, it correlates to the field."
Sun Belt All-Conference
Pos
Player
Yr
School
QB

Kolton Browning

Sr.
La.-Monroe
RB
Antonio Andrews
Sr.
Western Kentucky
RB

David Oku

Sr.
Arkansas State
WR
J.D. McKissic
Soph.
Arkansas State
WR

Je'Ron Hamm

Sr.
La.-Monroe
TE
Wes Saxton
Soph.
South Alabama
OT

Joseph Treadwell

Jr.
La.-Monroe
OT

Mykhael Quave

Soph.
La.-Lafayette
OG

Daniel Quave

Jr.
La.-Lafayette
OG

Steven Haunga

Sr.
Arkansas State
C
Andrew Huval
Sr.
La.-Lafayette
DE

Alex Page

Jr.
South Alabama
DE
Christian Ringo
Jr.
La.-Lafayette
DT

<player idref=

ethers
Sr.
Arkansas State
DT

Kentarius Caldwell

Sr.
La.-Monroe
LB
Andrew Jackson
Sr.
Western Kentucky
LB
Qushaun Lee
Jr.
Arkansas State
LB

Michael Orakpo

Jr.
Texas State
CB

Tyrell Pearson

Jr.
South Alabama
CB
Craig Mager
Jr.
Texas State
S
Jonathan Dowling
Jr.
Western Kentucky
S

Isaiah Newsome

Sr.
La.-Monroe
K

Will Scott

Sr.
Troy
P

Matt Hubbard

Jr.
Georgia State
KR

Jafus Gaines

Soph.
Texas State
PR
Antonio Andrews
Sr.
Western Kentucky
How big were those slipups last season? One cost Louisiana-Lafayette a chance to become co-champions with Arkansas State and the other cost the Ragin' Cajuns a chance at one of the biggest upsets in the nation.
Against North Texas on Oct. 16 with the scored tied at 23 late in the game, Antoinne Jimmerson took a screen pass 78 yards for a touchdown with less than two minutes left, giving the Mean Green the upset victory.
Unfortunately, the game on Nov. 10 stings worse ... at Florida.
With just 13 seconds left and the score tied, all Louisiana-Lafayette had to do was get the punt off and head to overtime against a top 10 team. But Jelani Jenkins returned a blocked punt 36 yards for a touchdown, giving the Gators the win.
"That's two wins away from being an 11-win team, maybe being in a different bowl game. Nobody remembers the team that almost beat Florida in the fourth quarter. You've got to actually do it," added Huval.
It's that kind of attitude that has Louisiana-Lafayette extremely focused on winning the conference title this season and has it entering the season as one of the favorites, along with Louisiana-Monroe and Western Kentucky.
The Cajuns return seven starters on offense, including quarterback Terrance Broadway and running back Alonzo Harris. The biggest question mark will be on defense where new coordinator James Willis takes over. The former Alabama linebackers coach and defensive coordinator at Texas Tech is poised to turn the 86th ranked defense from last season into a solid squad.
"The thing that I notice is the expectations have changed a lot around Lafayette," said coach Mark Hudspeth to the The Times-Picayune. "Now everybody is talking in terms of winning every game. That's our goal obviously. But everybody I see says, 'Coach, we had a great year last year winning nine but I'm thinking 12 (wins this year).' With our conference as deep as it is and with our non-conference schedule, especially playing seven teams on the road with some of the top players in this conference it's going to be a complete challenge each week."
The challenge begins at Arkansas on Aug. 31.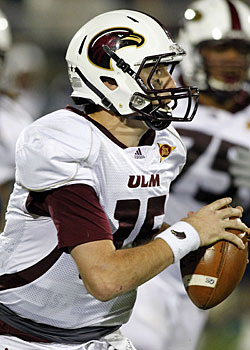 Offensive player of the year: Kolton Browning, QB, Louisiana-Monroe: He will go down as one of the greatest players in Sun Belt Conference history as he inches closer to 10,000 career passing yards. Last season, Browning was the Sun Belt offensive player of the year after throwing for 3,049 yards with 29 touchdowns. 
Defensive player of the year: Andrew Jackson, LB, Western Kentucky: Jackson led the team last season wtih 122 tackles and four forced fumbles. He also had 17.5 tackles for a loss, which ranked second on the team. Jackson also had some great games against top-notch competition, recording seven tackles against Alabama.
Top newcomer: D.J. Yendrey, DL, Texas State: Name sound familiar? Yendrey was one of the players kicked off the Horned Frogs after being charged in the TCU drug investigation. He should jump right into the starting lineup and make a big impact for the Bobcats after being named honorable mention All-Mountain West in 2011.
Coach of the Year: Mark Hudspeth, Louisiana-Lafayette: If Hudspeth can get his squad to the Sun Belt title, he's hands down the coach of the year.
Next coordinator to become a head coach: Steve Farmer, Louisiana-Monroe. The offensive coordinator has been with the school for nine years and consistently manages one of the top offensives in the conference.
Next head coach to become a coordinator: Nobody is on the hot seat in the Sun Belt, but a really bad season at Texas State might get Dennis Franchione fired. He would be a perfect candidate to be an offensive coordinator somewhere else.
Best conference game: Louisiana-Monroe at Louisiana-Lafayette on Nov. 30. This game should likely decide the conference title.
Best non-conference game: Louisiana-Lafayette at Arkansas on Aug. 31. Can a Sun Belt school knock off another SEC school? It happened last year with Western Kentucky beating Kentucky and it could happen again as many are picking Arkansas to finish last in the conference.
Bold conference prediction in two sentences: Four teams will end up in a bowl game -- Louisiana-Lafayette, Louisiana-Monroe, Western Kentucky and Arkansas State, while South Alabama and Georgia State will be lucky to win two games combined.
Predicted order of finish

1. La.-Lafayette: The Ragin' Cajuns look to finally snag that elusive conference title with the return of seven starters on offense and five on defense. Terrance Broadway is back at quarterback after passing for 2,842 yards and 17 touchdowns, while also rushing for 769. Alonzo Harris will be back as the starting running back (881 yards, 10 TDs). The biggest question mark is on the offensive line where two starters are gone, but Mykhael Quave will move from guard to tackle to bolster the left side. On defense, the strength is up front where three starters are back on the defensive line, including DE Christian Ringo. The squad was 42nd in the nation against the run. Hudspeth will have to find a kicker as Brett Baer has graduated.

2. La.-Monroe: The Warhawks provide the biggest threat to the Ragin' Cajuns and it all starts with quarterback Kolton Browning. The senior is coming off a 3,049-yard, 29 touchdown season and will have most of weapons back. Je'Ron Hamm (915 yards) and Tavarese Maye (612 yards receiving) are back, followed by four returning starters on the offense line. On defense, seven starters return, along with 2011 starter Cameron Blakes (LB). The entire secondary is back, including Isaiah Newsome, who had four interceptions. This team will be tested early against Oklahoma (Aug. 31) and Baylor (Sept. 21).

3. Western Kentucky: Bobby Petrino takes over a team that went 7-6 last season and will be looking for more. Senior running back Antonio Andrews is back for one more season after rushing for 1,728 yards and 11 touchdowns and should again be the workhorse of the offense. The big problem for the Hilltoppers will be breaking in a new quarterback as Kawaun Jakes is gone. Junior Brandon Doughty is the likely starter after going 23-of-35 for 314 yards, five touchdowns in the spring game. The defense is one of the best in the Sun Belt, led by linebackers Andrew Jackson (122 tackles) and Xavius Boyd. The area that will need attention is the defensive line which have four new starters.

4. Arkansas State: The Red Wolves finished strong last year, winning eight in a row to close out the season. Things probably won't be as good this season as Arkansas State will be looking to replace five starters on offense, including QB Ryan Aplin (24 TDs, 4 INTs). The good news is running back David Oku (1,061 yards rushing) is back, along with WR J.D. McKissic (103 catches, 1,022 yards). Philip Butterfield, who hasn't completed a pass since 2010, will likely be the starter. Defensively, Arkansas State returns five starters, including DT Ryan Carrethers (68 tackles). Junior college transfer Jabari Mathieu (6-foot-3, 235-pound DE) could have an immediate impact.

5. Troy: The Trojans are going to have quite the challenge this season as six starters return on offense and defense. The quarterback duo of Corey Robinson (3,121 yards passing, 12 TDs) and Deon Anthony (856 yards passing, 390 yards rushing, 17 total TDs) returns. They will have one of the best wide receivers in the conference back for his senior season in Eric Thomas (55 catches, 667 yards) and the trio should provide plenty of offense. The defense will be going through a rebuilding stage with just two starters back from a team that allowed 30.5 ppg. Safety Chris Picket (3 INTs) will be busy trying to stop the rest of the conference.

6. Texas State: After going 4-8 in the WAC last season, the Bobcats make the jump to the Sun Belt and should have enough to win a few games. Two of the top three receivers return led by Isaiah Battle (26 catches). Tyler Arndt takes over at quarterback after playing in a handful of games last season. Defensively, the Bobcats must get better. Much better. LBs Michael Orakpo (87 tackles) and David Mayo (41 tackles) lead the way. Special teams are probably the team's strength with kicker Will Johnson (5-of-8 in 40+ yards) and returner Jafus Gaines (28.9 yards per kickoff) both returning.

7. South Alabama: The Jaguars are going to struggle in their first full season in the Sun Belt, but there are some strengths to this squad. LB Enrqiue Williams (105 tackles) and DE Alex Page (11.5 tackles for loss, six sacks) are the leaders of the defense and will be looked upon to stop the wide open offenses in the conference. Ross Metheny is back for his senior season at quarterback (2,148 yards, 12 TDs), but must cut down on the interceptions (12). Junior Wes Sexton could become one of the top tight end targets in the Sun Belt.

8. Georgia State: Trent Miles comes from Indiana State to take over for the departed Bill Curry, and it's gonna be rough. The Panthers won just one game last season, beating winless Rhode Island. Eight starters are back on offense, including the entire offensive line. That will be huge for QB Ben McLane (1,592 yards, 10 TDs, 11 INTs) and wide receiver Albert Wilson (947 yards receiving). Junior college transfer Gerald Howse (652 yards, 10 TDs at NE Oklahoma A&M) could challenge for the starting RB job. There is tons of room for improvement on defense, as six starters are back from a unit that allowed 38.5 ppg playing mostly a FCS schedule. Returning sophomore LB Joseph Peterson led the team with 60 tackles.
Many NFL-eligible juniors ignore advice provided by the league and risk going undrafted each...

Snyder died in Manhattan, Kansas, on Wednesday

Locksley joined Alabama's staff in 2016
Saban reportedly wants to hire Freeze, but there may be things keeping that from happening

Florida State-Miami will be on Oct. 6, and the Seminoles will play Clemson on Oct. 27

Weis Jr. was an offensive assistant for the Atlanta Falcons in 2017