Sun Belt will grow by four in 2014
Announcements on Georgia Southern, Appalachian State, Idaho, New Mexico State expected this week.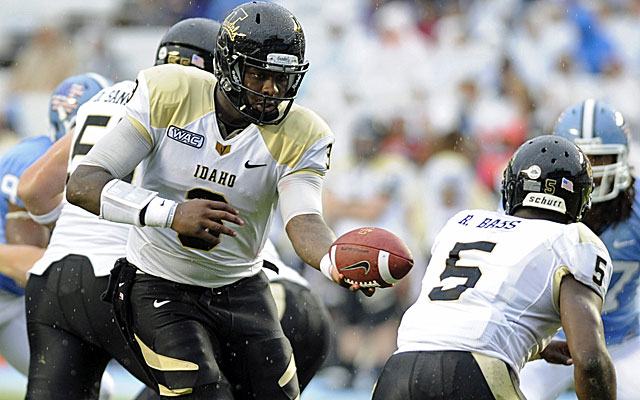 The Sun Belt Conference will grow by four members by the end of the week.
The addition of Georgia Southern and Appalachian State – already being reported by multiple outlets – will be announced Wednesday according to sources within the conference. Later in the week, perhaps as early Thursday, it is expected that New Mexico State and Idaho will also join the league beginning in 2014.
Idaho and New Mexico State football will be football-only members. Beginning in 2014, that will give the league 12 members, enough to stage a conference playoff that will be played on the campuses. Georgia Southern and Appalachian State have long been speculated to join the Sun Belt after the league felt the effects of conference realignment.
North Texas, Florida Atlantic and Middle Tennessee have departed for Conference USA. Both Georgia Southern and App State are emerging FBS (Division I-A) programs who are transitioning out of FCS (Division I-AA).
Idaho and New Mexico State were left without homes after the WAC folded following last season. Both programs will compete as independents in 2013.
Those four new schools will join Arkansas State, Georgia State, Louisiana-Lafayette, Louisiana-Monroe, South Alabama, Texas State, Western Kentucky and Troy. The Sun Belt footprint, then, will extend from Georgia west to Alabama, Kentucky, Alabama, Texas, New Mexico and Idaho.
If the Sun Belt champion finishes as the highest rated team among the so-called Group of Five (along with Conference USA, new Big East, Mountain West and MAC) it will get a berth in one of the new playoff bowls beginning in 2014.  
A year-end wrap-up of college football statistics you need to know from 2017

Stanford produces apps and Super Bowl participants

The Alabama QB has a new look after the Tide claimed another national title
Young was injured during Miami's Orange Bowl loss to Wisconsin

The movie will zero in on former Penn State coach Joe Paterno during the Jerry Sandusky sc...

Bidding for Salaam's trophy, which the auction house says was obtained legally, ends Satur...