Sun Bowl offers explanation for USC stiffing Georgia Tech, dinner
USC spent most of 2012 being accused of failing to show up on the field, so it was only appropriate Wednesday that it literally failed to show up for its hosts.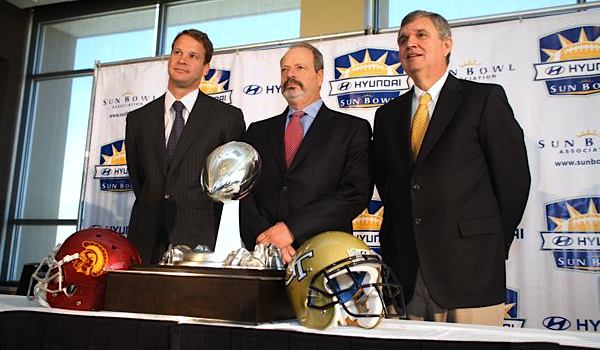 USC's Lane Kiffin (left) and Georgia Tech's Paul Johnson may be less cordial after Wednesday night. (AP)
USC spent most of 2012 being accused of failing to show up on the field, so it was only appropriate Wednesday that it literally failed to show up for its hosts at the Sun Bowl.
In a metaphor for their disappointing season, the Trojans arrived more than 90 minutes late for the "Sheriff's Posse Dinner," by which time their miffed opponent in next Monday's game, Georgia Tech, had already had left.
By Thursday afternoon, with the story making national headlines, the Sun Bowl offered an explanation on its Twitter feed, citing the Trojans' practice location across town.
Then practice ran late and they had to haul 100+ people to the other side of town. Best scenario? No. Did GT leave? Yes.

— Hyundai Sun Bowl (@HyundaiSunBowl) December 27, 2012
Elsewhere, FOX Sports' Lindsey Thiry got her hands on an itinerary for the dinner that shows USC was scheduled to arrive 15 minutes later than Georgia Tech; per USC, the Yellow Jackets showed up a half-hour early, and the Trojans showed up a half-hour late, leaving the Jackets waiting for more than an hour before they decided to call it a night.
On Thursday afternoon, Kiffin apologized, telling reporters the team started practice about 45 minutes late and went "as fast we could."
The dinner is usually one of the more anticipated functions leading up to the Sun Bowl game itself, during which players from both teams perform skits, impersonate coaches and so forth. According to the L.A. Daily News, the Trojans were "delayed by practice and a possible injury." Photos of the empty dining room began making the rounds on Twitter after Georgia Tech coach Paul Johnson decided his team had waited long enough. There have been no further details on the injury report.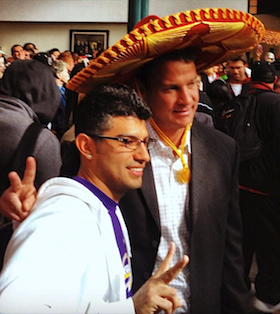 Lane Kiffin soaks up a little local El Paso color. (USCTrojans.com)
The dinner was only the latest insult to a game USC seems to want no part of after falling from the top of the preseason polls to the "Also Receiving Votes" section with losses in four of the last five games. Coach Lane Kiffin -- no stranger to committing faux pas or apologizing for them -- was forced to open his first Sun Bowl press conference on Dec. 6 by making amends for a series of tweets from senior linebacker Tony Burnett, who had responded to the invitation a few days earlier by writing "Georgia Tech!? El Paso, Texas!? New Years Eve!? FML" and "if you never seen a real life giant tumbleweed get ready." (In Twitterspeak, "FML" is shorthand for "F--- my life.")
Having failed to learn from that episode, freshman defensive end Leonard Williams tweeted on Wednesday night, "Out here in El Paso. Shitty city but glad I can enjoy this moment wit the USC family." That missive was quickly deleted, and replaced with another apology on Thursday morning: "Sorry about what I said last night. It came out wrong. I'm so grateful to be a part of this bowl and looking forward to a great game," Williams wrote. "I was saying I'm just proud to be here with my family. ... I also think the people in El Paso are very welcoming and made me feel at home. Once again I apologize for speaking with out thinking."
Despite the late-season swoon and the likely absence of starting quarterback Matt Barkley, USC is currently listed as a 9 1/2-point favorite over the Yellow Jackets, who are only eligible for the game with a losing (6-7) record courtesy of an NCAA waiver. (Georgia Tech is in the Sun Bowl for the second year in a row, having lost last year's game to another Pac-12 opponent, Utah, in overtime.) This year's kickoff is set for 2 p.m. ET on Dec. 31 on CBS.
Hopefully the Trojans will remember to set their alarms.
A concert is a nice way to break up preseason camp

Mills was arguably Georgia Tech's most important player coming into the season

Hugh Freeze's phone records reportedly show another troubling pattern for Ole Miss
They aren't necessarily great teams, but they're teams I'm really interested in following this...

The Irish will wear them on Nov. 18 against Navy

The fourth-year coach of the Nittany Lions led the program to the 2016 Big Ten Championshi...