Super-fast J.J. Nelson to Cardinals, one of last UAB players drafted
J.J. Nelson, who ran the fastest 40-yard dash at the 2015 NFL combine, may be the last player ever drafted out of UAB.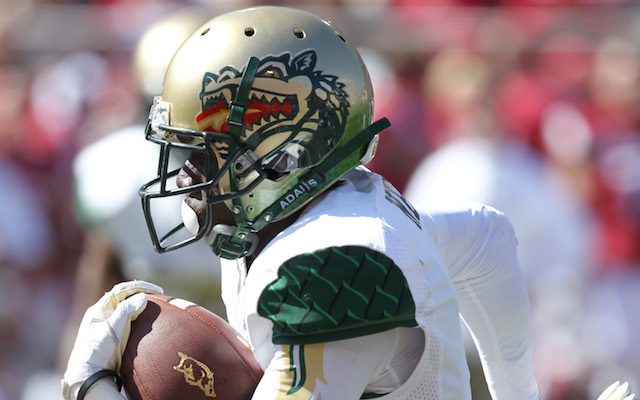 Congratulations, your favorite NFL team is the proud new owner of a J.J. Nelson! Now, odds are that you aren't all that familiar with J.J. seeing as how he's not a household name that played at a major school. Luckily for you, we know a bit about him that we would be more than happy to share with you. 
So let's get to learning.
Who the heck is he? 
Well, first of all, Mr. Nelson's real first name is Jamarcus. I know, it's scary to think that your team just drafted a guy named Jamarcus because of Jamarcus Russell, but at least this one wasn't taken with the first pick. Maybe that's why he goes with the J.J. nickname instead.
So what exactly makes J.J. so special?
Well, you can teach a football players a lot of things about football. You can teach technique, you can teach him how to read a defense, and all that stuff, but what you can't teach him is speed. And J.J. has a whole lot of it. We're talking track speed, and he ran the fastest 40-yard dash at the NFL Combine, finishing in 4.28 seconds.
Prove it.
OK, fine.
Wow, that's fast. Anything else you can tell me?
Yes, but it's not the happiest news. It's very possible that J.J. Nelson could be the very last player from UAB to ever be drafted, as the school announced last season that he'd be shutting down the football program. So he may be the last official Blazer taken in the draft. UAB's own personal Mr. Irrelevant. [Edit. note: he wasn't, as tight end Kennard Backman was selected by the Green Bay Packers in the sixth round.]
That's too bad about UAB. Can you make me feel better with highlights?
Yup.
Can I follow him on Twitter?  
You sure can, and if you do, please ask him why he calls himself The Jizzle Man.
Do you think he'll be any good in the NFL?
He has a chance. Odds are he won't see much time as a receiver, because even though he's lightning fast, he's not very big. He could be very valuable as a returner, though.
Rutgers' offensive line challenged a local curling club to a match

These five teams have the best chance of being the Group of Five darling this coming year

Drevno had been running the Michigan offense for three seasons
Aaron was reportedly shot while trying to protect his girlfriend when a fight broke out at...

An assistant-by-assistant look at changes Saban made to the Tide's staff ahead of 2018

Find out when Nick Saban, Kirby Smart and the rest of the coaches will speak ahead of the...