Surveying the Field: Baylor, Alabama sticking to what works to stay on track
Like at Alabama, Baylor believes in what they're doing from the top down and it's one reason why the Bears likely won't take a huge step back without Robert Griffin III behind center. What separates Alabama from the rest of college football at the moment is the right mix of things that Nick Saban has put in place.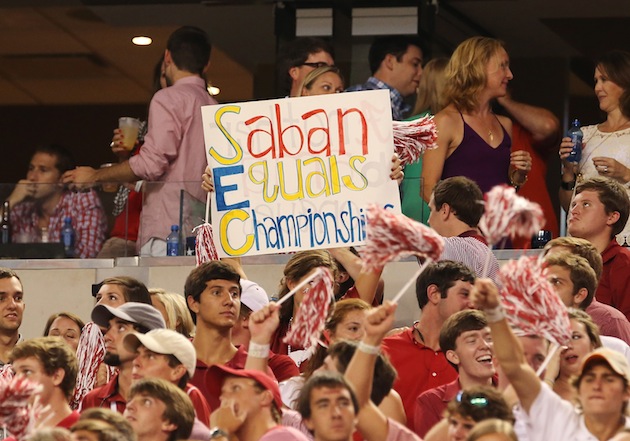 Thanks to 'The Process' he's put in place at Alabama, there's little argument that Nick Saban has things rolling at Alabama. (US Presswire)
There was a point, sometime around halftime, when it became remarkably apparent how similar Baylor Bears and Alabama Crimson Tide had managed to become.
Wait, what?
Baylor, the perennial doormat, similar to one of the most prestigious college football programs in the country? Yes, I'll be the one to make the comparison. But it's not without reasoning, even if some might think I have lost my senses. I'm not comparing each product on the field, but how each has found a way to move on from the past in 2012.
Against solid, but likely overmatched, opponents during Week 1, both schools turned in results that were only mildly surprising in just how large the margin of victory was. The real story, on the surface and below it, appeared to be how neither managed to lose a step after departures many considered to be deep and worrisome. Without a Heisman winner behind center, the Bears' starting offense looked like its normal quick-strike self while cruising to an easy 59-24 win. The Crimson Tide was replacing seven key starters from one of the best defensive units in the game's history and a stud running back, but still managed to make Denard Robinson and Michigan Wolverines look like JV team at Cowboys Stadium. Despite fresh faces, it was almost like nothing had happened to the teams themselves.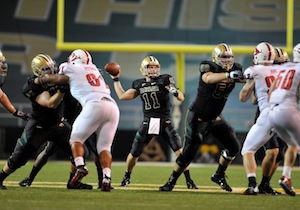 There wasn't much of a drop off with Baylor in their first game of 2012. (US Presswire)
"I think we're a tough football team," said Baylor coach Art Briles. "We're a team that knows how to win, that believes they're going to win and that can certainly play in spurts with some pretty dynamic qualities on both sides of the ball."
Coming off, by any measure, the most successful season in school history, many wondered if the Renaissance on the Brazos could continue in Waco without Robert Griffin III. Quarterback Nick Florence stated his case that while he might not have the next-level skills that his predecessor flashed, the program is bigger than just one player and thus able to absorb the hit of RG3 leaving. The fact that many expect wins around the school, and have bought into that thinking after success the past few years under Briles, seems unfathomable to anybody with any memory of what the program was five years ago.
The Bears were the perennial homecoming opponent and frequently one of the worst BCS teams in the country. They celebrate the 1949 Dixie Bowl win on the outside of Floyd Casey Stadium because, well, there's not much else to put up. All that seemed to change when Briles came on board and brought with him a different philosophy than past coaches -- one the players, fans and staff have bought into.
"It goes to show that nothing happened when (RG3) left. That's a big thing for our offense to show, that we're still the same offense and we're going to put points on the board," Florence said. "I learned a lot from Griff and he's done a lot for our program but I think it goes to show that our coaches are recruiting great players. Griff's done a lot for us but just because he leaves, it doesn't mean that anything happens here. We keep rolling."
The same was true up the road in Dallas, where many came in with questions about Alabama and left questioning how anybody should have ever doubted the program. Most pointed to the "step back" the team took after winning their first title under Nick Saban when they went 10-3 in 2010. This season seemed different coming in with those seven replacements starters all seeing significant time last year, and plenty of five-stars once again making an early appearance on the two-deep chart.
But there was still some doubt. Replacements for NFL Draft picks just don't grow on trees but maybe, just maybe, they do in Tuscaloosa.
"The expectation that we have and the standard we want to play to in this business or in sports is about who you are," Nick Saban said. "It's good to look good. It's good to wear the jersey, but it's the guy in it and the character that you have and who you are that probably makes the biggest difference."
At Alabama, Saban has created roles for every single position in the offense and on defense, and simply goes about finding the right players to fit each one. He made it a point to say Saturday night that the staff doesn't pigeonhole anybody but from the quarterback (not especially tall or short, plays mistake free) to slot receiver (fast), flanker (tall, strong, fast) to defensive tackle (mammoth) and on down the line, it's about players fitting a system that has proven itself time after time. Why have the Crimson Tide become so dominant as of late? Their head coach is not only getting the right players to fit each role, but he's been bringing in the top athletes in the country to fill each spot. As I wrote after the game, there's nobody better at replacing and reloading than Saban.
That said, it's the belief in the system -- The Process -- that gives the program the edge over others. SEC schools have seen the success Saban had at LSU Tigers and have been poaching assistants of his ever since. Tennessee Volunteers has Derek Dooley and, now, Sal Sunseri. Will Muschamp is at Florida Gators , Jimbo Fisher at Florida State Seminoles . All have tried to adapt The Process to suit their programs with varying degrees of success -- most of them without much luck so far. Why have they struggled, despite bringing over a successful blueprint? It's not the resources, it's the belief.
Though Briles isn't from the same tree at Baylor, he has seemingly instilled his will upon the program in a similar manner to Saban. Oregon, under Chip Kelly, also has done the same as they, "Win the Day," over and over.
"We're just trying to do what Coach (Saban) preaches," quarterback AJ McCarron said. "That's to go out and play our game, do what we're supposed to do, take care of what we're supposed to take care of every play of the game. In the end, everything will fall in place.
"Anytime Coach Saban speaks, we're all ears. Coach Saban, he definitely lets us know that this team hasn't done anything yet. We have to come out and try and find our identity as a team."
Muschamp might think about running his program a lot like Saban's -- with a better built-in talent base mind you -- but where he's struggled is that he and others have not fully bought into his belief as to how to run a program. Take the Gators offense for example, which has transitioned from Urban Meyer's spread (and the personnel to match) to one run by Charlie Weis and now Brent Pease. Prior to the opener, the coaches surprisingly announced one quarterback would play the 1st quarter and the other the 2nd before choosing who would play the rest of the game.
As they say, if you have two quarterbacks, you don't really have a quarterback.
In Gainesville, Muschamp has a good idea of what he wants to do, but until he fully embraces a philosophy that reverberates throughout every decision made regarding the program, the team might continue to struggle despite talent on the roster.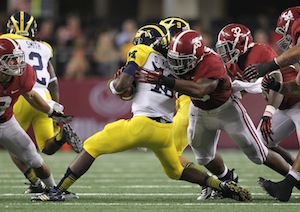 Nico Johnson filled in for an NFL Draft pick just fine but his past expereince may be the difference in Alabama not sliding back after a title run. (US Presswire)
It's not easy arriving at something that shapes every decision and becomes bigger than any coach or any player. Just as roles have been created, so too have staff positions and recruiting tactics. If a players departs for the NFL or a coach moves onto another job, another is brought into fill the role. Perhaps it's not a perfect match but adjustments will be made. Although it's too early to tell, it seems like the Alabama offense will be more explosive than past editions with coordinator Doug Nussmeier at the helm. The same principles -- few turnovers, a strong running game, grind opponents down -- will be present when teams face the Crimson Tide, but we might see more tailbacks, deep passes and surprises than before. Still, there's no deviation from what has been dictated from Saban.
The entire "Process" isn't something the 60-year-old coach has come up with overnight, it was accomplished with over decades of coaching for others and at different stops along the way. There were plenty of times where it didn't work perfectly despite success at Michigan State Spartans and LSU, as "The Process" was being molded. In many respects it takes the right recipe (The Process) with the right ingredients (Alabama) to work as it has for Saban the past few seasons. Urban Meyer got away from the recipe during his final years at Florida but is hoping to return to his roots and find similar ingredients at Ohio Stae with equal success.
"I really appreciate the great job that our coaches have done and our organization has done to recruit," said Saban. "Everybody at Alabama recruits. Our president recruits. Our provost recruits. (Athletic director) Mal Moore recruits. Our coaches do a good job."
When I covered USC a few years ago, Pete Carroll once described how he arrived at his version of the process, which he dubbed 'Win Forever.' He always had the vision but never could find the right ingredients to make it work, recalling the story of how he wanted to beef up meals while with the Patriots but was told he couldn't give the team much more than peanut butter sandwiches from owner Bob Kraft. Once he was out of the NFL, he set about coming up with every detail to accomplish winning the way he wanted to win. Many were surprised when he got the USC job despite being a reportedly lower-tier choice by then-athletic director Mike Garrett. What Carroll did is sell him on what he believed. At USC, despite a run-in with the NCAA, the ingredients were just right for a historic run.
I'm not quite sure Carroll's successor, Lane Kiffin, has his belief system in concrete, but he's certainly bought into the ingredients that USC has provided, even if the recipe isn't quite there yet. If you've ever brought up the NCAA sanctions the school had been placed under, the youthful head coach always will circle around to the "power of Southern California Trojans ." It's working this season but, when there's no Matt Barkley or Khalid Holmes helping guide the team, it will be interesting to see if sustained success still will be present in Southern California.
Back in the South though, as the romp against Michigan showed, this doesn't look like another 2010 version of the Tide -- hungover after a title. The players are in familiar roles and perhaps most importantly, they have plenty of experience even if several of them didn't start last season. From the star to the backups, the players and coaches are on the same page and all that's left is finding the right mix of chemistry to tweak things just right to produce another championship.
"Everybody's bought in and understands our purpose," linebacker Nico Johnson said. "Everybody is hungry and I think we're more hungry than we were last year coming into the season. We want to go out and create an identity for this team."
A scary thought.
Stat of the week
Via Mike Hlas of the Cedar Rapids Gazette, the 17-13 loss to Michigan State was Boise State Broncos 's first defeat by more than three points since Nov. 23, 2007 (39-27 at Hawaii Rainbow Warriors ).
Stats to chew on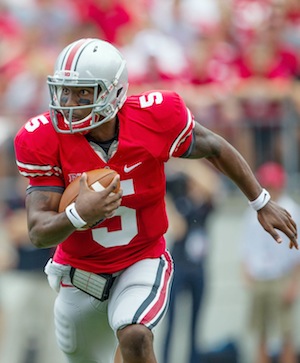 It took a quarter to get going but Braxton Miller looks special at Ohio State with Urban Meyer at the helm. (US Presswire)
- Braxton Miller set an Ohio State Buckeyes State" data-canon="Ohio Bobcats" data-type="SPORTS_OBJECT_TEAM" id="shortcode0"> record for rushing yards by a quarterback with 161.
- 499 yards for Ohio was more than any Big Ten offense has gained vs. Penn State Nittany Lions since 2001 (h/t Matt Hinton).
-Decorated Notre Dame linebacker Manti Te'o had his first career interception and first career fumble recovery against Navy Midshipmen . Everett Golson was the first Irish QB to make his first start away from home since Ron Powlus in 1994. 149 yards rushing was the fewest by Navy since December 2010 and, on the flipside, Notre Dame Fighting Irish 's 293 yards on the ground were the most by the program since November 2003. The Irish have won 34 of 36 when outrushing opponent.
- Florida will be making its 11th trip to the state of Texas in program history. The Gators have gone 1-7-2 overall with the last win coming in 1977 at Rice Owls .
- Oklahoma Sooners quarterback Landry Jones career stats prior to losing Ryan Broyles: 63%, 324 ypg, 18-7 TD-INT ratio. After: 58%, 228 ypg, 5-6 TD-INT.
- Wisconsin Badgers coach Bret Bielema is the only coach in the Leaders division to have a winning record in Big Ten play.
- Missouri Tigers 's Marcus Murphy became the first Tiger to have two punt returns for scores in the same game, which ties an NCAA record.
- The three Utah Utes schools that play FBS football won by a combined scored of 105-9 Thursday night (h/t Bruce Feldman).
- Rice linebacker Cameron Nwosu blocked three extra point attempts in the first half against UCLA Bruins , a NCAA single-game record.
- The current Big East schools Saturday went 2-2, with both of the losses by schools leaving (Syracuse and Pitt). That looks great when considering future Big East schools went 1-5, with one loss to an FCS team and the other to a team transitioning to FBS.
- Saturday night represented the most first-half points for Alabama since a Georgia State game in Nov. 2010 and the most points Michigan has allowed in a half since the 2011 Gator Bowl against Mississippi State.
- Oklahoma State set a school record for rushing touchdowns in a game (nine) versus Savannah State. That's as many or more than Kentucky, Marshall, Akron and Central Michigan had on the ground all of last season. OSU tied a school record for points in a quarter with 35 in the 1st. Seven of the 12 total touchdowns were from players who had never scored before.
- Le'Veon Bell 's stat line for Michigan State is simply amazing: 50 touches (56% of the Spartans offensive snaps), 210 yards, 2 touchdowns and 55 yards receiving.
- Oregon's sports information staff came up with an interesting stat as it relates to the 24 second half points given up: the Ducks starting front seven and free safety did not record a single tackle after halftime. Given the 40-point lead, it's understandable Chip Kelly wanted to rotate guys in.
- Via Coaches by the Numbers: In the 80 games Dana Holgorsen has been a head coach or offensive coordinator, his teams have scored 40-plus points 41 times (51%).
- Another good stat from old pal Brett McMurphy, the longest streaks scoring at least 30 points: Oklahoma State 19, Oregon 14, USC 9. USC has scored 30-plus in 83 of its last 122 games.
- This says it all from the Big East twitter account: Final: Youngstown State 31, Pittsburgh 17. BIG EAST sees a 57-game winning streak against FCS opponents end.
Quote of the week
"They don't have any slow dudes like they used to." - Steve Spurrier on Vanderbilt.
Tweet of the week
Thank you to all the fans for the support tonight. great win for our team!! And to F. Mayweather u wish u had 3 million back I bet #sucks

— AJ McCarron (@10AJMcCarron) in reference to rumors that the boxer had placed a large bet on the Wolverines. September 2, 2012
Fisch's Finest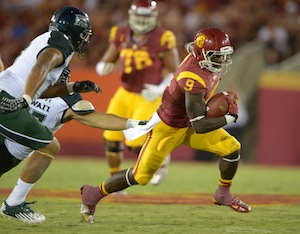 Marqise Lee and USC almost moved into the No. 2 spot after looking impressive against Hawaii. (US Presswire)
1. Alabama
2. LSU
3. USC
4. Oregon
5. West Virginia
6. Michigan State
7. Florida State
8. Arkansas
9. Clemson
10. Ohio State
Where we'll be this week
I'll be at the Rose Bowl for Nebraska's trip out West to UCLA while Bruce Feldman will head to Texas A&M's first SEC game against Florida. Dennis Dodd and Tony Barnhart will both be in Columbia for Missouri's conference opener against Georgia.
Leaning this Way
Florida at Texas A&M
Anytime the Gators cross the Mississippi River, all bets seem to be off. They might not have shown much on either side of the ball against Bowling Green but the lackluster performance indicated that there were issues beyond just scheming. We don't know about these new look Aggies but they should have a very good offensive line and running game to pair with a quarterback that can make things happen with his legs. Kyle Field should be electric for the program's first SEC game.
Pick: Texas A&M
Washington at LSU
The hits keep coming for the Huskies, who have seemingly seen ACL tears happen in players' sleep. That's not a great sign considering how good the Tigers' defense is this season, especially up front along the line. Keith Price might be able to get lucky and put some points on the board but Steve Sarkisan just doesn't have enough weapons nor enough depth to win in Death Valley.
Pick: LSU
Georgia at Missouri
This seems like a true coin-flip game and like the other former Big 12 team starting out life in the SEC, there's plenty of chips being pushed in the middle on behalf of the Tigers. Mark Richt hasn't done a great job of getting his team to play well when they travel West but, despite struggling against Buffalo, they should eke out a close one with Arron Murray and some freshman tailbacks pacing the offense and a defense that finds just enough despite some missing starters.
Pick: Georgia
The junior will take the snaps for the defending national champions in 2017

MetLife Stadium is about 10 miles away from where the World Trade Center buildings once st...

The Terps will wear these against Indiana on Oct. 28.
The coach of the Eagles isn't here for no science talk

These are the teams that are getting too much -- or too little -- love before the season

The Crimson Tide start atop the AP Top 25 poll for the second straight season