Surveying the Field: Big Ten must transform itself and can look to the Pac-12 for inspiration
It was a weekend to forget for the Big Ten. Can the conference transform itself and add more speed to compete outside the Midwest? Perhaps it should look west to the Pac-12 for an example.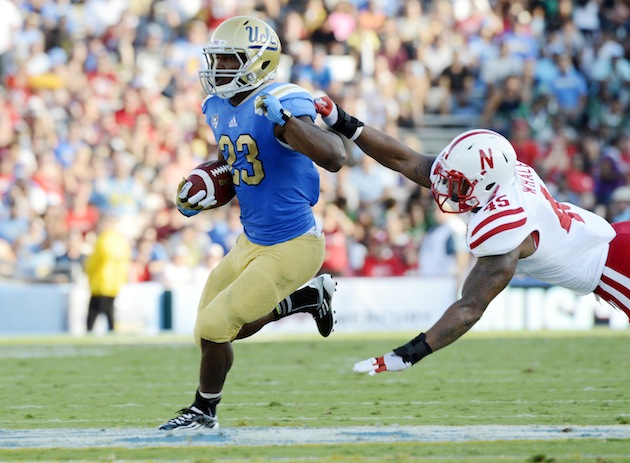 The Big Ten has been a step behind other conferences for some time and it caught up with them on Saturday. (US Presswire)
It was not pretty. Not in Corvallis or Los Angeles, Iowa City or Charlottesville. The Big Ten dropped a big bomb last week, and the concern coming out of Chicago to each of the conference's 12 schools is palpable after assessing the damage.
It was a bloody Saturday for the B1G, which became legendary for inept play. A lack of offense resulted in half of the conference teams ranking 85th or worse in total offense by Sunday. The Big Ten lost six games to BCS teams last week and fell to just 2-7 overall against AQ teams. It's never a good sign for the richest league in the country to have its banner carried not by Ohio State or Michigan entering Week 3, but by a Northwestern squad that owned both of those BCS wins.
Three losses were to the Pac-12 alone as the Big Ten faltered to a 6-6 record that was only propped up by victories against Air Force, UMass, New Hampshire, UCF and Vandy. Among teams eligible to win the title, only Indiana won in the Leaders Division. And that 2-0 start came with a price; Hoosiers quarterback Tre Roberson is done for the year after breaking a leg. Yes, there were wins. But some of them (like Michigan's) were close and somewhat uninspiring.
Danger, Jim Delany, Danger!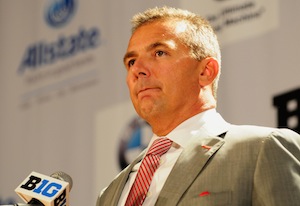 Perhaps the arrival of Urban Meyer at Ohio State will accelerate change in the conference. (US Presswire)
It's hard to believe it has been a decade since Ohio State won the 2002 BCS championship. In the time since then, the Big Ten's reputation has taken step back after step back. The Buckeyes' struggles against the SEC are a chief reason why, but it's not just limited to the school in Columbus. From 1990 to 2000, the Big Ten won seven Rose Bowls. Since then? Just one. The conference has the most BCS bowl appearances, but a winning percentage of just 46 percent. Then, in a span of only 10 hours, there was the memorable tank job on New Year's Day 2011. The league went 0-5 in bowl games.
According to Jon Solomon of The Birmingham News, Michigan's loss to Alabama last week was the Big Ten's 10th straight non-conference game loss vs. a top-five team. Average margin of defeat: 15.9 points. There are a litany of issues, but the bottom line as to why the league has been a step behind everybody else is that, well, they've been a step behind everybody else.
In watching UCLA beat Nebraska on Saturday, I was struck by how seemingly every Cornhuskers defender looked slower by a decent margin when guys like Steven Manfro and Johnathan Franklin were able to pull away and race off to the end zone. It was the same story watching Illinois play Arizona State and especially when seeing Michigan play Alabama to open the season.
The biggest issue for the conference is overall team speed. Sure, that's subjective. But it's accurate. From the safeties to the slot receivers, one can't compare how most Big Ten teams operate between the lines to their counterparts in the Big 12, Pac-12, SEC and, even in some cases, the ACC.
That's not to say there aren't fast players in the Big Ten; there just aren't enough of them. Taylor Martinez proved he has wheels by outrunning everybody on UCLA's defense on a 92-yard score. Denard Robinson is affectionally known as Shoelace for a reason. Still, it's not a good sign for overall team speed when eight Big Ten players rushed for more than 100 yards and five of them were quarterbacks.
Freshman of the week Devin Funchess, who became the Wolverines' first tight end to have 100+ yards receiving since 1997, is an example. He's big and physical but can still move down the field and in space with a reported 4.6 40-yard dash. Grabbing more players like him at positions like tight end is a start to being more competitive with programs from other leagues, and the Wolverines have been well on their way based on their recent recruiting classes.
The school that might be ahead of the curve is not surprisingly led by one of the smartest coaches in the conference, Pat Fitzgerald. In addition to a sound defensive system and an offense predicated on getting guys in space, the Wildcats are off to a 2-0 start and have been adding speedsters in bunches. Venric Mark hails from Texas, but Fitzgerald plucked the undersized-but-quick running back/receiver up. All he's doing is ranking second in the country in all-purpose yards per game, averaging 219.5. Freshman defensive end/linebacker Ifeadi Odenigbo is raw but might be one of the fastest players on defense and will likely be used sparingly until he fully grasps the game.
Urban Meyer's arrival at Ohio State will likely push the conference further ahead as well, not only in terms of keeping up with the Joneses elsewhere but being competitive against a school that has the best talent base in the Midwest. SEC-caliber defensive linemen like Noah Spence, Adolphus <span data-shortcode=" data-canon="Adolphus Washington" data-type="SPORTS_OBJECT_PLAYER" id="shortcode0"> and Se'Von Pittman among others will be -- and already are -- a handful. The Buckeyes' class of 2013 has even more speed and quickness at skill position spots and players like Jalin Marshall, Ezekiel Elliott and Eli Woodard should be filling familiar roles to those that saw Meyer go on an impressive run at Florida.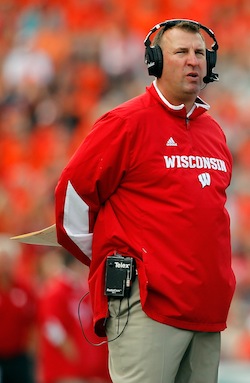 Oregon State will continue to happen. (Getty Images)
Yet, while things are changing with the Big Ten as programs adjust to the current state of college football. As we saw last week, the change isn't happening quickly enough or from enough schools. Though Wisconsin prides itself on the powerful running game, it hasn't been able to break through for big non-conference wins because of a lack of skill position players. Fired on Sunday, former Badgers offensive line coach Mike Markuson said as much regarding the team's struggles to run against Oregon State.
"Not any blazers [at wide receiver]," Markuson lamented in an interview. "And the one kid, Jared Abbrederis, got hurt during the game."
If a team that has been to back-to-back Rose Bowls like Wisconsin is struggling to adapt and beat a Pac-12 squad that went 3-9 last season, how are Illinois, Purdue and others supposed to change? They would be wise to look at the signs and figure out where the game will be in two years, then aggressively recruit appropriately while bringing in coaches who know the right schemes. In many respects, their brethren along the Pacific Coast offer a good game plan.
The Pac-12 has re-tooled on a fairly consistent basis and still performed well over the years. In the BCS-era, the league started out being known for its high-flying offenses and pesky defenses -- but mostly just for the passing attacks. A notable shift occurred when Pete Carroll came waltzing into Los Angeles and set USC on its run nearly a decade ago. Oregon State coach Mike Riley hasn't been shy in saying the Trojans' run forced the rest of the league to step up their game. Not only in terms of play on the field, but from recruiting to coaching to facilities (though USC lagged notably behind in the latter department until this year). The Pac-12 no longer has just one dominant team and a number of dwarfs; there's strength and depth.
A second recent wave of change has been brought on by the arrival of Chip Kelly at Oregon in 2007. Not only did the Ducks operate at a breakneck pace on offense, they recruited the fastest players they could regardless of size and valued maximum effort on defense that favored even deeper rotations along the defensive line. Even the Trojans weren't immune, and the difficulty they had in stopping the offense (1-3 vs. Kelly until last year's win) led them to retool their linebacker corps to keep up.
Just take look at the Rose Bowl-winning linebacker group from the 2009 season off one of the best defenses in recent memory. Brian Cushing, Rey Maualuga and Kaluka Maiava averaged nearly 6-foot-2 and roughly 248 pounds. The 2012 group of Lamar Dawson, Dion Bailey and Hayes Pullard average out to exactly 6-foot-1 but only 233 pounds. And make no mistake about it - there's a big gap in how each group looks stepping off the bus.
Similar changes are happening across the conference, along with grabbing athletic defensive ends that can chase down running backs. With the coaching additions of Rich Rodriguez, Mike Leach, Todd Graham and what UCLA is doing on offense under coordinator Noel Mazzone, it's likely to keep up out west and continue evolving. Stanford is a bit of an outlier on offense -- as is USC to an extent -- but has continued to recruit speedy players at wideout and, of course, on defense.
Perhaps Meyer and Hoke are ushering in a similar change in the Big Ten with the direction they take on both sides of the ball. After languishing behind others as a league that has been half a step behind, perhaps B1G programs will refocus their efforts and grab the necessary recruits (a lot more from Florida, Texas and California) to keep pace with their peers in the South and West.
After last week, the message is coming through loud and clear: adapt or lose.
Stat of the week
Stanford finished with only 92 yards rushing against Duke and, according to Kyle Bonagura, that snapped a 49-game streak in which the Cardinal ran for more than 100 yards as a team. The last time it fell short of the century mark was a 31-14 loss at TCU on Sept. 13, 2008. Stanford also scored on offense, defense and special teams against Duke for the first time since Sept. 19, 2009, in a 42-17 victory over San Jose State.
Stats to chew on
- Louisiana Tech and Houston set NCAA records for most combined plays run in a regulation game (209), most combined first downs recorded in a game (78), most completed passes (87) and most passes attempted without an interception (129). Needless to say, it wasn't a great night for the defenses.
- Denard Robinson became the only player in FBS history to run and pass for 200 or more yards in the same game three times. The Wolverines gained 422 total yards against Air Force, and Robinson was responsible for a mere 426 of them (101 percent).
- Johnathan Franklin leads the nation in rushing with 215.5 yards per game and has an average of 10.5 yards per rush.
- Two games into the season, and Stanford safety Ed Reynolds is looking like this year's David Amerson with three picks already.
- Gary Patterson became TCU's all-time winningest coach with the season opening 56-0 win over Grambling.
- Oklahoma State gave up 59 points to Arizona, while the rest of the Big 12 allowed 67 points combined on Saturday. (Via Aaron Dickens)
- UNLV out-gained Northern Arizona 428-288 and didn't turn the ball over once. And yet, the Runnin' Rebels lost. It was the first win for NAU over an FBS team in 25 years.
- UCLA's 653 yards of total offense is the second-most yards ever allowed by Nebraska in school history. The record is 656 yards, from the 1956 season, and the Bruins would have beaten that mark had it not been for a pair of knees at the end of the game.
- USC has dropped three in a row to Stanford, but they have never lost four straight to
the Cardinal. Last year, in the highest-scoring game in USC history, Stanford won 56-48 in triple overtime. USC has outscored opponents in the first half this year 49-3.
- The 61-yard field goal by Clemson's Spencer Benton on Saturday was the longest in ACC history.
- Good point by Dennis Dodd last Saturday that, since the beginning of the 2011 season, Sacramento State (Oregon State, Colorado) has the same number of FBS wins as Ole Miss (Fresno State, UTEP). That also gives the Hornets as many Pac-12 wins as Washington State, Colorado and Arizona in the same timeframe.
- Miami has allowed 1,035 yards in its first two games, the most in consecutive games since giving up 1,168 in the last two games of 1998 season. (Via Tim Reynolds)
- Taylor Martinez is 15-1 when the Huskers run for at least 200 yards. He had been undefeated when hitting the mark and 0-8 as a starter when held to fewer than 180 (h/t Matt Hinton).
Tweet of the week
Instead of a quote of the week, there's a bonus tweet of the week with a photo. You probably should follow CBS Sports blogger Tom Fornelli on Twitter, by the way.
When Danny O'Brien came to Madison Bret Bielema wasn't aware he'd be bringing Maryland with him.

— Tom Fornelli (@TomFornelli) September 8, 2012
You're not fooling anyone, Coach Tressel... RT @tomfornelli: I don't know what this is but I'm terrified of it. twitter.com/TomFornelli/st…

— rebkah howard (@pink_funk) September 8, 2012
Fisch's Finest
1. LSU
2. Alabama
3. USC
4. Oregon
5. Georgia
6. West Virginia
8. Ohio State
9. Clemson
10. Kansas State
Where we'll be this week
I'll be home this week taking care of the SEC beat while our own Eye on College Football blogger Jerry Hinnen welcomes another child into this college football-loving world. Dennis Dodd sticks with Alabama-Arkansas, and Bruce Feldman heads up to the Bay Area for USC-Stanford.
Leaning this way
Florida at Tennessee
Can I pick against the Gators two weeks in a row? Yes. The game against Texas A&M was a good test, but they'll see a different-look offense on display against Tennessee and a much more seasoned quarterback in Tyler Bray. Vols defensive coordinator Sal Sunseri should be able to come up with a plan to stop Mike Gillislee, who is already dealing with an injured groin. Jeff Driskel might have done enough to help beat the Aggies, but it will be a different story this week.
Pick: Tennessee
USC at Stanford
Hard to fathom that the Cardinal have taken three straight from the Trojans, but guys like Andrew Luck behind center tend to play a role in that. Against Syracuse in sloppy conditions, the USC offense wasn't much to write home about until late and the defense looked average against a high-flying Syracuse attack. Stanford seemed much improved against Duke and, with its front seven, should be able to put some pressure on Matt Barkley. The only issue is the secondary, and that's why Marqise Lee and Robert Woods have to be licking their chops.
Pick: USC
Notre Dame at Michigan State
There's optimism among the Irish fans despite last week's close call against Purdue. But even with a healthy Everett Golson (thumb), he might be running for his life against one of the top pass rushers in the country, William Gholson. With a great running game, Notre Dame will have to keep the front seven a little tighter than before. That means Michigan State could exploit the inexperienced secondary despite a first-year starter.
Pick: Michigan State
Robbie Robinson has not been enrolled at ASU for more than a year

Rutgers' offensive line challenged a local curling club to a match

These five teams have the best chance of being the Group of Five darling this coming year
Drevno had been running the Michigan offense for three seasons

Aaron was reportedly shot while trying to protect his girlfriend when a fight broke out at...

An assistant-by-assistant look at changes Saban made to the Tide's staff ahead of 2018