Surveying the Field: Bill Snyder is doing it again at Kansas State
One wily, old coaching veteran who announced his return to the top 10 by having his team ready and able to play in big games is Kansas State's Bill Snyder. The Master of Manhattan pulled off yet another shocker over Oklahoma thanks to a Heisman dark horse and former quarterback on defense.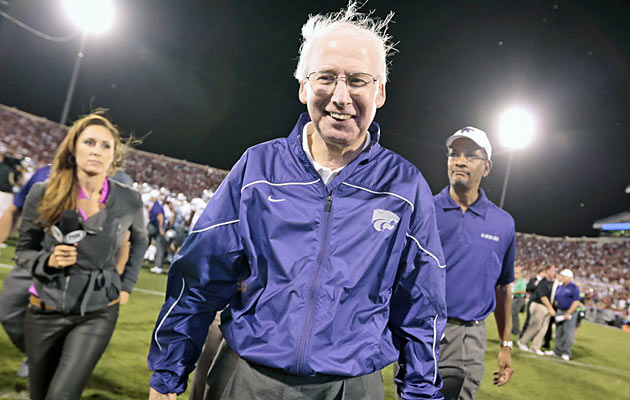 Nobody gets more out of his players than Bill Snyder, who thrust K-State into the Big 12 title picture. (US Presswire)
Peaks and valleys are inherent in the game of college football. An emotional win one week, a puzzling loss the next: This is what head coaches try to guard against all the time, and some are better at it than others.
Just ask Nick Saban, who earlier this year memorably lit into the media for overlooking Alabama's upcoming opponent in Western Kentucky after pounding Michigan to open the season. The Crimson Tide did end up struggling somewhat against a pretty good Hilltoppers team, but managed to walk out with an easy 35-0 win at the end of the day.
Though Saban might have made his point somewhat sorely, it's an act coaches have been doing for decades in their own way. Everyone wants a focused team, but it's getting that team to come out and play with the same enthusiasm, preparation and execution every game that makes good teams great and, on the flip side, average teams bad ones.
As we saw this past week, one wily, old veteran of the game announced his return to the top 10 by having his team ready and able to play. Kansas State's Bill Snyder, the Master of Manhattan, pulled off yet another shocker when many thought he'd lose to Oklahoma. Snyder and Kansas State grabbed a 24-19 win over the Sooners, vaulting the Wildcats to No. 7 in the country, giving them the Big 12 conference banner as the highest ranked team in the league.
"It means we got better," Snyder deadpanned after the victory. "Our coaches prepared our players well and our players played extremely well. They played hard and I appreciated that a great deal. I think we got better in virtually all facets of the game.
"I don't know how many different ways to say it, they played hard."
The funny thing is, he doesn't know how to say it any differently. He's simple, to the point and there's nothing much you can do about it. Just ask the Big 12, where he is now 56-19 against teams currently in the league and tied with Oklahoma State for most wins since the start of 2011.
"He really didn't have too many words to say and that's how you can tell he's excited," running back John Hubert said.
Hubert, quarterback Collin Klein and a host of players on defense are among the 18 returning starters on a squad that went 10-3 last season. Most expected the team to take a step back after so many close wins a year ago, but instead it's moved forward by simply playing sound football. The Wildcats are now one of the favorites to win the league after going into Norman and knocking off Bob Stoops at home for the first time as a ranked team. It was quite the turnaround from the teams' last meeting, where Oklahoma scored 35 unanswered in the second half to ring up the fourth most points ever scored on a Snyder defense in a 58-17 win.
At the heart of the Wildcats is their calm, collected leader and Heisman Trophy dark horse Klein. He doesn't have the strongest arm nor is he the fastest guy on the field, but he's savvy and plays mostly mistake-free. To seal the win against the Sooners, he converted two key third downs on the final drive by first putting just enough touch on a pass to Tramaine Thompson for 12 yards and a first down and then hesitating for just a second before coming downhill with the ball to gain five yards to move the sticks, which ultimately sealed the game.
Klein put up impressive numbers a year ago -- 1,141 yards and 27 touchdowns rushing, 1,918 yards and 13 touchdowns passing -- but there's less pressure on him to do everything this year. He gives Kansas State a chance to win every week because of his demeanor and knack for making the right play at the right time. With Klein under center, it doesn't seem like the Wildcats are ever out of a game. Klein doesn't dwell on mistakes and takes after his coach more than most.
"I like third and medium much more than third and long," Snyder says matter of factly, as he always does, when asked about the offense. "You've got a better chance so obviously you just want to go that way."
What's remarkable about the Snyder Era, Part II is that he has the right mix of players on the roster and more of them are contributing than ever before. Close to one-third of the roster is made up of junior college players or college transfers. On the defensive side, just two starters were signed out of high school (Tre Walker and Ty Zimmerman) by the program. It's as if the coaching staff is turning water into wine, but that might not be the most apt metaphor since most of the roster already has aged like a fine whiskey and merely needed to be opened at the right time.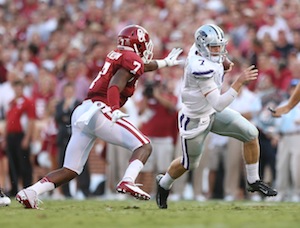 Collin Klein does a little bit of everything in helping Kansas State to a top-10 ranking. (US Presswire)
Look no further than Justin Tuggle as an example of Snyder's approach. The son of 14-year NFL veteran and College Football Hall of Famer Jessie Tuggle, he was a quarterback coming out of high school in suburban Atlanta. The younger Tuggle signed with Boston College and wound up starting three games as a red shirt freshman. After failing to win the starting job he moved on to Blinn Junior College in 2010 -- he succeeded some guy named Cam Newton -- and emerged as Rivals.com top junior college dual-threat quarterback. He never made a dent on the Kansas State depth chart last year beyond a few special teams plays and was moved to linebacker after the regular season. With a full spring under his belt to learn the position, Tuggle has been one of the reasons the Wildcats are 26th in scoring defense and are allowing just 93 yards rushing a game.
"He has played extremely well," Snyder said. "He plays hard. He's getting a little bit better every week and just kind of getting acclimated to things. He's playing within himself, which is extremely important."
Against Oklahoma on Saturday, Tuggle chased down quarterback Landry Jones and strip-sacked him in the middle of the second quarter, which led to a defensive touchdown and Kansas State's first points of the game. Tuggle wasn't even playing linebacker on the play; he lined up as a defensive end.
"It's weird, but it's a great feeling," Tuggle said. "Last year I didn't have too much fun on the sidelines, but I supported my team the whole way through. Personally, though, it wasn't great just watching on the sidelines and I wanted to get on the field and get in games like we played in (vs. Oklahoma). That's what I looked forward to every winter and summer workout.
"I just like being on the field and able to make plays and getting out there by showing off my athleticism. Whether it's getting off the edge or if I'm back in the box at linebacker, I just love being on the field."
Snyder has taken one of the worst programs in the country and transformed it into one that has won nearly 75 percent of its games since 1993. Although there's not much in-state talent in the high school ranks, his staff has done a remarkable job of evaluating players and developing them in a short time. Though you wouldn't think it with a rag-tag group, at least one Wildcat has been drafted into the NFL the past 18 years, according to the school.
The oldest coach at the FBS level, the 72-year-old Snyder (he turns 73 in October) has perhaps one of the better teams he's had at Kansas State and Saturday's upset was simply the Wildcats' way of saying the Big 12 championship is not only realistic for them, but expected.
"All wins are important, every coach will tell you that and every player will probably tell you the same thing because they're so hard to come by," Snyder said. "There was a confidence going into the ball game and they felt that this could happen."
"We are one of those teams that could be in the top-five easily," Hubert echoed. "But we kind of like to be underdogs to give us the momentum and confidence to play hard."
There's no flash or celebration for the hard-nosed Wildcats, but with Snyder leading the way, this team might just be able to capture that Big 12 title that's been tabbed for others. It's OK if you don't believe it, however -- that's just the way Kansas State likes it.
Stat of the week
From Coaches by the Numbers, Boise State's Chris Petersen has coached 146 games since 2001 as head coach or offensive coordinator. Against BYU, it marked only second time in that stretch that Petersen scored fewer than 10 points.
Stats to chew on
- Texas Tech is currently No. 2 in total offense and No. 1 in total defense. Of course, it's done it against powerhouses like Northwestern State, Texas State and New Mexico but the latter number is encouraging for a program that finished 114th in total defense last season.
- There are six teams that haven't trailed in a game this year: Alabama, Cincinnati, Notre Dame, Oregon DucksOregon State, Texas Tech, West Virginia.
- Per Baylor, the program has now been ranked in the polls at some point for three straight years for first time since 1974-76 seasons.
- The last time Notre Dame intercepted five passes in one game was against Purdue in 1988. It had five in the first half against Michigan.
- UCLA quarterback Brett Hundley's 404 yards of total offense against Oregon State ranks fiffth all-time at UCLA and is the sixth 400-yard game in school history. Amazingly, Hundley is the first Bruins quarterback to throw for at least 300 yards in three straight games.
- Cobi Hamilton set an Arkansas and SEC single-game record with 303 receiving yards (on just 10 catches, three for touchdowns) against Rutgers. The total is the 14th highest in FBS history and most this season.
- Alabama and Texas A&M are the only SEC teams to score first in all of their games this season.
- Wisconsin's Montee Ball had 710 touches in his career before fumbling on Saturday.
- According to the school, Baylor has scored 45-plus points in seven straight games and has nine straight games of 500-plus yards total offense.
Tweet of the week
FYI ordered 200 double doubles w/ fries. It was a deal we made with players, you win you get In-n-Out. #GoBeavs

— Mike Riley (@Coach_Riley) September 23, 2012
Fisch's Finest
1. Alabama
2. Oregon
4. Georgia
5. Kansas State
6. LSU
7. Stanford
9. Notre Dame
10. Florida
Where we'll be this week
First off, you need to follow our newest College Football Insider Jeremy Fowler (@JFowlerCBS) on Twitter as he not only will be a great source of the latest news, but he'll be at Tennessee-Georgia this week. Dennis Dodd will be in Seattle for a double-dip, Stanford-Washington on Thursday and then Oregon-Washington State on Saturday. Finally, I'll have the primetime matchup between Texas and Oklahoma State in Stillwater.
Leaning this way
Baylor at West Virginia
There might not be an over/under high enough for this game. West Virginia is ranked highly thanks to Geno Smith's remarkable start to the season. But the team has done it against weaker competition and didn't look all that sharp against Maryland. Baylor had its hands full in a road win against a solid Louisiana-Monroe squad and the Bears have the firepower on offense to keep up. It's at home and the Big 12 opener for the Mountaineers, so they'll win it but it will be closer than most think.
Pick: West Virginia
<span data-shortcode= State" data-canon="Ohio Bobcats" data-type="SPORTS_OBJECT_TEAM" id="shortcode0"> at Michigan State
This will be the first real test for Braxton Miller and the Buckeyes as they face a team that has one of the best defenses in the Big Ten, but is still figuring things out on offense outside of their running game. Ohio State has a good defense that should be able to get pressure on the quarterback, but you wonder how they'll respond after UAB was able to hit some big plays last week. I'm just not yet a believer in Andrew Maxwell to make enough plays to keep the defense honest so OSU goes on the road and grabs a big one.
Pick: Ohio State
Texas at Oklahoma State
We're really not sure about either top 25 team at this point, which certainly adds to the intrigue. Texas hasn't played a defense even close to the Cowboys and though David Ash has looked sharp early this year, this is time to prove he can guide the Longhorns to the Big 12 title. With Wes Lunt likely out (or at least hampered if he does play) and a different look on offense with J.W. Walsh under center, the Texas defense should do enough for a big road win in the conference.
Pick: Texas
Lane Kiffin turned around FAU remarkably fast and has the Owls in the C-USA title game

NCAA football scoreboard, highlights and updates from the biggest Week 12 games

The junior injured his finger diving for the pylon late in the first quarter of the loss to...
Projecting the changes in the new AP Top 25 poll college football rankings after Week 12

There's only one true Turnover Chain in college football, and it belongs to The U

The 72-yard punt return was perfectly executed by the Trojans