T-shirt lawsuit against Mike Gundy moves forward
A pretrial conference is scheduled in a lawsuit filed against Mike Gundy by a worker who says he was fired for wearing a Sooners T-shirt.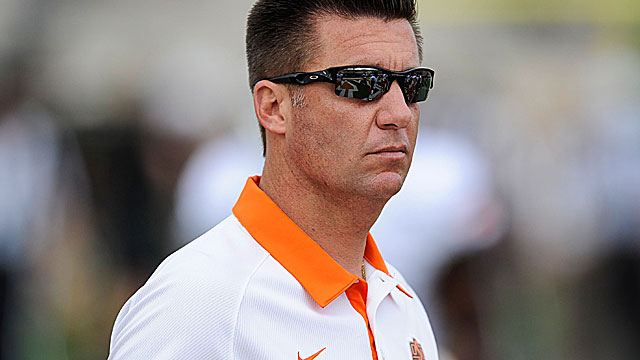 Hey, college football fan, remember almost two years ago, when a trim specialist hired to work on Mike Gundy's Stillwater home filed a lawsuit claiming Gundy fired him for wearing an Oklahoma T-shirt to the job?
Rest assured that even if you don't after the intervening 22 months, the Oklahoma court system does. A local judge has scheduled a "pretrial conference" in the suit for June 17, the Tulsa World reported Tuesday. The conference will be held in next-door Logan County rather than Payne County, where the suit was filed.
Brent Loveland of Choctaw, Okla., filed the suit in August 2011, claiming he and Gundy had reached a verbal agreement for Loveland to be paid just over $80,000 for 13 weeks of trim installation on the Gundy home. But, according to Loveland's suit, Gundy fired him after just one day on the job when he arrived wearing an Oklahoma baseball shirt.
"How dare you come into my house and offend my wife," Gundy told Loveland, according to the suit. When asked how he had offended her, Gundy allegedly replied "That [expletive] shirt you have on." Loveland's explanation was that he had gotten dressed in the dark and hadn't noticed that he was wearing an OU shirt to the home of Oklahoma State's head coach. (Which: OK, Mr. Loveland. If you say so.)
In court documents, Gundy denied that any agreement was in place beyond a day-to-day basis.
"While I cannot discuss the specifics of pending litigation," Gundy said in a statement when the suit was filed, "I deny the allegations being made and welcome the opportunity to fully resolve the matter." 
Resolving the matter might not set Gundy back too much by his current salary standards. Loveland is seeking $10,000 in damages, claiming he turned down more than $30,000 in jobs to work the offer from Gundy. The Cowboys' head man will earn more than $2.8 million in 2013.
But, all the same, where the Sooners are involved -- in any capacity -- there might be some rivalry pride at stake ... and maybe the suit has no chance of going to trial after all.
The former Rebels coach was suing the school for harming his reputation

Florida and Georgia's rivalry game is the SEC on CBS Game of the Week

Everything you need to know from the week in college football to stave off your case of the...
Our full set of 130-team FBS college football rankings start with Alabama back at No. 1

The Hurricanes have showed out in a major way over the first half of the 2017 season

An early look at the gambling odds for Week 8 of the college football season