Tajh Boyd says gambling report completely untrue
An Internet rumor that Tajh Boyd had accrued thousands in gambling debt betting NFL games was emphatically denied by Boyd and Dabo Swinney Tuesday.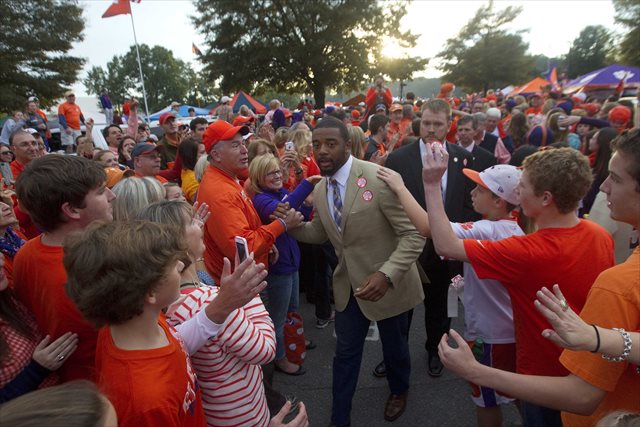 Tajh Boyd told reporters Tuesday that an Internet rumor he had thousands of dollars in NFL gambling debts was entirely untrue -- and made what was already a very, very long weekend even longer.
"I don't really know where that came from," Boyd said, according to The State. "When I heard it, it was pretty shocking. That being built on top of the loss made it a rough little weekend."
Both Dabo Swinney and Clemson athletic director Dan Radakovich (whose compliance office looked into the matter over the weekend as part of its due diligence) said there was nothing to the reports.
"It's disappointing that we live in this world where things like that happen," Swinney said. "I have no reason not to trust [Boyd], absolutely. No question, his integrity is impeccable."
Boyd joked that with only two games available to watch on Sundays, he didn't watch enough NFL to have a problem gambling on it. But Boyd's mother seemed less amused, telling TheClemsonInsider.com the family was considering legal action against the source of the rumor.
If there's any good news for Boyd, it's that with the Florida State catastrophe done and less-than-no evidence backing up the rumor, it appears he can put this past weekend behind him and focus on this Saturday's game against Maryland -- where it's hard to imagine things could be any worse than they were last Saturday.
Ross Bowsher claims KSU was well aware of his certification status during his employment

Find out which of your favorite team's players are among the nation's best entering the 2017...

Rosen, a junior, will be eligible for the upcoming NFL draft
Texas A&M has to be better defensively to stand a chance in the SEC West

A letter indicated that there is a growing awareness of the persistent problem in college...

The series will follow the Navy football program throughout the 2017 season