Tajh Boyd spurns draft for soaring expectations at Clemson
"I had pros and cons for each side, but for me it came down to my enjoyment here," Boyd said. "I love Clemson, I love college football. ... I feel like we've got a lot of things we have left on the table."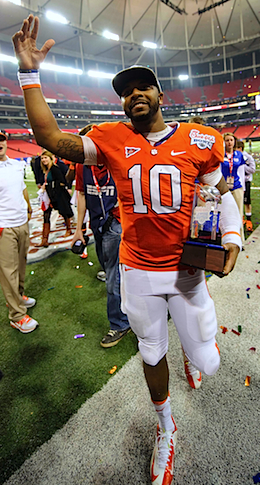 Boyd accounted for 368 of Clemson's 445 yards in the Chick-fil-A Bowl. (US Presswire)
On Dec. 31, Tajh Boyd made Clemson's New Year in the Chick-fil-A Bowl. On Wednesday, the Tigers' All-ACC quarterback made the rest of their year by announcing his plans to spurn the NFL Draft in favor of his senior season next fall.
Boyd, a fourth-year junior, arrived at Clemson in 2009 as the latest in a long line of touted prep quarterbacks from the Hampton Roads region of Virginia, and took over two years later as a full-time starter. In that role, he's largely lived up to the hype, leading the Tigers to a 21-6 record and a conference championship in 2011, their first in two decades. By this time next year, he should own every school passing record with plenty of room to spare.
"I had pros and cons for each side, but for me it came down to my enjoyment here," Boyd said at a press conference. "I love Clemson, I love college football, I feel like I had a good enough grade to go out and have an opportunity to go out there and compete [in the NFL]. But at the same time, I'm just not ready to drop this right now. I feel like we've got a lot of things we have left on the table."
In 2012, Boyd led the ACC in pass efficiency and set conference records for passing touchdowns (36) and total touchdowns (46) en route to being voted Offensive Player of the Year by league coaches. In the Clemson record book, he easily surpassed the single-season marks he set as sophomore for passing yards (3,896) and total yards (4,410) in one fewer game. He also set single-game school records with 428 yards passing and five touchdowns in a 42–13 win over Wake Forest in October, and set an ACC record a few weeks later by accounting for eight touchdowns (five passing, three rushing) in a 62–48 shootout against N.C. State.
The offense as a whole led the ACC in both total and scoring offense and finished as the highest-scoring attack in Clemson history at 41 points per game. In eight conference games, the Tigers scored at least 37 points in all eight.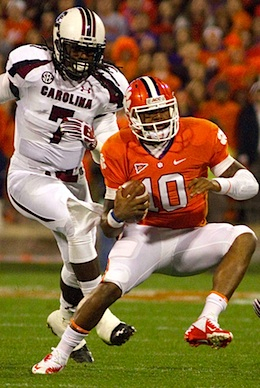 Boyd is 0-3 against Clemson's most important rival, South Carolina. (US Presswire)
From a national perspective, though, Boyd's real breakthrough came in the bowl game, a come-from-behind, 25-24 upset over LSU, where he was called on as a rusher or passer on an astounding 79 plays against one of the most blue-chip defenses in the nation. (Within a few days of the game, six LSU defenders had announced their intention to forego their senior seasons for the draft.) Still, with Clemson trailing in the fourth quarter, 24-16, Boyd had enough gas in the tank to lead the Tigers on a 70-yard touchdown drive to pull within two points, 24-22, and subsequently into position for the game-winning field goal as time expired. His 4th-and-16 connection with DeAndre Hopkins to extend the decisive drive was one of the throws of the year.
Had he joined what is generally considered a mediocre quarterback class in the upcoming draft, Boyd may have had an outside shot of climbing into the first round, though he's usually considered a second or third-rounder and will likely face a more crowded field in 2014. In the meantime, while he can't do anything about his less-than-ideal height (6-foot-1), he can cut down on his interceptions, which rose from 12 in 2011 to 13 this year in significantly fewer attempts.
At any rate, Boyd's decision to return to school makes Clemson an instant frontrunner for the ACC crown next fall, and a darkhorse candidate to make a little noise nationally on the heels of one of its most validating wins in years. Along with Hopkins, who has not made a decision on the draft after turning heads as a junior, and former freshman sensation Sammy Watkins, who remains a favorite of pro scouts despite a subdued sophomore campaign, another year with Boyd at the controls puts another prolific season well within reach, despite all-conference attrition at running back (Andre Ellington), tight end (Brandon Ford) and center (Dalton Freeman). At least with a season-opening date against Georgia on deck, there won't be any guessing where the Tigers stand.
Many NFL-eligible juniors ignore advice provided by the league and risk going undrafted each...

Snyder died in Manhattan, Kansas, on Wednesday

Locksley joined Alabama's staff in 2016
Saban reportedly wants to hire Freeze, but there may be things keeping that from happening

Florida State-Miami will be on Oct. 6, and the Seminoles will play Clemson on Oct. 27

Weis Jr. was an offensive assistant for the Atlanta Falcons in 2017