Talented ACC quarterbacks hope to make SEC statement early in 2013
Led by Clemson's Tajh Boyd, the ACC takes a highly touted quarterback class into tough a SEC schedule. Clemson faces Georgia in Week 1.
• 4 min read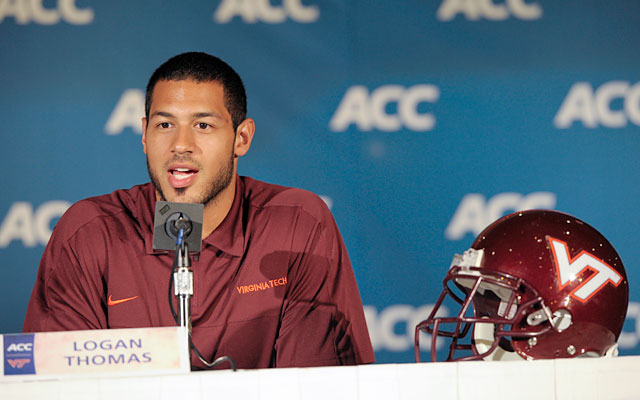 GREENSBORO, N.C. -- Four ACC quarterbacks, all with serious NFL draft potential -- and all facing SEC beasts in the first two weeks of the season.
Clemson's Tajh Boyd has Georgia in Week 1 at home. Miami's Stephen Morris has Florida at home in Week 2, Virginia Tech's Logan Thomas has Alabama in Week 1 in Atlanta's Georgia Dome, and North Carolina's Bryn Renner hosts South Carolina in Week 1.
If there's an ideal time to punctuate a banner year for ACC quarterbacks, it's late August through early September.
"If we can pull one out there, we can show the ACC is still a very strong conference," Thomas said from ACC Kickoff, the league's media days, at the Grandover Resort.
The league is bursting with quarterback talent, though ACC tradition has seen that before.
Boyd and Renner are included in "Daniel Jeremiah's Talented Top 50" on NFL.com, while buzz is growing that Morris might be one of the country's top quarterback prospects. Thomas' athletic talents are undeniable, but the senior came back to school to improve his mechanics and limit his 16 turnovers from last season.
The quarterback with arguably the highest ceiling, Florida State's Jameis Winston, hasn't taken a collegiate snap. Winston's throws from the outfield to home plate as an FSU baseball player caught Boyd's attention. The Clemson quarterback calls Winston's arm "unbelievable."
Boyd can become the first back-to-back ACC Player of the Year recipient since FSU's Charlie Ward.
The top-heavy SEC quarterback roster of Texas A&M's Johnny Manziel, Alabama's AJ McCarron and Georgia's Aaron Murray is tough to beat, but the ACC could outshine it with a few marquee performances and a few breaks. Morris calls his group the best in the nation.
When it comes to the ACC's rep, however, quarterback stats pale in comparison to its 4-11 record against the SEC in the last two years.
As a result, ACC quarterbacks are getting questions about whether they are "scared" of South Carolina defensive end Jadeveon Clowney. At SEC media days earlier this week, Clowney said a handful of quarterbacks, including Boyd, were scared of him.
Boyd on Sunday played neutral on the Clowney topic but eventually acknowledged, "I'm not afraid of anybody."
"Until somebody knocks them off, it's always going to be the talk," said the 6-foot-3, 225-pound Renner of the SEC-ACC dynamic. "It's going to take someone to win a title … for that to happen."
Perhaps the quarterback pedigree could change that. Fueling Morris and Renner is the NCAA keeping Miami and UNC out of the postseason last year (Miami self-imposed two bowl bans in light of the school's investigation in the Nevin Shapiro case). Renner "couldn't get Christmas," he said.
The Aug. 29 kickoff with the Gamecocks allows UNC to set the tone for the Tar Heels locker room and the rest of the league. Renner posted 3,356 yards, 28 touchdowns and seven interceptions last season despite being a pro-style quarterback out of high school running Larry Fedora's hurry-up offense.
"Growing up watching the ACC and watching everybody on tape, the caliber of quarterbacks that we have is right now on par with everybody in college football," Renner said. "The caliber of athlete in the SEC-ACC is the same, but it's just they've been dominate for the last few years."
While Manziel was asked to leave last week's Manning Passing Academy after reportedly oversleeping, Morris won the camp's skills challenge on Sunday. The Manziel headlines buried Morris' accomplishment. Morris, a 6-foot-2, 214-pounder, went 6 for 6 throwing to moving golf carts 30, 40 and 50 yards away.
Morris felt he did better than some people thought.
Will that change if Morris keeps performing?
"Hopefully," he said. "You never know what will happen after a year goes by."
Morris has a strong arm but wants to improve his 57.7 completion percentage in part by refined footwork.
Thomas' goals are lofty: Fewer than five interceptions and at least a 62 percent completion percentage. In the offseason, Thomas has worked with new offensive coordinator Scot Loeffler on weight transfer, body positioning, rhythm and timing. Specifically, last season the 6-foot-6, 257-pound Thomas was throwing to a sideline with his foot and arm pointed to his left or right while the rest of his body faced the middle of the field. His entire body faces the target now.
"I'm not going to have 16 interceptions again, I promise you that," Thomas said.
Best time to show it is Week 1 in the Georgia Dome.
As for the 6-foot-1, 225-pound Boyd, who understands the importance of the Georgia and the proverbial "statement game" opportunity, he's worried less about duplicating last season (3,896 yards, 36 touchdowns, 13 interceptions) and more about navigating a championship campaign for the Tigers.
"The more mature you start to get, the more important things are," Boyd said. "So for me it's all about embracing the opportunity."
The Bulldogs jumped up to No. 7 after an emphatic win over Mississippi State

The Penn State running back made a case that he's a legit Heisman Trophy contender

Georgia jumped four spots to No. 8, while Florida State dropped 14 spots to No. 25
Louisville and TCU get big-time bumps after conference rivals fell on Saturday

The Nittany Lions came up huge when they needed to against Iowa

It just might have been the best game of the season so far