Tampa in (closer than you thought) running for first playoff title game
Florida city that has hosted four Super Bowls has sent "very aggressive bid".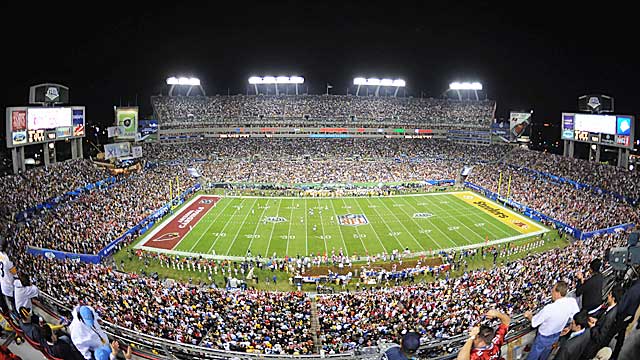 There apparently is some competition to host the championship game of the playoff era.
Dallas-Fort Worth and Cowboys Stadium (in Arlington, Texas) has been the prohibitive favorite, however Tampa, Fla. has made it at least a closer race than originally believed according to sources close to the process. The site of the first championship game on Jan. 12, 2015 is expected to be announced this week during the annual BCS meetings in Pasadena, Calif.
"Tampa has sent a very aggressive bid," said a BCS official familiar with the bidding process.
The city and region are used to big events according to Tampa Bay Sports Commission executive director Rob Higgins. Tampa has hosted four Super Bowls. The Tampa area is the site of two bowls (Outback and Beef O'Brady's). The city hosted the two Final Fours (men's in 1999, women's in 2008).
"I'd be shocked if the finalists weren't us and Dallas," Higgins said.
ESPN.com reported in November that the initial championship game site would be limited to six cities – Glendale, Ariz. (Fiesta), Miami (Orange), New Orleans (Sugar), Pasadena, Calif. (Rose), Arlington, Texas (Cotton) and Atlanta (Chick-fil-A).
In its short existence, Cowboys Stadium (opened 2009) has been the site of a Super Bowl and several specialty events. It will host the 2014 men's Final Four. It has a huge advantage over the other cities in that it is an indoor venue. Weather would have to be a huge consideration to the commissioners in debuting their new format.
"We feel like we put in an aggressive and competitive bid," Higgins said. "We're anxious to hear what happens. We read a lot of those same reports [that] we're up against some formidable competition. If we're not successful this time, hopefully we'll regroup and make some run … I would think that future years would be on the table."
The commissioners have not been shy about comparing their new championship game to the Super Bowl. Or at least that's the kind of feel and look they want.
"I think there are certainly some similarities," Higgins said. "Look at the overall magnitude of the event … There is certainly a tremendous amount of emphasis being put on the week of festivities. It's one of those things they laid out specifically.
In the first week of January, CBSSports.com first reported the Rose and Sugar bowls would likely host the first national championship semifinals Jan. 1, 2015.
"Certainly I've seen the reports in terms of Dallas being a real favorite between the two of us," Higgins said. "We keep a close pulse on everything in the media standpoint. We feel like we put in a competitive bid. We're putting all the cards out there, in terms of the bid process."
The request for proposal (RFP) is seeking 12,000-15,000 available hotel rooms according to a source. That isn't a problem in Tampa where there are upwards of 22,000 available rooms, Higgins said.
Also this week, the BCS commissioners are expected to announce the name of the new playoff, unveil a logo and announce the three host – or open – bowls to fill out the six-bowl rotation. The sites for the Fiesta, Cotton and Chick-fil-A bowls are considered the favorites.
Miami looks to cap an undefeated regular season at Pitt on Black Friday

Fitzgerald was injured while running during the first quarter of the Egg Bowl

D.K. Metcalf certainly had an interesting spin on his touchdown celebration
The Commonwealth Cup has resided in Blacksburg for over a decade

The biggest game in the AAC this season takes place Friday

Can Arkansas spring the upset on a Missouri team that has caught fire after a sluggish sta...