Taylor Martinez a game-time decision for battle vs. Gophers
Taylor Martinez could return to the field for the first time in more than a month after battling turf toe.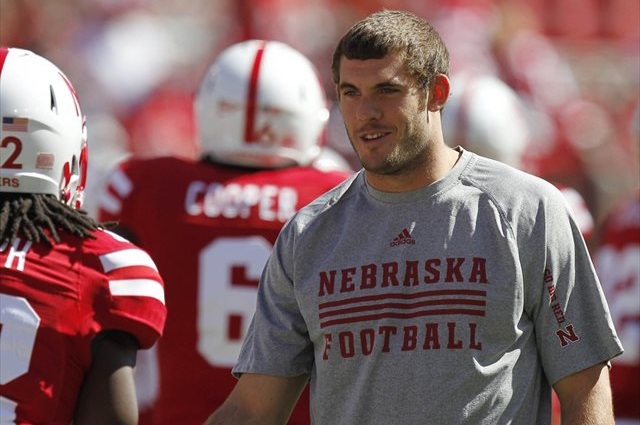 Since losing to UCLA on Sept. 14, Nebraska has largely departed the national college football consciousness, playing only South Dakota State, Illinois and Purdue and enjoying a pair of bye weeks. And the Huskers' far-and-away most recognizable player, Taylor Martinez, spent all five of those on the weeks on the bench with turf toe.
But virtually all of that changes this week. For starters, the Huskers are back in the polls at No. 25. Their opposition is a surging Minnesota team that's 5-2, fresh off a road upset of Northwestern, and a win away from bowl eligibility. And now it looks like Martinez could be ready to make his return as well.
Per the Associated Press, Bo Pelini told reporters that coaches will make a game-time decision on whether Martinez or backup Tommy Armstrong Jr. receives the start against the Gophers. Martinez practiced this week for the first time since aggravating the turf toe against the Bruins, and Pelini said the decision will be based on how well the foot responds to that week of practice.
Pelini said that even if he doesn't start, Martinez could see playing time. At issue is his ability to plant his foot on runs outside the pocket, an area in which Pelini said Martinez had shown progress throughout the week.
But even if Martinez isn't ready to start -- or even play -- the Huskers shouldn't suffer too much of a drop-off with Armstrong. The redshirt freshman hasn't been spectacular, completing 57 percent of his passes for 7.5 yards an attempt with a 3-to-3 touchdown-to-interception ratio, but Armstrong has added 84 yards on the ground and gotten help from senior Ron Kellogg III at the position as well.
Despite the uncertainty, the Huskers are still 10-point road favorites. But if the Huskers are to not only win this game but shrug off their slow start to the 2013 season, Martinez giving them a little certainty coming out of this game would be a welcome change.
The movie will zero in on former Penn State coach Joe Paterno during the Jerry Sandusky sc...

Bidding for Salaam's trophy, which the auction house says was obtained legally, ends Satur...

Locksley has been the offensive coordinator at Illinois and Maryland during his coaching c...
Many NFL-eligible juniors ignore advice provided by the league and risk going undrafted each...

Snyder died in Manhattan, Kansas, on Wednesday

Locksley joined Alabama's staff in 2016