Taylor Martinez has 'progressively got worse' as a passer. Can he still turn the corner?
Nebraska QB's offseason coach thinks his proteg* has the potential to make good on his early success.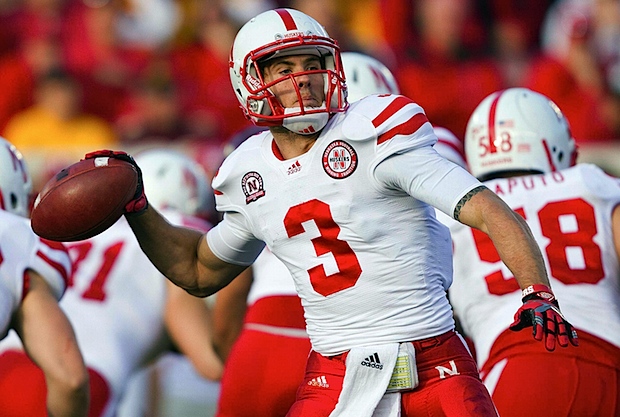 It's such a strange thing now, a footnote in the genre of mass hysteria, like the dot-com bubble or the Dutch tulip craze. But let the record show that, yes, in fact, there was a brief period in October 2010 when Nebraska quarterback Taylor Martinez was anointed the next big thing in college football, the dynamic heir to Nebraska's lineage of prolific rushing quarterbacks and a burgeoning Heisman candidate with the numbers, the hype and the YouTube tributes to prove it. All true.
But that was then. By the same point last season, the homages to Martinez's legs had been gradually replaced by exasperation and outright mockery of his arm, which not only failed to recover from a late-season swoon in 2010, but actually seemed to regress as the 'Huskers limped through another deflating November. Martinez was much healthier in 2011 than he had been down the stretch as a redshirt freshman, but continued to struggle with his accuracy downfield, and subsequently found less and less room as a rusher against defenses that didn't respect his ability to challenge them deep. The offense as a whole was handcuffed in losses to Wisconsin, Michigan and South Carolina, as well as in defensively-driven wins over Michigan State and Penn State, and Martinez began to look less and less likely to buck his one-dimensional rep.
If that sounds a bit harsh, note that it's not just coming from armchair haters: It's also the assessment of Martinez's offseason quarterbacks coach, Steve Calhoun, who has helped mold the likes of Cam Newton, Jake Locker and a small handful of recent draft picks for the NFL. The difference, as Calhoun told the Lincoln Journal Star, is that he's actually seen Martinez throw the ball well in the past, and still believes there's time to counter Martinez's devolution as a passer with improved mechanics:
Calhoun also is convincing when he discusses Martinez's potential as a passer. After all, Taylor was an excellent passer in high school, Calhoun says.

"He was just so dominant," the coach says. "But he kind of progressively got worse, from when I saw him in high school (to) when he was at Nebraska.

"That just comes from him not being able to have someone there to break it all down for him. The coaches just don't have time. And then there were the injuries (in 2010 to his ankle and toe). He was still out there battling. But when you have the pain, you're going to change the way you step toward your target and deliver the football."
[…]
"If you think back to last season, whenever he was throwing the ball, everything was off his back foot," Calhoun says. "That's been a major change."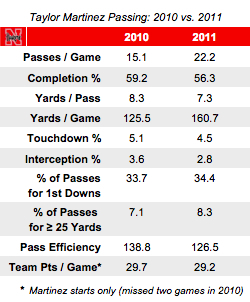 Offensive coordinator Tim Beck will back up the part about time restraints: By his own account, the installation of an entirely new offense last year was occasionally "frantic" in and of itself, and crowded out work on mechanics and technique. The bet this fall is that an older, more mature Martinez, now armed with 24 career starts, a virtually intact receiving corps and a full year in Beck's system, will finally turn the corner en route to a Big Ten championship. But will he ever come full-circle to the lofty status he occupied as a redshirt freshman?
Eight games into Martinez's career as a starter, Nebraska was 7-1, ranked in the top 10 in both major polls and sat among the top 20 in total and scoring offense. The Cornhuskers had just dispatched undefeated Missouri, 31-17, a week after snapping Oklahoma State's 6-0 start in Stillwater – a game in which Martinez shredded the Cowboys for 323 yards and five touchdowns through the air with zero interceptions. Those wins came on the heels of lopsided routs at Washington and Kansas State. The 'Huskers were averaging just shy of 38 points on 459 yards per game. Cue hosannas.
By the end of the year, Nebraska was in certifiable free fall, having dropped three of its last four and failed to top 20 points in any of them — including a six-point, zero-touchdown effort in a loss at Texas A&M and a seven-point flop against Washington in the Holiday Bowl, a little more than three months removed from throttling the same Huskies by five touchdowns in September. In between, the 'Huskers went three-and-out eight times and failed to score at all in the second half of a 23-20 loss to Oklahoma in the Big 12 Championship Game. For the year, the offense came in 60 yards and a full touchdown below its season averages at Halloween, and fell into the bottom half of the Big 12 on both counts. Martinez, visibly hobbling through multiple injuries, failed to run for a touchdown in the last nine games, and snapped a five-game streak without throwing for a score with a second quarter TD in the bowl game, Nebraska's only points in the defeat. Cue persistent transfer rumors.
That would all be ancient history if 2011 had answered the question one way or another. Instead, Martinez's put up slightly diminished numbers, the offense as a whole put up virtually identical numbers and both the final record (9-4) and ranking (24) more or less held in the transition from the Big 12 to the Big Ten. In fact, it was the Cornhuskers' fourth consecutive season with four losses under head coach Bo Pelini, and their twelfth in a row without a conference championship. Prompting the the inevitable question: At a place like Nebraska, where they melt down championships for extra weight on hang cleans, how good is good enough? For Pelini and Martinez both, the jury is still very much out, and the time to deliver the answers early converts were expecting is about to start running thin.
Florida's roster got a boost on Tuesday with the return of several key members of the prog...

Tom Hutton joins the ranks of former Aussie rules footballers joining the college football...

The freshman is already on Heisman lists after throwing the walk-off score in the national...
These seven teams should make the most noise down the homestretch towards signing day

Air Force was forced to cancel 11 athletic events because of the 69-hour government shutdo...

Olson has a lot of the tools offensive coordinators want in a quarterback