TCU hires Houston's Doug Meachem as new OC
Gary Patterson has looked in-state to add some new blood to his offensive staff.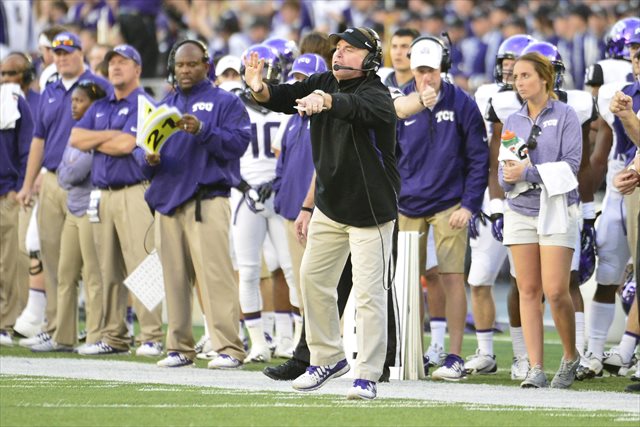 In 2011, the TCU offense ranked 11th in the country in yards-per-play. Then the Horned Frogs joined the Big 12 from the Mountain West, just as co-offensive coordinator Justin Fuente became the head coach at Memphis. Result: a slide to 71st in 2012 and a miserable 106th in 2013, with a corresponding shift in record from 11-2 to 7-6 to 4-8.
So it's no surprise that Patterson is looking to upgrade his offensive coaching, and as CBSSports.com's Bruce Feldman reported Tuesday, he'll look in-state to do so:
#TCU will hire #Houston OC Doug Meacham as #HornedFrogs new OC, source told CBS. 1st reported by http://t.co/L6Xe2cUCiw

— Bruce Feldman (@BFeldmanCBS) December 4, 2013
It's not immediately clear what roles (if any) will be taken by current co-coordinators Rusty Burns and Jarrett Anderson. The school has yet to confirm the hire.
Meachem is no stranger to the Big 12, having spent eight seasons at Oklahoma State from 2005 to 2012, including a stint as the Cowboys' passing game coordinator. He spent one season at Houston as offensive coordinator under Tony Levine, helping the Cougars bounce back from a disappointing 2012 season with an 8-4 2013.
But it's still hard to paint Meachem as a miracle-worker. The Cougars actually regressed in yards-per-play after Meachem's appointment, going from 48th in 2012 to 58th this season. The move from Conference USA to the AAC no doubt had something to do with that, and Meachem takes credit for the rapid development of promising freshman quarterback John O'Korn.
Still, Patterson will no doubt hope for a bigger impact from Meachem in Fort Worth. After a 6-12 start to the Frogs' Big 12 tenure that's robbed the program of its momentum from its Mountain West salad days, anything less will make catching up to the league's front-runners all the more difficult.
Rhoads led Iowa State to three bowl games in seven years as head coach

The Georgia middle linebacker is one of the most valuable players in college football

Explaining my 2017 Heisman Trophy ballot and Jackson's tremendous season
Mayfield is the sixth Oklahoma player to win the Heisman since its inception

The Heisman Trophy will be presented to the best college football player this season

Army topped Navy for the second straight year in an absolute thriller in Philadelphia