Teflon Tide: Examining Alabama's recent NCAA concerns
Alabama has had three NCAA-related issues in the last five months but nothing appears to be slowing the Crimson Tide's progress under Nick Saban.
• 5 min read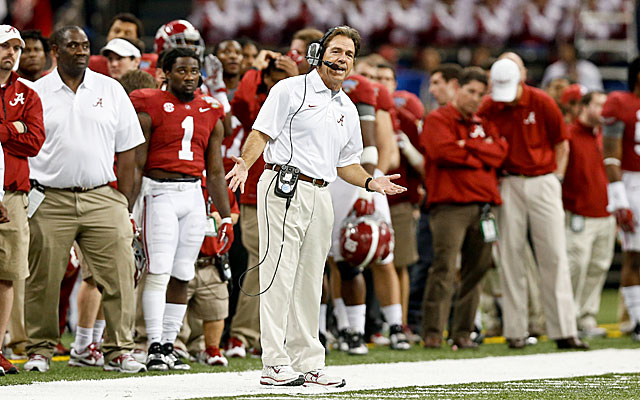 Alabama football is enjoying the momentum expected of a power program. Nick Saban signed a contract extension worth more than $7 million per year. The recruiting class is stocked with five stars. The Tide might have found a suitable replacement for A.J. McCarron in Jacob Coker, a transfer from FSU.
But such prowess doesn't illustrate the whole story of Alabama football, at least not lately. You have to look to the compliance office for that.
Since September, three NCAA-related stories have hit Saban's desk. Some of these issues could be considered minor in nature but they do speak to a broader context: There's a trend developing, a string of issues over a five-month span.
That doesn't mean Alabama has a systemic problem. In fact, one sports attorney with knowledge of NCAA investigations says that's not the case on the surface. The winner of three of the last five national titles might be considered an easy target.
Meanwhile, the Teflon Tide keeps rolling through what's considered a wide-ranging list of clichéd violations alleged against them.
*A middleman for agents enticing a star offensive tackle.
*A starting safety taking a loaner from an employee.
*A disassociated booster selling memorabilia from eligible players.
Alabama has experienced minimal pushback, which means either the school feels covered in its merits – after asking around, Alabama sources seems less worried about these cases than, say, the Mark Ingram-Julio Jones fishing trip paid for by a businessman in 2009 – or the NCAA simply isn't doing anything about this.
The latter could be true with the September report in Yahoo! Sports that former player Luther Davis was serving as a middleman between agents and now-Chargers left tackle D.J. Fluker for payments and gifts. Mississippi State and Tennessee also were linked to improper benefits in the story.
Two sources with knowledge of the case from the schools' side said the NCAA does not appear to be investigating the case at this time.
"Nobody will talk to them and they can't find Luther," said a high-ranking source from one of those three schools.
A month later, Alabama shut down safety Ha Ha Clinton-Dix when he allegedly received a loan payment for between $100 and $300 from an assistant strength coach who was fired as a result. The NCAA cleared Clinton-Dix after three games missed.
On Jan. 16, the sports blog Outkickthecoverage.com showed T-Town Gallery -- the alleged business of disassociated booster Tom Al-Betar -- selling autographed memorabilia of eligible Tide players, which could be a violation of NCAA rules depending on whether the players profited from the autographs. There's no evidence of that right now. Al-Betar told CBSSports.com "there's nothing to worry about" because he obtained the memorabilia from the school's fan day and from former players who visit the store after graduation.
On the surface, all three stories at least suggest the breaking of NCAA rules on a small or large scale. And all three could have minimal effect on Alabama, either because the school can prove there's no wrongdoing by the school or the NCAA is handcuffed.
Stu Brown, an attorney with Ice Miller out of Indianapolis who has experience with NCAA cases, said the last two items appear to be secondary violations, leaving the Luther Davis case as the primary concern.
Brown said there's nothing unusual about a high-profile program such as Alabama facing an accumulation of minor issues that are not mutually exclusive.
"The agent piece goes to amateurism, so it would surprise me if there hasn't been a pretty intense effort to look at that," Brown said. "If a guy's not cooperating, that does put a roadblock up. Unless it becomes a criminal investigation by some governing agency looking at subpoena power, he can't be compelled to sit down and talk. But that issue doesn't really combine with the other two to form a pattern."
These cases don't really give Alabama a competitive edge -- nothing's rooted in recruiting or poaching players -- but in the case of Davis, Yahoo! Sports documented alleged violations of bylaw 12.3.1.2 prohibiting an eligible player from receiving benefits from agents or marketing reps.
That doesn't necessarily mean Alabama was negligent. It's uncertain when school officials knew about Fluker's enticements and when they happened. Alabama acted swiftly once the story broke in September, hiring the Birmingham-based firm Starnes Davis Florie LLC and banning Davis from campus.
Even if the NCAA feels it had something on Alabama, it still faces the same problem that Texas athletic director Steve Patterson says stunts all investigations these days.
"It's difficult for an enforcement agency to do its job when it doesn't have subpoena power," Patterson said. "Sometimes the ultimate outcome may look a bit perplexing to the outside world because you don't have the apparent evidence that you might like to have for what you think is going on there."
If anyone's worried about their school getting hammered by the NCAA, consider the  'golden era of cheating' narrative might be stronger than ever. While schools have beefed up on attorneys and compliance officers, the NCAA has lost several key staffers in the last year.
Perhaps NCAA enforcement can still do important work again, but as it stands, the last school to get the proverbial NCAA hammer for an amateurism issue was Ohio State in 2011. Is there enough manpower to pursue cases anymore?
It's possible the NCAA is holding off on the Luther Davis case because Alabama agent lawmakers want to tackle it first, Brown said. State Rep. Jack Williams told AL.com that Davis, Fluker and the agents from the Yahoo! story could be in violation of the Alabama's sports agent laws.
But in the four-plus months since the story broke, there's been no indication of a ripple effect disrupting Saban's program.
Until then, Auburn and Oklahoma are the only ones disrupting 'the process.'
CBS Sports HQ Daily Newsletter
Get the best highlights and stories - yeah, just the good stuff handpicked by our team to start your day.
Please check the opt-in box to acknowledge that you would like to subscribe.
Thanks for signing up!
Keep an eye on your inbox for the latest sports news.
Sorry!
There was an error processing your subscription.
Trevor Lawrence was announced as Clemson's starter on Monday

SportsLine's advanced computer model simulated every Week 5 game 10,000 times with surprising...

Week 5's best bets include Oklahoma State-Kansas, Michigan-Northwestern and more
This is Kentucky's second offense of the conference's current field rushing policy

Our advanced computer model simulated Thursday's North Carolina vs. Miami game 10,000 time...

Anybody can rank the 25 best teams, only the Bottom 25 ranks the 25 worst each week