Tennessee governor says cash-shy Vols 'can't be average'
No pressure, Butch Jones, it's just the governor.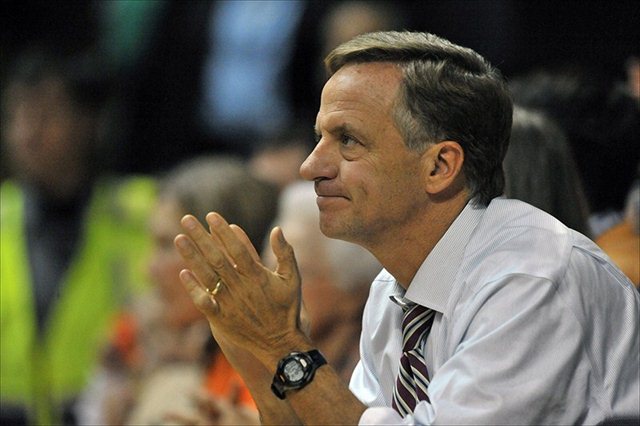 Governor Bill Haslam wants to see bigger things from the Vols. (US Presswire)
More than a few eyebrows were raised by the recent Sports Business Journal story on the finances of the Tennessee athletic department, one that reported the Vols are carrying more than $200 million in debt with reserve funds of under $2 million. If that level of debt isn't unprecedented in the SEC, combining it with income levels and cash reserves as low as Tennessee's might well be.
It's no wonder that a potential financial crisis at the flagship school for the state's university system might attract the attention of the current Tennessee governor, and that goes double given that that governor -- Bill Haslam -- comes from a family of prominent, dedicated Volunteers football supporters. (His father, Jim, donated $32.5 million to the school in 2006, and brother and UT alumnus Jimmy owns the Cleveland Browns.)
So what's Bill's prescription for curing what ails the Volunteers' checkbook? Just win, baby, he told the Chattanooga Free Press.
"They can't be average, and you hate to say it that way, but financially it just doesn't work," Haslam said Thursday. "They have to fill that stadium up. They get the benefit of being a part of the SEC and all the TV money that comes with that, but at the end of the day, if they can't fill that stadium up and sell concessions, then not just the football program but all the other sports that benefit from a strong football program suffer."

The Volunteers averaged just 89,965 fans per home game in 2012, the lowest total since before Neyland Stadium expanded to hold more than 90,000 fans in 1980. Per the Free Press, the Vols averaged 107,593 fans as recently as 2005.
While acknowledging that the SEC's new TV contract would give the Vols' bottom line a boost, Haslam reiterated that Neyland attendance -- and the successful on-field product that would reestablish it -- remains the most critical factor in nursing the athletic department back to financial health.
"There is a benefit to [the big TV contract]," he said, "but you still have to get people in that stadium for it to work, and people are going to come to the stadium when they win."
To sum up: Yes, the governor of Tennessee has placed the responsibility of avoiding a financial meltdown that would devastate the entire athletic department squarely on the back of a program that hasn't won more than seven games since 2007, has won a grand total of five SEC games in three seasons and has been led by four different head coaches in the last five calendar years -- the most recent of which has been largely greeted by starry-eyed Volunteers fans with a resounding "eh."
So, yeah, no pressure, Butch Jones.
For more college football news, rumors and analysis, follow @EyeOnCFB on Twitter, subscribe to our RSS Feed, college football newsletter, and get the Eye On College Football Podcast from iTunes. You can follow Jerry Hinnen on Twitter here: @JerryHinnen.
Saban isn't going to win Alabama's special election, but the Crimson Tide coach got some l...

The Sooners' quarterback and Badgers' rusher stood out among their peers this season

Clark led UAB to an 8-4 overall record, 6-2 in conference this season
SportsLine simulated every bowl game 10,000 times for pick'em leagues and confidence pools

The Tigers are going worldwide for their next punter

Led by Heisman Trophy winner Baker Mayfield, the Big 12 finished with seven first-team sel...