Tennessee squanders huge opportunity in 51-44 loss to Georgia
Tennessee had a chance to redirect the Derek Dooley era with a big SEC road win, but instead the Vols lost their 14th conference game under Dooley, who took over in 2010. Georgia is still in the national title hunt after an erratic but gutsy performance.
• 4 min read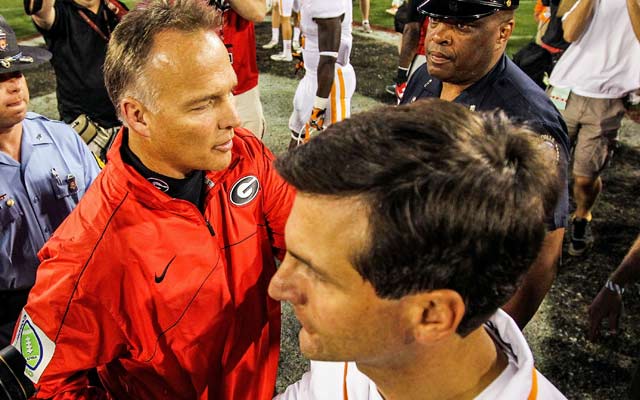 Derek Dooley and Mark Richt meet after a classic SEC shootout in Athens.
(US Presswire)
ATHENS, Ga. -- After all the Derek Dooley fist pumps from the sidelines, the gutsy counter punches on offense, the three forced turnovers from an otherwise morning-fog defense, it was all one big tease.
No. 5 Georgia defeated Tennessee 51-44, but this was never truly close. At least not in the world Dooley's created at Tennessee, where promise and momentum evades him no matter how close he gets.
Rarely will a tight game be less indicative of where two Southeastern Conference programs currently stand in scope and scale.
When Georgia looks in the mirror – and it should – it will see a team that gave up 478 yards of Tennessee offense, but responded with three straight forced turnovers in the final six minutes. Three Vols touchdowns came off prime field position from turnovers.
There's at least subtle encouragement to offset the 44 points allowed. And whiffing on a few tackles goes down smoother when you're 5-0.
For now, Georgia is still very much in the national title picture.
"I'm not shocked bad things happen. So far, we've been able to overcome them," Georgia coach Mark Richt said.
When Tennessee looks in the mirror – and it will – well, tight end Mychal Rivera doesn't want to know how it will feel.
As if the 14 conference losses under Dooley since 2010 weren't bad enough.
"We're going to be sick looking at the mistakes, all the bad stuff we did," Rivera said.
For starters, there's the 560 yards allowed by the defense, the overall disdain for the art of tackling and quarterback Tyler Bray's consistent misfires to open receivers. The defense helped Georgia's freshmen tailback tandem of Todd Gurley and Keith Marshall (combined 294 yards and five scores) channel the Cadillac Williams-Ronnie Brown show of Auburn fame nearly a decade ago.
Bray's fumble with 1:22 left , holding the ball for too long in the pocket as Jordan Jenkins collapsed on him, cost the Vols a promising drive and the chance to tie the game – or to win, according to Vols players who said after the game they would have gone for two on the next score.
The miscues led to the first loss in school history when scoring more than 40 points.
Yet Tennessee kept responding in a way Dooley's previous teams never could, which could complicate his head coaching evaluation if the Vols can build from this performance.
Despite his flawed performance, Bray (24 of 45, 281 yards, two scores) made some brilliant throws with an arm will intrigue NFL scouts from now until April.
On a scoring drive early in the fourth quarter, the pass-heavy Vols rushed the ball six straight times on their way to a 9-yard touchdown by Rajion Neal. In the first half, the Tennessee sideline went from lethargic to jubilant after erasing a 17-point deficit in the second quarter.
After all that, should Dooley's hot seat be reheated?
"Against the No. 5 team in the country and we're right there, toe to toe," Rivera said.
If this loss stood alone, Dooley would be fine. The problem is what looms on the schedule the next three weeks – at No. 21 Mississippi State, at home against No. 1 Alabama, and at No. 6 South Carolina.
Lose all three, and Dooley's 4-17 conference record could be too dismal for Tennessee athletic director Dave Hart not to act.
Or, the Vols can use the next three weeks to punctuate their identity, assuming the defense can catch up to a dangerous passing attack.
"I think they are as talented as any team in this league," said Georgia defensive coordinator Todd Grantham about the Vols. 
That claim might actually belong to Georgia, which got back suspended linebacker Alec Ogletree and safety Bacarri Rambo for a defense that could use a spark next week against South Carolina.
The Bulldogs are typically good for at least one or two curious midseason losses, but based on the way Georgia responded Saturday, maybe this team is different.
After Tennessee erased a 17-point deficit, the mood in the locker room at halftime was as calm as a morning walk-through, said junior offensive guard Chris Burnette.
Offensive coordinator Mike Bobo's message to the offense was blunt: "No pointing fingers and just play."
Right out of the half, Georgia needed 10 offensive plays to score two touchdowns and reclaim a lead it never relinquished.
"We're a mentally tough team through mistakes or failures," Burnette said. "We're able to block it all out and move on to the next play."
The next play, in Columbia, will test that theory.              
Cristobal's first game at Oregon ended the same way Chip Kelly's did

Conner Manning and the Panthers dominated the Hilltoppers in the Cure Bowl

You can only go to the well so often before it dries up
The Trojans beat LSU earlier in the year and now have their first 11-win season as a FBS t...

Saban has never been a fan of the early signing period and made it clear that hasn't chang...

Paul Tyson is a three-star quarterback prospect for the 2019 recruiting class