Te'o: Most decorated Hawaiian athlete ever?
Irish linebacker Manti Te'o goes for the Heisman on Saturday.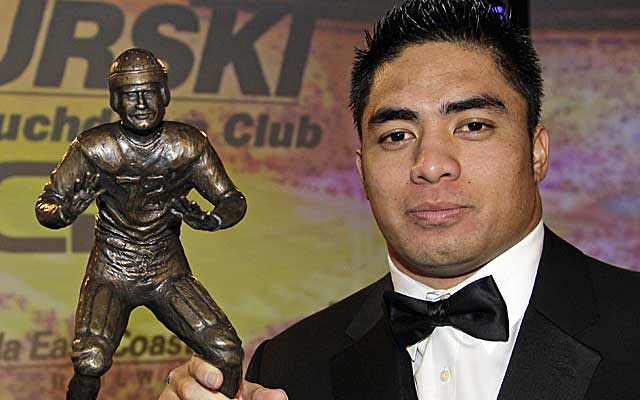 Manti Te'o poses with the Bronko Nagurski Award, given to the nation's best defensive player. (AP)
NEW YORK – Manti Te'o may be the most decorated college athlete in history in a single year.
Make that a single week. Consider that the Notre Dame linebacker has collected six major awards since Monday. The big one, the Heisman, awaits on Saturday.
But there is another place where all those awards mean something more. Home. Hawaii. Teo may become the most decorated athlete in the state's history. I threw out that question on Twitter Thursday night and came up with some interesting answers.
-- Timmy Chang, Hawaii's quarterback who threw for the most yards in history.
-- Shane Victorino, the now-Red Sox outfielder.
And Duke.
"Duke?" Te'o asked at a Friday media session.
Duke Kahanamoku, the legendary surfer who died in 1968 at the age of 77. Duke, the father of modern surfing. There are statues in Hawaii of Kahanamoku, who is credited for taking the sport out of the state and popularizing it worldwide.
"Back at home Duke is a legend," Te'o said after realizing the reference. "If they're saying I'm a legend, I'm flattered. I'm just trying to be a role model. I did it, you can do it. I stepped out of the whole 'Hawaii Bubble.' "
There is something about Duke, Manti and the quiet dignity of Hawaiians.
"I was once told by a professor the way I am and the way local [Hawaiian] boys are is what parents pay money for," Te'o said. "They pay for their kids to learn the qualities that we already share through our upbringing. It goes to show what great parenting does."
Brian and Ottilia Te'o have produced a good one. Their son is trying to become the first defensive player to win the Heisman in 15 years. Texas A&M quarterback Johnny Manziel is favored, but Te'o winning so many awards does put some doubt in the minds of Heisman experts. Might this be the year?
Te'o has been the heart and soul of the No. 1 Irish as they pursue a ninth wire-service national title. The dedication has shown on the road. USA Today has calculated that Te'o has flown 8,560 miles this week traversing the country for various awards presentations.
This week he didn't eat dessert on the rubber chicken circuit to keep the calories down. After one exhausting day, instead of going to bed, he headed to the hotel workout room --  at 11:30 p.m. Meanwhile, his dad has made the most of his first trip to New York, leaning out of the car on the way from the airport and shooting video of skyscrapers with his iPad.
"When I won the Bednarik [best defensive player] I was just lost for words," Manti said. "Then I found out I won the Maxwell [best player]. I could never even imagine that happening. If I won the Heisman, I'd be humbled and speechless. It would be a great ending to this section of my career."
The trip may not be over. Te'o is due in Newport Beach, Calif., on Sunday for the Lott Trophy presentation. If he wins the Heisman on Saturday, that means he would have to be back in New York Monday for the dinner.
Would he have anything left for Alabama?
"[Alabama's] Barrett Jones said something very profound at the National Football Foundation banquet," Te'o added. "Always know who you are and 'whose' you are. My parents always have to remind me 'whose' I am and where I come from."
As for that legend stuff, Te'o looks up to his buddy Victorino.
"I hope I can get some tickets or something," Manti said. "That's my guy. He's driven. He's the guy I look to from Hawaii. If Shane can do it, I can do it."
The former Oregon coach is one of the hottest commodities on the coaching market

The CFP Selection Committee got Miami right, but there are some decisions that make you go...

The newest college football rankings are out, but did your favorite team make it in?
Sumlin is 51-25 overall and 25-22 in the SEC over six seasons in College Station

This is precisely what you'd think would happen between Kiffin and Saban

Anybody can rank the best 25 teams, only the Bottom 25 ranks the worst