Texas' 2011 QB question to extend into 2012 opener, and beyond?
Texas fans who have been holding their breath over the quarterback situation can exhale for a few weeks.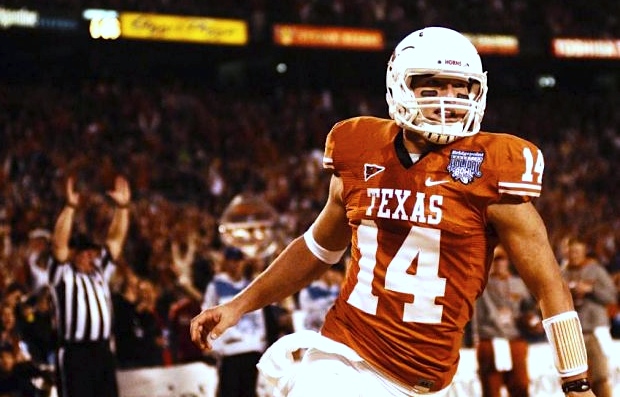 Sophomore David Ash will be competing for snaps with Longhorns junior QB Case McCoy. (Getty Images)
Texas fans who have been holding their breath over the quarterback situation can exhale for a few weeks: Not only will the Longhorns not be naming a starter before their Sept. 1 debut against Wyoming, but according to offensive coordinator Bryan Harsin, last year's uninspiring pas de deux between Case McCoy and David Ash is going to continue through at least opening weekend. Barring an injury or an unexpected turn in the competition, both incumbents are expected play.
"There are strengths and weaknesses with both quarterbacks," Harsin told the Austin American-Statesman. "What we found out is they both operate well in different situations. David can do some more of the run game stuff. Case does a great job getting the ball out of his hands. Both guys, in their overall understanding, have improved."
"Improved" is not necessarily saying much, considering Texas' quarterback play last year was easily among the worst in the Big 12 for the second year in a row, despite the much-anticipated demotion (and subsequent transfer) of 2010 starter Garrett Gilbert. Given the expected development of young talent elsewhere on the roster, it may also be the difference between a resurgence into the BCS rotation in January and a December date in, say, the Buffalo Wild Wings Bowl.
Based on their closing acts in 2011, the house money since last December has been on Ash, who took every snap in the Holiday Bowl win over California and looked every bit the true freshman beginning to turn the corner out of a season-long trial by fire. McCoy, on the other hand, seemed to be going in the opposite direction, drawing the curtain on the regular season with a four-interception debacle at Baylor, against one of the most generous secondaries in America. Ash was the younger of the two, and the better athlete, and seemed to enter his first full offseason with the arrow pointing up. He's still the odds-on favorite, if only by default.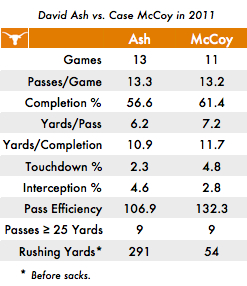 On paper, the difference is not so obvious. For the season, McCoy was the more efficient passer of the two by far, and delivered the single best performance of the year by far, a 12-of-15, two-touchdown afternoon at UCLA in his first career start. He was also under center for the entirety of the most satisfying win of the year, a 27-25 upset at Texas A&M that came down to a game-winning field goal set up by a clutch McCoy scramble. Prior to the meltdown in Waco, he hadn't thrown an interception all season. Ash had served up eight of them at that point (all but one coming in losses to Oklahoma, Oklahoma State, Missouri and Kansas State) and was two months removed from his last touchdown pass. That arrow, it was all over the place.
Elsewhere on the offense, the 'Horns get back last year's top two rushers, top four receivers and four returning starters on the line, almost every single one of whom was just getting his feet wet as a freshman and sophomore. (The only senior starters heading into the fall are wide receiver/Olympic long jumper Marquise Goodwin and tight end Barrett Matthews, who may only be keeping the seat warm for redshirt freshman M.J. McFarland.) Blue-chip sophomores Malcolm Brown and Jaxon Shipley, already the default options at tailback and wide receiver last year despite assorted injuries, may both be on the verge of a breakthrough, unless they're supplanted by blue-chip freshmen Johnathan Gray and Cayleb Jones. Now that they've accumulated a few battle scars, the supporting cast as a whole – and this is especially true if you include the best defense in the conference – has at least as much potential as the 2008-09 outfits that put together a 25-2 record and back-to-back BCS bowl bids. Largely untapped potential, yes, but very much there, just under the surface.
What they obviously do not have is a reliable ringleader under center who can fully exploit that potential on a championship level, and the longer that Ash fails to separate from McCoy – or vice versa – the less likely it is that either of them are going to grow into that role. The schedule shapes up perfectly for an ongoing, on-the-job audition before a decision becomes a priority: The first two games are glorified scrimmages against Wyoming and New Mexico, followed by a steeper but still very manageable test at Ole Miss in week three, followed by an open date ahead of Big 12 play. If UT's not 3-0, it's not going to be because it hasn't settled on a full-time quarterback.
At that point, though, the 'Horns had better be ready to hit the ground running: The first three conference games are at Oklahoma State, back home against West Virginia and against Oklahoma in Dallas, a season-defining stretch that will either confirm Texas as a bona fide Big 12 frontrunner or confirm 2012 as another rebuilding year. There, the quarterback question could be decisive. If it still hasn't been answered by mid-October, don't be surprised if a few partisans start looking longingly at freshman Connor Brewer – or, for the diehards, looking ahead to the next would-be messiah, 2013 freshman Tyrone Swoopes – and wondering if it's time to hit 'Reset,' again.
Everything you need to know to watch and pick the Las Vegas Bowl on Saturday

Everything you need to know to watch and pick the Camellia Bowl on Dec. 16

Everything you need to know to watch and pick the New Mexico Bowl on Dec. 16
Everything you need to know to watch and pick the Cure Bowl on Saturday

Everything you need to know to watch and pick the New Orleans Bowl on Dec. 16

Bowl games are unpredictable, which means teams need to be on upset alert