Texas AD: Building brand the focus, not playing Texas A&M
Longhorn athletic director Steve Patterson said Tuesday that he was more interested in expanding his programs' 'footprint' than renewing its rivalry with the Aggies.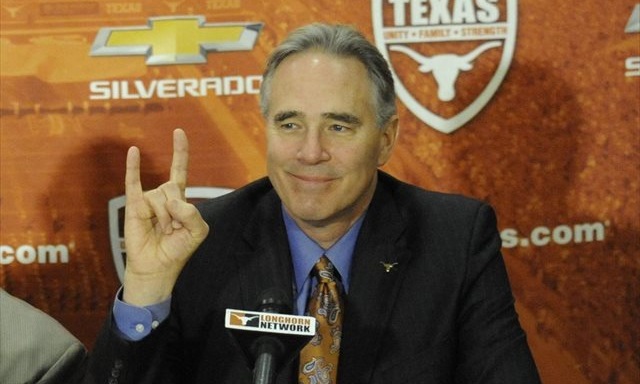 Texas athletic director Steve Patterson said in January that he wanted to expand the Longhorn brand's reach by playing sporting events in international locales. He's said a few times -- here's an example from February -- that as of now, he's not interested in renewing Texas's traditional rivalry with Texas A&M .
But he took things a small step further Tuesday, when per the San Antonio Express-News Patterson said the athletic department's focus should remain on expanding its geographic impact over worrying about meeting the Aggies again.
"[I'm] more concerned with growing the footprint," Patterson said. "Until there's a case made that it makes sense to play a game against another school in the state of Texas, I don't see us focusing on it."
Where the "footprint" is concerned, Patterson said that after talking to Texas alumni connected to the state's oil and gas industry, he had begun initial consideration of playing a Longhorn sporting event in the Middle Eastern city of Dubai. He said in January he was exploring the possibility of playing a Texas football game in Mexico City.
Patterson's new football coach, Charlie Strong, said last month that he was in favor of renewing the A&M series. But with both Patterson and Texas A&M officials sounding noncommittal, a renewal doesn't seem on the cards anytime in the near future.
Via Express-News writer Mike Finger, Patterson also took a shot at the Northwestern unionization effort: 
Patterson says if you want to play pro hoops, go the NBDL. "That's your place if you want to be an employee. This is not your place."

— Mike Finger (@mikefinger) April 1, 2014
Rhoads led Iowa State to three bowl games in seven years as head coach

The Georgia middle linebacker is one of the most valuable players in college football

Explaining my 2017 Heisman Trophy ballot and Jackson's tremendous season
Mayfield is the sixth Oklahoma player to win the Heisman since its inception

The Heisman Trophy will be presented to the best college football player this season

Army topped Navy for the second straight year in an absolute thriller in Philadelphia