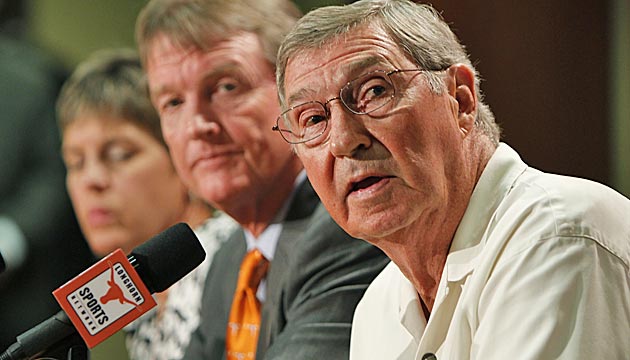 DeLoss Dodds doesn't think much of Missouri. (Getty Images)
Say this for DeLoss Dodds: He's very rarely been accused of not speaking his mind when it comes to issues surrounding his Texas athletic department, whether his mind happens to be thinking something diplomatic or not.
File this one under "not." Speaking to the Austin American-Statesman regarding a broad downturn in the athletic department's fortunes (despite it remaining the wealthiest athletic department in the nation), Dodds had this to say:
"We're going to have good years again," Dodds promised. "Our bad years are not that bad. Take a school like Missouri. Our bad years are better than their good years. But we've created a standard."
Mighty sporting of Dodds to name-check a school that can't respond to that kind of taunt on the field, since the Tigers left for the SEC last summer. Of course, it's entirely possible Missouri making that decision and hampering Dodds' efforts to re-stabilize the Big 12 (after Texas's Longhorn Network destabilized it in the first place) might explain his choice of punching bag.
That said, it must be noted that Dodds isn't wrong, necessarily. The entire premise of the Statesman article centers on Texas' football woes and lack of department-wide national championships; the Longhorns have gone 22-16 over the past three seasons, just signed a lackluster recruiting class by their standards, and the school has won only three national titles since 2005. Missouri football has gone 23-15 the past three seasons, just signed what might be the worst recruiting class in the SEC, and has won two national titles in the school's history.
So, yes, it's better to be Texas than Missouri, athletically speaking. But of course it is. Dodds' point is so obvious as to essentially be beside the point. A Longhorn athletic director boasting amid department-wide struggles that, "hey, at least we're better than Missouri" is the AD-speak equivalent of a bully tripping over his shoelaces in front of his bully pals, then slamming the locker shut of the first nerd he can find just because he has to feel better than someone.
In the end, of course, it's also just one more less-than-coy response from an AD who didn't become head of the wealthiest athletic department in the nation by being afraid to step on a toe or two. If Dodds was still on Missouri's Christmas card list, though, well, he's not any more.
For more college football news, rumors and analysis, follow @EyeOnCFB on Twitter, subscribe to our RSS Feed, college football newsletter, and get the Eye On College Football Podcast from iTunes. You can follow Jerry Hinnen on Twitter here: @JerryHinnen.