Texas AD Dodds on A&M: 'We get to decide when we play again'
Longhorns athletic director Deloss Dodds says former rivals will play 'sometime' but that it will be on his program's terms.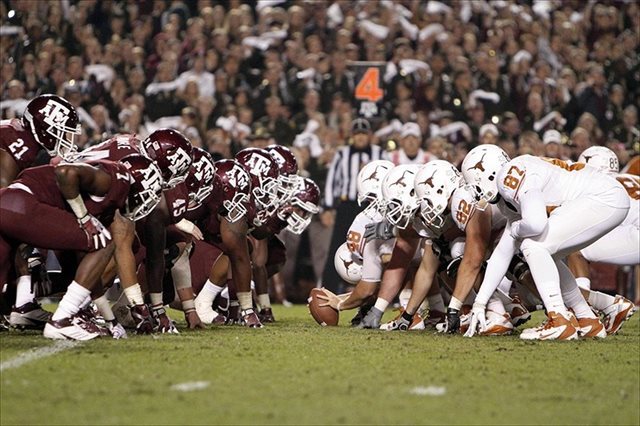 Attention Longhorns and Aggies fans hoping Texas and Texas A&M can overcome their recent hostilities and renew their 118-year-old rivalry series on the gridiron: We've got good news and bad news.
The good: Never-soft-spoken Texas athletic director Deloss Dodds told the Daily Texan Tuesday that he believed -- that he was "sure" -- the two teams would eventually play each other again, despite A&M's move to the SEC and the Longhorns' commitment to the Big 12. 
"I think we'll play sometime," Dodds said. "I don't know when it will happen or how it will happen, but I'm sure it will happen."
The bad: Dodds' comments about the terms under which the rivalry would be renewed won't exactly help smooth over relations with the powers that be in College Station.
"They're the ones that decided not to play us," he said. "We get to decide when we play again. I think that's fair. If you did a survey of our fans about playing A&M, they don't want to. It's overwhelming. I know. I hear it."
Aggie fans would respond, of course, that it's their program that has consistently said it would be happy to continue playing the Longhorns as a nonconference series after their move to the SEC, and that it's Dodds and Texas who discontinued it in response to A&M leaving the Big 12. Longhorn fans, in turn, would argue that if A&M really wanted to continue playing Texas, it wouldn't have left the Big 12 in the first place.
In the end, it's a matter of he-said-he-said, and the rivalry won't be renewed solely on Texas's terms or Texas A&M's. It's going to take a concerted effort on both sides -- and probably another few years between fans, administrators and others after the acrimony caused by the conference split -- to get the Longhorns and Aggies in the same stadium again.
Dodds can say he expects the rivalry to continue. But until the finger-pointing stops -- and it doesn't matter whether the finger-pointing is deserved or isn't -- the series won't be renewed.
Cristobal's first game at Oregon ended the same way Chip Kelly's did

Conner Manning and the Panthers dominated the Hilltoppers in the Cure Bowl

You can only go to the well so often before it dries up
The Trojans beat LSU earlier in the year and now have their first 11-win season as a FBS t...

Saban has never been a fan of the early signing period and made it clear that hasn't chang...

Paul Tyson is a three-star quarterback prospect for the 2019 recruiting class