Texas AD: 'The burn stays' for struggling Longhorns football
Texas football has similar resources to Alabama, and their coaches and athletic directors are the same age. But while the Tide has 35 wins and three national titles in the last four years, Texas has 22 wins during that span. But Texas AD DeLoss Dodds is determined to get Texas back on top.
• 3 min read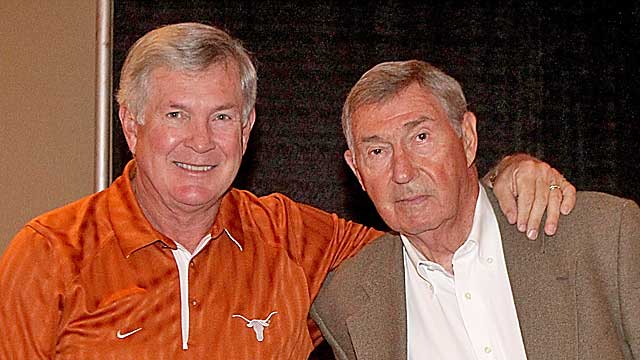 Dodds (right) believes some of Texas' recent struggles are cyclical and says the program is on the upswing. (Getty Images)
IRVING, Texas -- Not only are Alabama and Texas in the same revenue/tradition cul-de-sac, their athletic directors and coaches are the same age. Mal Moore and DeLoss Dodds are 73. Nick Saban and Mack Brown are 61.
Only one of those AD-coach combinations would be commended for its youthful approach right now. That's the narrative that comes with winning. Look at the zeal that they still show every day. Don't plop bowls of Werther's Originals on their desks. Not for Saban and Moore, owners of three of the last four national titles.
Alabama vs. Texas
Category
Alabama
Texas
Enrollment
33,602
38,463
AP titles
9
3
BCS title record
3-0
1-1
All-time wins
827
867
Stadium capacity
101,821
100,119
Heisman winners
1
2
2011-12 football revenue (per NCAA data)
$82 million
$103.8 million
Records since Texas lost to Alabama in BCS title game
35-5
22-16
With Texas barely averaging seven wins the last three years, it's easy to point to Dodds and Brown as out of touch, losing their edge as the years pass.
From the Big 12 athletic directors meetings near Dallas, I wanted to broach this stereotype with Dodds. Turns out it was already on his mind.
These aren't your 2005 Longhorns, and it's eating Dodds up.
"People don't think I have a burn about it," said Dodds about the three-year decline. "I have a burn about it. I want to win just like the kids do and the coaches do. The fans want it bad; we want it more."
Nobody felt the burn from UT's burnt-orange edges more than Brown, who got his soul stripped in a 63-21 loss to Oklahoma in the Red River Rivalry and nearly lost to Kansas two weeks later.
But Dodds said Brown has a burn that's strong enough to convince him that he's the right coach for UT.
"I see more of a burn. He wants it bad," Dodds said. "I've seen it since two years ago. We just got in a position where we didn't win as many games as we've been winning. We'll get out of it. I don't worry about getting out of it, but we need to do it quickly."
Texas isn't tolerating four straight years of underachievement, even if a Big 12 title is far from a guarantee in 2013. The league is balanced -- nobody overwhelming, just a bunch of solid teams. Is any team a lock for double-digit wins?
The Longhorns were allergic to tackling for parts of last season, so at least the defense should improve.
Dodds won't place a number on his expectations for wins in 2013, but he said two expectations haven't changed: UT is a place to chase national titles, and Brown has earned the right to still chase them.
"These things are cyclical," Dodds said of UT's recent struggles. "They are everywhere. I can look at kids coming to campus, the coaching staff, facilities, all those things -- we're fine. We need to play games and win games."
After three decades at UT, Dodds said he approaches his job the same way. The major difference now is his staff meets once a week for 30 minutes to talk about the Longhorn Network, which has a limited audience after two years but is what Dodds calls "maybe one of the top one or two things I've been associated with."
The network has long-term potential and is great exposure for the university but still lacks the backing of major TV providers such as Time Warner or DirecTV.
Maybe the network will mushroom whenever Texas football re-establishes its identity. Dodds doesn't plan to rest until that happens.
"The burn stays," Dodds said.
Many NFL-eligible juniors ignore advice provided by the league and risk going undrafted each...

Snyder died in Manhattan, Kansas, on Wednesday

Locksley joined Alabama's staff in 2016
Saban reportedly wants to hire Freeze, but there may be things keeping that from happening

Florida State-Miami will be on Oct. 6, and the Seminoles will play Clemson on Oct. 27

Weis Jr. was an offensive assistant for the Atlanta Falcons in 2017