Texas A&M AD on Manziel: 'There are things you have to learn'
Texas A&M athletic director Eric Hyman sounds as if he wants Johnny Manziel to tone down his social media antics.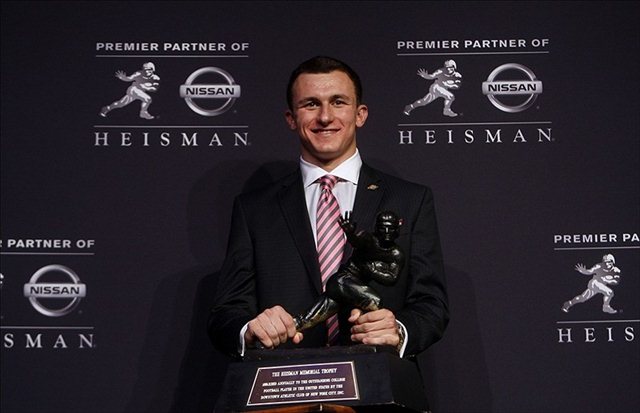 The Heisman Trophy means Johnny Manziel will have to meet a higher standard, Texas A&M AD Eric Hyman says. (US Presswire)
Johnny Manziel hasn't raised quite so many eyebrows away from the football field this young offseason as he did on it during his spectacular 2012 season, of course.
But the fact that he's raised enough eyebrows to require that disclaimer explains why Texas A&M athletic director Eric Hyman told the San Antonio Express-News Sunday he'd spoken to history's only freshman Heisman winner and his parents about his public image.
"It's [about] education, and we've got to help the family and Johnny with the transition into being a Heisman award winner," Hyman said. "There are things you have to learn, and we have to help him with that. ...
"[Heisman winners are] a special fraternity, but you also have to understand [Manziel] is 20 years old," Hyman said. "It's a tremendous responsibility -- but it is a responsibility."
Hyman's meeting with the Manziel family comes on the heels of a pair of widely circulated photographs -- one with Manziel displaying stacks of cash he allegedly (and legally) won at an Oklahoma casino posted to Manziel's Twitter feed, the other one of Manziel (legally) partying alongside his parents published at TMZ.
After Manziel's midsummer arrest on misdemeanor charges related to an off-campus fight (and the fake IDs in his possession), there's no question the photographs have not helped Manziel's party-hard reputation off the field -- a point driven home in not-so-subtle fashion by Mike Stoops' not-so-subtle radio jabs in Manziel's direction. 
So it's no surprise Hyman is looking to intervene before A&M's most famous, most popular player in recent memory -- and if he does keep his proverbial nose clean for another few seasons, likely ever -- issues a tweet or gets photographed in a manner he and the school really regret. Stoops' comments were inappropriate, but there was also a kernel of truth to them. After the Cotton Bowl, it seems all but certain the only person who can stop Johnny Football the quarterback is Johnny Manziel the 20-year-old. So it behooves Hyman and the coaching staff to take every possible precaution to make certain that misstep never happens.
Antonio Callaway and Jordan Scarlett are two of the nine players under investigation

The SEC released its 2018 schedule in full Tuesday afternoon, and it's dripping with intri...

The 2021 Chick-fil-A Kickoff Game will feature Louisville and Ole Miss
The Fornelli 50 ranks teams based on nothing but their performance in 2017

Penn State better have its eyes wide open with a trip to Iowa City on deck this weekend

Ohio safety Javon Hagan has a rather unique personal tradition during games