Texas A&M announces suspensions for DBs Everett, Raven
Two starters arrested in February on misdemeanor assault charges will sit for a combined game and a half, Texas A&M announced.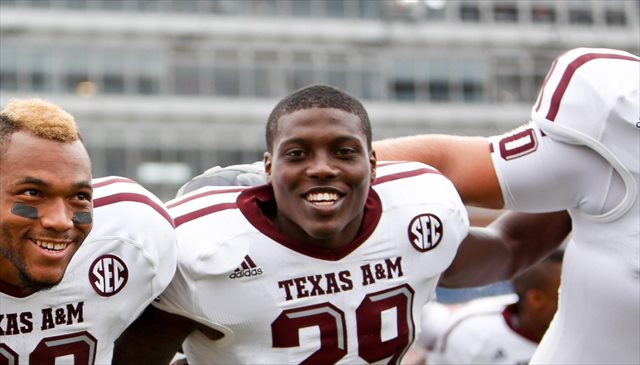 Texas A&M will be without two projected starters for a combined game-and-a-half after their April arrests, though when those suspensions might be served remains unclear.
Per GigEm247 and other outlets, Aggie athletic director Eric Hyman announced Saturday that junior cornerback Deshazor Everett would be suspended for half a game and junior safety Floyd Raven a full game for their roles in an April 30 incident. Hyman did not specify during which games Everett or Razor would serve the suspension.
Everett and Razor allegedly struck two men in the face in an apartment complex fight and were later arrested and charged with misdemeanor assault and criminal mischief. A car at the scene was also damaged, according to police.
Both players were suspended from the team during July.
Everett started 12 games for A&M during the 2012 season, finishing with 56 tackles and two interceptions -- one of them the famous game-clinching pick of AJ McCarron late in the Aggies' upset win over eventual national champion Alabama. Raven appeared in 13 games himself, collecting 16 tackles, and appears poised to replace safety Steven Terrell in the Aggies' starting secondary.
Even given both players' key roles in that secondary, it's hard to see the suspensions having any impact on the Aggies' season. They seem highly likely to be served in one of the two games leading up to A&M's home showdown with the Crimson Tide in Week 3, and neither Rice nor Sam Houston State should be a match for A&M, with or without the two suspended players. (One might guess Everett and Raven will sit for the Week 2 matchup with the FCS Bearkats, since the Aggies did specify that defensive tackle Kirby Ennis's one-game suspension would be served in the season opener against the Owls.)
That decision might not help Kevin Sumlin develop a reputation as a strict disciplinarian, but at least it means the team can put any uncertainty behind them -- and after all, Sumlin has some much bigger off-field issues to deal with at the moment.
Cristobal's first game at Oregon ended the same way Chip Kelly's did

Conner Manning and the Panthers dominated the Hilltoppers in the Cure Bowl

You can only go to the well so often before it dries up
The Trojans beat LSU earlier in the year and now have their first 11-win season as a FBS t...

Saban has never been a fan of the early signing period and made it clear that hasn't chang...

Paul Tyson is a three-star quarterback prospect for the 2019 recruiting class