Texas A&M, Kevin Sumlin treating Manziel like Johnny Forgotten
The Aggies believe they'll be just fine without Johnny Manziel, who was a prominent topic at SEC media day seven months removed from his last collegiate down.
• 3 min read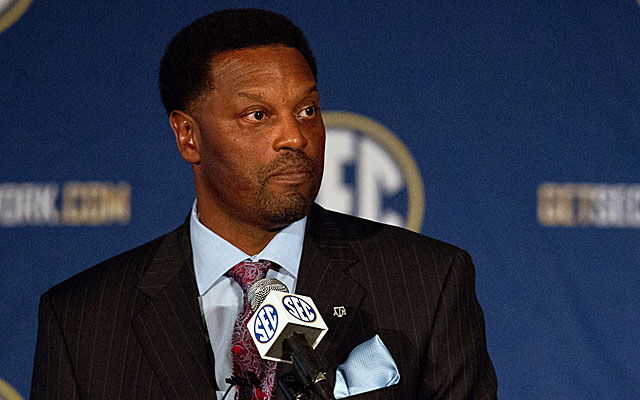 More SEC media days: SEC's new network world |  Latest from Birmingham
BIRMINGHAM, Ala. -- Kevin Sumlin couldn't resist.
"You guys got any Manziel questions?" Sumlin said sarcastically to a TV production crew in a back room at SEC media days.
Apparently Sumlin got at least two questions about his former quarterback, Johnny Manziel, in each interview room, including from the podium, where Sumlin refused to get sucked into the SEC vortex.
Oh, how Sumlin is trying to turn that page. Nearly seven months since Manziel played his last collegiate down, the Texas A&M Aggies still can't shake the ghost of the electric quarterback who won a Heisman and 20 games and no titles.  
Manziel and A&M are no longer JFFs. At least not while the Aggies are trying to create a new identity.
No way Sumlin was blindsided by Manziel questions. He knew they were coming. The Aggies, after all, are replacing a player people will remember for decades, though maybe the sheer volume of questioning surprised him.
Rather, the brush-off sent a broader message: His program is bigger than Johnny Football, and it hopes to win more without him than with him.
"For a media standpoint everybody's still hanging on that -- that's understandable," Sumlin told CBSSports.com. "As a team, they haven't been out there since January. Our guys get that. Everybody's looking for their next chance."
In four years as Houston's head coach and two years with the Aggies, how many times did a Kevin Sumlin offense finish outside of the top four nationally in total offense?
Once. That was 11th, in 2010.
Worst case, the A&M offense will be close to last year's production, whether freshman Kyle Allen or Kenny Hill are running it.
No doubt Sumlin has thought about that. In fact, that's exactly what he's thinking.
"At what point is it not just coincidence, I'll put it that way," said Sumiln in March while discussing his track record with quarterbacks, which includes work with Drew Brees and Case Keenum.
Sumlin got a new deal worth $5 million a year for his offensive prowess. He came into media day ready to be defensive because it's his job to push the 2014 Aggies. Sumlin is still pushing for his first conference title as a head coach, something that won't happen without more defensive help.
Maybe if Manziel and Sumlin had won a championship together, all parties would embrace the narrative. They won nine games last year. Barely beat Duke. Won the games they were supposed to and lost the ones they should have. An adequate, unspectacular season.
"We haven't accomplished what we need to accomplish," Sumlin said. "We have a ways to go. ... I understand there's not going to be another Johnny Manziel. That's part of it."
Manziel might be gone, but he leaves behind point-scorers all over Kyle Field. You just haven't seen much of them yet. Names such as Speedy Noil and Ricky Seals-Jones will be awfully familiar in about three months.
For all the defensive problems, the Aggies' D wasn't bad in 2012. It was just unmistakably bad last year. The Aggies would blitz seven and still couldn't create pressure.
But Sumlin says the defensive line can now play 7-8 capable linemen instead of 4-5, which is a start. The defense will be better -- by how much, still hard to tell.
The offense will be waiting. Left tackle Cedric Ogbuehi said he hears questions about Manziel every day, and though he doesn't mind answering because Manziel is a friend, the process can be tiresome.
The questions remind him, though: Nothing changes without Manziel. He wants to make sure of it.
"Air raid, lots of scoring, big plays," Ogbuehi said.
Meanwhile, Sumlin said he doesn't want to come off as rude, but admits he had to look ahead the moment he saw Manziel with receiver Mike Evans on the stage during the post-game Chick-Fil-A Bowl ceremony. He knew both were gone.
"I had moved on," Sumlin said.
To a new storyline.  
Schiano would have made $4.4 million in Year 1 with annual raises as part of a six-year de...

Dykes spent this season as an offensive analyst at TCU

The "Wyoming Wild Man" notched six tackles for loss as a junior in 2017
Zaycoven Henderson was charged with aggravated assault with a deadly weapon

Patterson is a former No. 1 recruit in the country

Baker Mayfield and two Sooner teammates made the first team