Texas A&M's Luke Joeckel writes letter to school, fans after declaring
If you're going to let a fan base down by heading to the NFL a year early, this is how you let them down gently.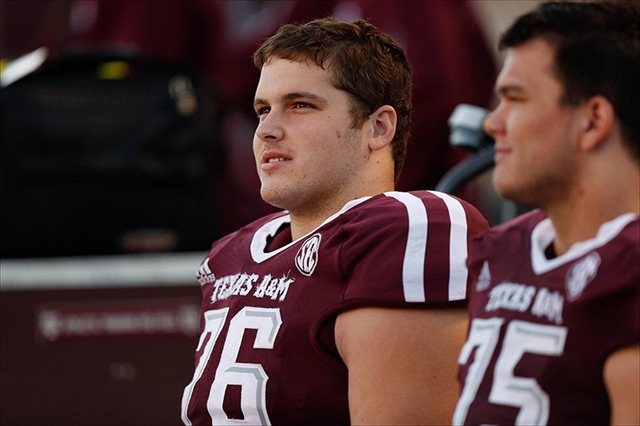 Luke Joeckel didn't want to leave College Station without saying goodbye. (US Presswire)
If Texas A&M had been able to convince both of their bookend tackles to return to what rivaled Alabama's as the best offensive line in college football in 2012, the white-hot Aggies might have entered 2013 as SEC (or even national) co-favorites.
Instead, Luke Joeckel has chosen to enter April's NFL Draft -- a decision most Aggies fans can understand, given that Joeckel is considered the top tackle in the draft and a strong possibility to go No. 1 overall. (Right tackle Jake Matthews has not announced a decision.) But even the most disappointed A&M supporter has to feel a little bit better about Joeckel's choice after the consensus All-American penned a letter to the Aggies faithful and the school at large, one he published on the official A&M football site.
It reads in part:
Dear 12th Man and Texas A&M University,

As you may have heard, I have decided to enter the 2013 NFL Draft and forego my senior season at Texas A&M. While I am excited about my future, I wanted you to know this was a very hard decision. To leave A&M, my brother Matt, my teammates, the coaches and the 12th Man is the toughest thing I have ever done. However, like graduating high school early to come to A&M three years ago, I feel like I again have an opportunity that I cannot pass up.

Before I leave, I want to take this opportunity to thank...

...The 12th Man - You are a major reason I chose Texas A&M. During the recruiting process, I realized that other schools and football programs didn't have the same spirit, support and character that we have here. Every Aggie player is lucky to represent you and I am proud of my three years playing for you.

...My teammates - This year, we were closer than ever. We had the season we did because we all had each other's backs and nobody doubted that. To Jake, Patrick, Cedric, Jarvis and the rest of the guys in that room, I am proud to be a Maroon Goon and thankful to call you my good friends and teammates. I'm also thankful to have had the opportunity to block for Johnny this year. I'm positive he's in good hands with the guys returning to the line next year.

...My coaches - I have been blessed to play for great coaches. Thank you for pushing me to improve in every practice and for leading us so successfully through our first year in the SEC ...

As I leave College Station to pursue my dream of playing in the NFL, know that I will be back often. Also know that I will do what I can to let everyone know how great A&M is. Hopefully, you feel I have been a good friend and served the 12th Man and University well ...

Gig 'Em!

Luke Joeckel
Dear other college football stars debating an early jump to the NFL: if you have to leave a devoted fan base behind to take advantage of a first-day opportunity, this is how you do it.
For more college football news, rumors and analysis, follow @EyeOnCFB on Twitter, subscribe to our RSS Feed, college football newsletter, and get the Eye On College Football Podcast from iTunes. You can follow Jerry Hinnen on Twitter here: @JerryHinnen.
McElwain will coach receivers and help coordinate the offense for the Wolverines

Nathaniel Watson Jr. was involved in a car accident that injured a passenger in early Febr...

The honorable Tom Fornelli presides over the ASU vs. UM case
Arkansas State is seeking $650,000 for a canceled home game last September due to Hurricane...

Friday Five is tackling the big questions this week

Two unnamed players are being investigated for an incident at an off-campus apartment