Texas booster calls Charlie Strong hire 'a kick in the face'
Texas billionaire booster Red McCombs bashed the hire of Charlie Strong in a radio interview on Monday.
• 1 min read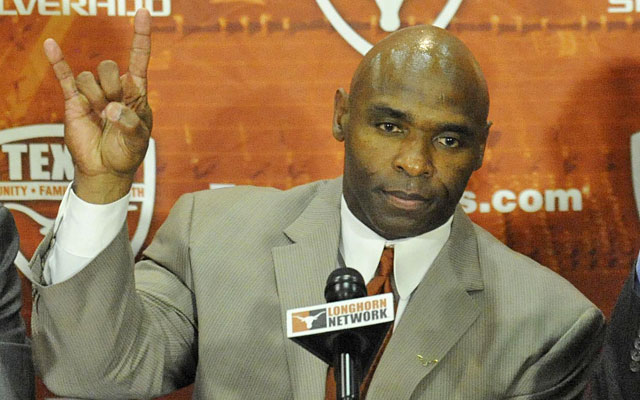 Texas officially announced the hire of Charlie Strong on Monday, but not all of the school's major boosters are on board with the former Louisville coach.
In an interview with ESPN 1250 in San Antonio, billionaire booster Red McCombs criticized the Longhorns' process and suggested that Strong is not on par with the type of candidate that Texas should be hiring to lead its football program. 
"I think the whole thing is a bit sideways," McCombs said via ESPN.com. "I don't have any doubt that Charlie is a fine coach. I think he would make a great position coach, maybe a coordinator.
"But I don't believe [he belongs at] what should be one of the three most powerful university programs in the world right now at UT-Austin. I don't think it adds up."
According to ESPN,  McCombs has donated more than $100 million to the school. His name is on the business school (McCombs School of Business) and he has a statue inside Darrell K Royal-Texas Memorial Stadium. McCombs is also the co-founder of Clear Channel Communications and the former owner of the San Antonio Spurs, Denver Nuggets and Minnesota Vikings.
In his comments to ESPN 1250, McCombs reflected on the hire of Mack Brown in contrast to Steve Patterson's hire of Charlie Strong.
"I think it is a kick in the face," McCombs said. "Beyond the fact of what actually happened. We have boosters that have a lot of knowledge about the game. When we decided to go get Mack -- from the time we decided to go get Mack to about 30 hours later to have a press conference here and it was done -- we had a lot of input before we went after him.
"So I don't know what the big rush was. I was kind of pleased that [Texas athletic director Steve] Patterson already said that he'd like to get it done in the middle of January. That seemed logical to me. I'm a team player, but I think they went about it wrong and made the selection wrong."
Every offseason there are boosters who want to be consulted and involved in a program's coaching search. But at Texas, those boosters have a little more name recognition and therefore a bigger platform if they are not pleased. Needless to say, it is not the best start for the Charlie Strong era in Austin.
Cristobal's first game at Oregon ended the same way Chip Kelly's did

Conner Manning and the Panthers dominated the Hilltoppers in the Cure Bowl

You can only go to the well so often before it dries up
The Trojans beat LSU earlier in the year and now have their first 11-win season as a FBS t...

Saban has never been a fan of the early signing period and made it clear that hasn't chang...

Paul Tyson is a three-star quarterback prospect for the 2019 recruiting class