Texas booster McCombs apologizes for comments on Strong hire
After calling the Charlie Strong hire a 'kick in the face,' Texas megabooster Red McCombs said he had personally apologized to the new Longhorns coach.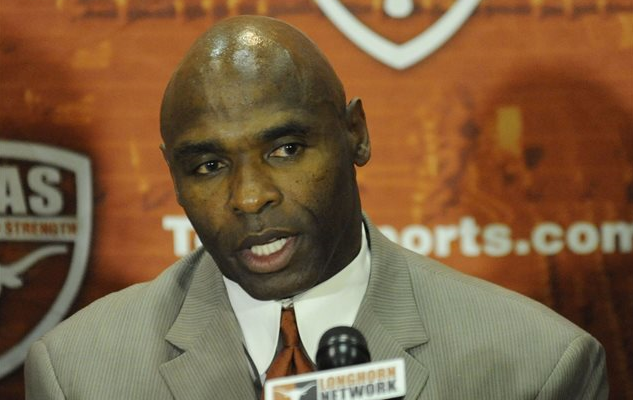 More Coaching Changes: Petrino calls L'ville 'destination job | Franklin to PSU
No one Texas could have hired short of Bill Belichick would have made everyone in Austin happy. But that didn't mean it wasn't still something of a shock to see Longhorn megabooster Red McCombs welcome Charlie Strong by calling the hire a "kick in the face" Monday, and suggesting Strong "would make a great position coach, maybe a coordinator."
McCombs apologized for those comments Thursday, telling the San Antonio Express-News he had spoken to Strong over the phone and cleared the air, telling Strong the new Longhorns head man had his "total support."
"I wanted to apologize to anyone that might have been offended by anything I said or did," McCombs said, adding that Strong told him no apology was necessary.
"He wanted my help and my support," McCombs said. "I told him I'd be happy to do it."
McCombs still couldn't help making a comment that might ruffle the feathers of some Strong supporters, explaining his comments by saying "my interest in this coaching issue was to see that we had one of the three best coaches in the United States," and expressing his interest in Jon Gruden -- not exactly (ahem) a kick in Strong's face, but also a subtle suggestion that Strong isn't among the best of the best.
Of course, that comment doesn't change the fact that Strong likely will have generous support from the former Minnesota Vikings and San Antonio Spurs owner; McCombs sounded genuinely hurt that his comments had been interpreted as racially motivated, and if McCombs truly cares about Texas -- the school he's donated upwards of $100 million to -- there's no point in further division behind the scenes.
But it's also fair to say that if McCombs was saying it, there's likely a few other boosters that have been thinking it. "Total support" or not, Strong would best be advised to win, and preferably soon. 
A corruption scandal involving assistant coaches and a shoe company is only going to get w...

Our computer model simulated every Week 5 college football game 10,000 times with surprising...

Conferences have been out to the West Coast to speak with Google, Amazon, Facebook and oth...
Rimington takes of the athletic department after Shawn Eichorst was fired

The Penn State running back was unstoppable in a win over Iowa

The Bottom 25 ranks the 25 worst teams in college football every week