Texas considering alcohol sales at football, basketball games
Athletic director DeLoss Dodds says if the school starts selling beer, it'll be because it's 'the right thing.'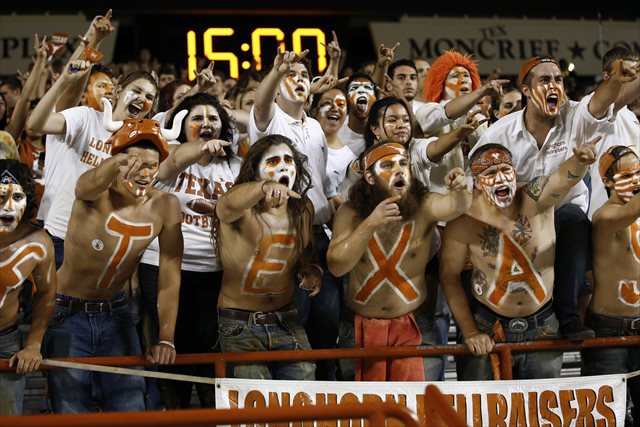 Louisville announced this week it's planning on offering fans $1 beers at the Cardinals' spring game in an effort to pack Papa John's Stadium. Texas' Darrell K. Royal Stadium doesn't have much in the way of attendance problems -- but that may not stop the school from pursuing its own alcohol sales plan this fall.
Texas athletic director DeLoss Dodds told the Daily Texan this week that the school is considering offering alcohol to fans at football, basketball and baseball games, with baseball likely the first sport to potentially have beer in the bleachers.
"We talk about it constantly," Dodds said. "There's something about it that doesn't quite feel right, but there's people telling me that it might be safer to serve it than not serve it. It's an issue. I guarantee you we talk about it at almost every other staff meeting."
Per the Daily Texan, the Longhorns would become somewhere in the neighborhood of the 20th FBS school to sell alcohol to the general football-going public and the third Big 12 team to do so. Iowa State and West Virginia already do, with the Mountaineers pocketing some $520,000 in 2011-12 after approving the sales policy in summer 2011.
Texas' greater levels of attendance could hypothetically mean greater levels of profitability than even the Mountaineers' take, but Dodds insisted that even more money for the nation's wealthiest athletic department wouldn't be the motivation behind such a decision.
"The thing I will say is that it's not a money thing," Dodds said. "If we did do it, people would say that they they're just doing it for the money. It's not a money issue. It's a do-the-right-thing issue."
West Virginia's experience with alcohol sales suggests offering beer may actually provide some of the safety benefits Dodds cited, and no one will blame Longhorns fans for not caring what Dodds' motivation was once they're enjoying their own personal (ahem) benefits of in-stadium beer.
HT: BurntOrangeNation.
Here are the early lines for big Week 5 games from Vegas

Georgia jumped four spots to No. 8, while Florida State dropped 14 spots to No. 25

Louisville and TCU get big-time bumps after conference rivals fell on Saturday
The Bulldogs jumped up to No. 7 after an emphatic win over Mississippi State

The Penn State running back made a case that he's a legit Heisman Trophy contender

The Nittany Lions came up huge when they needed to against Iowa