Texas DB apologizes for halftime retweet of fan asking him to transfer
Things didn't go well for Texas against TCU, and Texas DB Kris Boyd retweeted a few tweets sent at him at halftime.
• 1 min read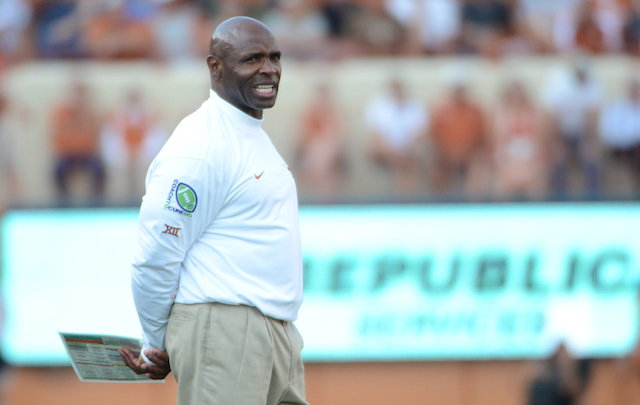 UPDATE: On Sunday, Kris Boyd apologized for the halftime retweet in a release sent out by Texas. 
"As I've had time to reflect on my actions, and after personally apologizing to my coaches and teammates, I would also like to extend my sincerest apology to all of the Longhorn fans adn family and everyone at UT! In NO way did I intend to be disrespectful or disloyal. I deeply regret my actions and want to reassure everyone that I am 100% committed to this team and program. I take pride and honor in being a student-athlete at The University of Texas. I promise everyone that I will learn and grow from this."
Original Story:
Texas was on the business end of a beatdown at the hands of TCU in the first half in Fort Worth, trailing 37-0 at the half -- after a 30-0 first quarter score. 
The Longhorns were dominated from start to finish of the first half and weren't in the best of spirits heading into halftime. In the locker room, it appears as though Texas freshman defensive back Kris Boyd hopped on Twitter and got off a couple of retweets. 
I'm not here to comment on a kid checking his phone in the locker room. Plenty of people are going to be mad about that, but I don't particularly care. It doesn't take long to check your Twitter mentions, so it's not like this means he isn't focused on the game.
It's more what he retweeted that should probably have people a little more concerned. 
The top tweet is fine. It's a nice supportive tweet with a little cow emoji and a heart. That's nice. (Update: It looks like that tweet has been taken down, but not the second one.)
The second one, well, not so much. That is a Texas A&M fan trying to get Boyd and Malik Jefferson to transfer to the Aggies. It's just a poor decision to retweet that one. 
This probably won't make Charlie Strong too happy, but he has bigger concerns right now than what his players are retweeting at the half. 
The storied rivalry between the Trojans and Irish is a top 25 matchup in 2017

Penn State hosts Michigan in its toughest test and arguably the best Big Ten game to date

Expert picks for the top games during Week 8 of the 2017 NCAA football season
Leach wants a rally outside Texas Tech's stadium for $2.5 million he believes he is owed

It's the beginning of the end for a number of teams with College Football Playoff hopes

Every season has early surprises, but which ones are most capable of finishing the job?