Texas fans are down on Brown, but who's capable of succeeding him?
If Texas makes a change it needs to do what it did in 1998, hire an accomplished up-and-coming coach. The thing is, there aren't that many around who are qualified or would come to Texas.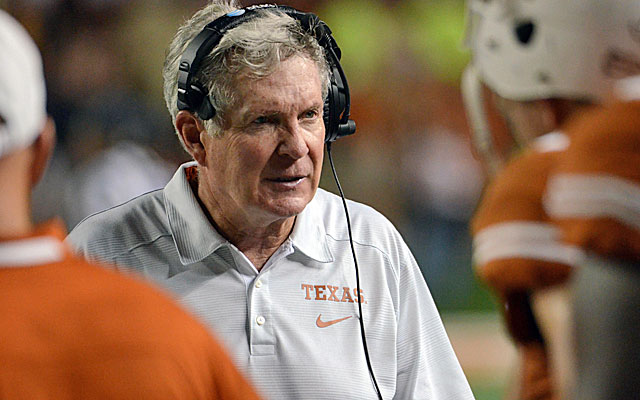 AUSTIN, Texas – The problem with replacing Mack Brown at Texas is finding another Mack Brown.
In 1998, when Texas zeroed in on North Carolina's 47-year old coach, there were desperate times. The product and the brand had diminished. The aloof and arrogant John Mackovic had driven the program into the ground. Forget not winning enough, Mackovic didn't work hard enough.
Times were different for coaches. The money wasn't as good. The profession was less cutthroat. Recruiting hadn't yet gone underground, dominated by unscrupulous, shadowy figures. The boosters, fans and media would give you a longer leash.
Brown's career was trending up back then -- six bowl appearances, a .600 winning percentage to go along with a winning personality. Upon arrival here, he righted a wounded program with class and diligence. Coach February was born. The nickname emerged from his boffo recruiting efforts that fueled a dormant giant.  
Under Brown, Texas has nine 10-win seasons and has earned seven top-10 finishes. Under Brown, Texas jumped Notre Dame to become second all-time in victories. The man himself is 16 wins short of Darrell Royal's school record for wins. On Saturday, with prospects supposedly dim, the third-largest crowd in school history showed up.
It's more than ironic in these troubled Longhorns times that Texas needs the next Mack Brown. They need another established calming influence. They need a young Mack. The problem is the current Mack is embattled and the end could be in sight. Texas dropped to 1-2 Saturday for the first time since 1998, Brown's first season at Texas.
"What I want to ask the fans is pull for our players," he said Monday. "They don't have to like me. I'm not very happy with me right now."
Change may be in the air, even anticipated, but it's a bad time to hire a coach at Texas because it's not 1998. The entire profession has changed. Brown started 1-10, 1-10, and 6-4-1 at North Carolina and lasted 10 years. He'd never get that chance these days.
Some of the best young candidates aren't leaving. The money is too big. Security is more important than climbing the ladder. Who needs all that crap with the media?
Boise State's Chris Petersen and TCU's Gary Patterson would be naturals for Texas. Patterson already is one of the nation's top-10 highest-paid coaches. Petersen gets spooked by the small group of beat writers in Boise. He would self-combust in Austin.
Texas being Texas, the next coach would have fit a narrow profile. The school probably isn't going to hire the 58-year old coach of Baylor. Art Briles, though, would inject a new brand of excitement with what is currently the nation's No. 1 offense.
The pool shrinks further. UCLA's Jim Mora has been a head coach for less than two seasons (although he has extensive NFL experience). Al Golden makes sense after leading Miami through its NCAA troubles. He has the look, the personality and the chops to take over. Rebuild jobs at Temple and Miami have been impressive. But if Bill O'Brien leaves Penn State for the NFL, you can forget about Golden. One of Penn State's first calls has to be to the former player and assistant under Joe Paterno.
Kirby Smart would be ideal if Nick Saban already hasn't told his defensive coordinator to hold tight, the job someday is going to be his at Alabama. Mark Richt? Greg Schiano? Steve Sarkisian? Some of the hottest names either haven't done enough or are too comfortable where they are.
And don't forget there may be a rebuild job waiting here. The time demands of the Longhorn Network for the next head coach have to be considered.
Texas remains one of the best coaching jobs on the planet. It's just that the planet is spinning a bit out of control at the moment.
"When you're 1-2 and the world is coming to an end," Brown said,  "you can't find enough friends to have pallbearers."
If the end is coming it could be long, drawn out, and complicated. The school refuted a Friday report that veteran AD DeLoss Dodds is stepping down at the end of the year. A huge reason, the Orangebloods.com report stated, was so that the new AD could hire his own guy as football coach.
The perfect guy for the job 16 years ago isn't outwardly affected. He's certainly more engaged than Paterno and Bobby Bowden were at the end. Brown fired Manny Diaz as defensive coordinator last week after an epic defensive meltdown against BYU. What may have been seen as a panic move by some is Brown's next step to getting things repaired.
"Coaches block out the future …," he said, "That's a real phobia. The total focus has to be on today."
And so today -- Monday -- Brown met the media for five hours, a weekly rotation that includes the Longhorn Network. He was no different than he has ever been after a loss. We have to get it fixed. We will get it fixed. A clouded future doesn't seem possible. The rumors? Screw 'em.
"Things have been swirling [around here] for 16 years," Brown said.
Given history, Texas isn't going to rid itself of its coach during the season. More likely -- if it came to that -- Brown would step down effective at the end of the season or an interim takes over in midseason. He could get another job in a heartbeat as long it's a place he can win and be happy with his right-hand woman, wife Sally.
But we're not there yet. Brown is not particularly interested in replacing Dodds. He's not a meetings guy. He's an action guy. Heading into Saturday's Big 12 opener, Brown is determined he can turn around a cruise ship that seems headed toward the rocks.
"We win the Big 12 championship, we'll be excited," he said following Saturday's depressing 44-23 loss at home to Ole Miss, "and that's all we've got left."
That's what it has come to for the 62-year old Brown. In a 30-year coaching career, he has won only two conference titles. This year's mediocre Big 12 could provide a lifeline, but can he win it? And would that be enough?
This week's opponent, Kansas State, is the antithesis of monied Texas. The Wildcats are hard-playing -- perhaps even hardscrabble. Bill Snyder has spent a quarter century building a top 25 program and winning two conference titles -- as many as Brown -- with a junior college foundation and without five-star recruits.
K-State has also beaten Texas five consecutive times.
Only six Longhorns have been selected in the last three drafts. The quarterback situation could fill 24-hour talk radio for a week. Two Heisman winners -- Robert Griffin III and Johnny Manziel -- are from Texas but didn't go to Texas. Since Colt McCoy was injured in the 2010 BCS title game, mighty Texas has struggled to field a consistent signal caller.
David Ash didn't play Saturday because of concussion symptoms. The quarterback is one of 19 returning starters, the largest total in the country. The Horns had seemingly turned things around after scoring on five straight possessions against Ole Miss. The Rebels then scored the game's final 30 points.
It marked the school's 18th loss in 41 games since that 2009 title run. Refreshed on Monday for another weekly battle with the media, his critics and a motivated opponent, Brown stood strong. If Coach February is in the December of his years, he wasn't showing it.  
"We've had the perfect storm here for everything to happen bad," Brown said. "We've got to grow up."
South Florida and UCF played the most entertaining game of the 2017 season

Bielema completed his fifth season with the Razorbacks on Friday

Friday's upset to Pittsburgh was bad, but it's not a season-ender for Miami
Pittsburgh pulled the upset of the weekend with a 24-14 win on Friday afternoon

Lock beat out some big-time names with 41 touchdown passes (and counting)

You can remove Patterson's name from your coaching wish lists