Texas lineman in limbo after BYU denies online course credit
Longhorn JUCO transfer Desmond Harrison used a BYU online course to become academically eligible, which BYU says violates its policy.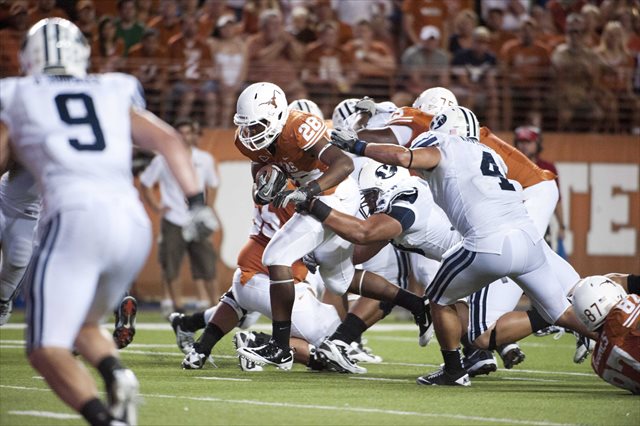 BYU and Texas could be heading to court to determine if Longhorn JUCO lineman Desmond Harrison is academically eligible -- only weeks before the two schools just-so-happen to meet on the football field.
The Deseret News reported on the current situation Thursday. Harrison is sitting out of practice after BYU ruled that the 2013 JUCO transfer could not claim academic credit for online courses completed through the BYU Independent Study program. BYU's policy is that student-athletes other than those from BYU are not permitted to the take the courses.
Without that credit, Harrison is ineligible -- but BYU says that its hands are tied.
"Before someone enrolls in BYU Independent Study, they do have to verify that they are not a student-athlete," BYU spokeswoman Carri Jenkins told the News.
Per Jenkins, Harrison has "petitioned" to have BYU's "action" overturned and the course credit -- which, reportedly, BYU initially approved before learning he was a student-athlete -- restored, along with his eligibility.
Not surprisingly, Texas is less than happy with BYU's decision. Per an Orangebloods.com report, the Longhorns are "ready to file a legal challenge to [the BYU-students-only] policy if Harrison's appeal is not successful." The report adds that "Texas will be able to show extensive evidence that student-athletes from schools other than BYU have been able to obtain course credit from BYU's [online] Independent Study to help them gain eligibility or to remain eligible since the policy went into effect in 2006*."
Horns247 reported Thursday that a BYU decision against Harrison's appeal might result in the NCAA intervening on Harrison's behalf, since its eligibility standards aren't necessarily dictated by individual school policy. Further muddying the waters is that Texas isn't accepting Harrison's BYU course credit directly; that credit was first approved by and applied at Harrison's junior college, Contra Costa College of California, who may be prevented from rescinding that credit by California law.
As for what that might mean for Harrison, it seems too early to tell. But time is short for the Longhorns, who even with five returning offensive line starters would love to have the 6'7", 305-pound tackle on their two-deep.
And unless the Orangebloods report is flat wrong -- and BYU has actually done a thorough job of cracking down on student-athletes elsewhere attempting to use the online program --the Longhorns should get Harrison back. If other student-athletes have gotten credit via the same method without BYU bothering to stop them (and, again, this remains a sizable "if"), then their decision doesn't appear to be about policy at all; it appears to be about someone in the department happening to notice that a student who'd used the program wound up signing with a BYU opponent. And if that is what this situation is about, then Harrison's ineligibility would be -- to put it bluntly -- grossly unfair.
*BYU's online program happens to be the one made famous -- or infamous -- by its appearance in Michael Lewis's "The Blind Side," when Michael Oher uses it to replace enough of his poor high school grades with better ones to become eligible. The program's policies were changed in the book's aftermath. 
Cristobal's first game at Oregon ended the same way Chip Kelly's did

Conner Manning and the Panthers dominated the Hilltoppers in the Cure Bowl

You can only go to the well so often before it dries up
The Trojans beat LSU earlier in the year and now have their first 11-win season as a FBS t...

Saban has never been a fan of the early signing period and made it clear that hasn't chang...

Paul Tyson is a three-star quarterback prospect for the 2019 recruiting class