Texas: Report that DeLoss Dodds stepping down 'absolutely not true'
A Texas spokesman said a report that athletic director DeLoss Dodds would retire at the end of 2013 was "absolutely not true."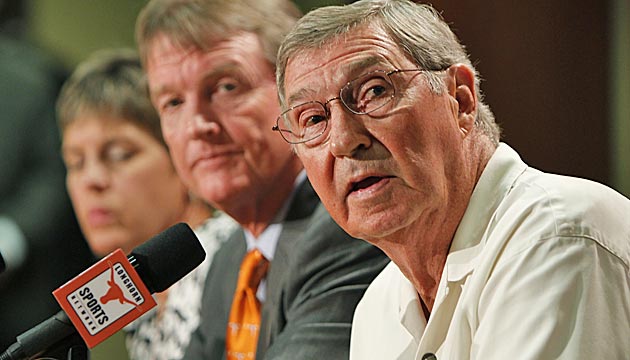 A Texas spokesperson has denied a report that Longhorn athletic director DeLoss Dodds would step down at the end of the year.
Chip Brown of Orangebloods.com reported Friday that Dodds would move from the athletic director's chair to a "consulting role" for the Longhorns by the end of 2013. But Longhorn spokesperson Nick Voinis told CBSSports.com's Dennis Dodd that the report was "absolutely not true."
Dodds himself would shoot down the rumor in a statement released Friday evening.
"I love my job, I love the people I work with, and I love The University of Texas," said Dodds. "I have no immediate plans to retire, but when I do, we will let everyone know well in advance so that people do not have to speculate. Now let's go out and beat Ole Miss."
A Dodds departure would hypothetically be another blow to Mack Brown's chances of retaining the Texas head coaching job. Dodds has consistently supported Brown -- including in the wake of Texas's embarrassing loss to BYU last Saturday -- despite the Longhorns' struggles in recent seasons. 
As A.D. for the most profitable athletic department in the NCAA and holder of his position for the past 30 years, Dodds has wielded substantial influence in college athletics, particularly within the Big 12, and has rarely been shy about sharing his opinions on pressing college football topics. 
The freshman is already on Heisman lists after throwing the walk-off score in the national...

These seven teams should make the most noise down the homestretch towards signing day

Air Force was forced to cancel 11 athletic events because of the 69-hour government shutdo...
Olson has a lot of the tools offensive coordinators want in a quarterback

The Tigers have a wealth of talent at their biggest position

Pineiro received the award for stopping an attack the morning of Oct. 15, 2017