Texas Tech TE Amaro to be sports media intern before NFL Draft
Texas Tech tight end Jace Amaro will be an unpaid sports intern for the San Antonio Express-News before the NFL Draft.
• 1 min read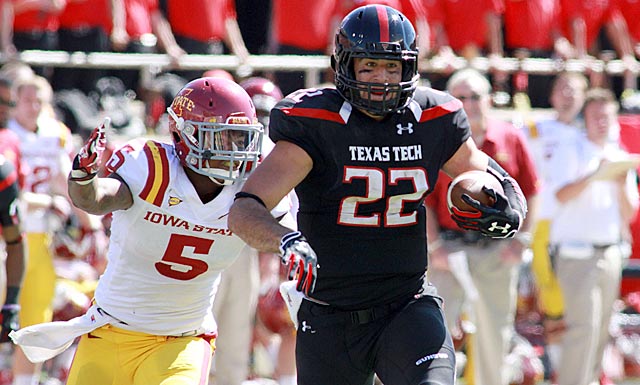 Jace Amaro 's record-setting season at Texas Tech provided him the opportunity to leave school early and enter the 2014 NFL Draft. But before the Red Raiders tight end joins the professional ranks, he will squeeze in one last internship.
Amaro will join the San Antonio Express-News as an unpaid sports intern for the next few weeks. The future draft pick is eyeing a potential career as a sports analyst, and he will assist the paper with high school football coverage.
"For the next few weeks, I'll be on the other side of the interviews," Amaro wrote in his first piece for the Express-News. "It will be different, and a lot of fun seeing what athletes have to say. I'll be at the U.S. Army All-American Bowl, and these players are going to mumble and stumble a bit like I did."
Amaro recorded eight catches for a team-high 112 receiving yards in Texas Tech's upset of Arizona State in the Holiday Bowl. The performance notched Amaro in the FBS record books with 1,352 receiving yards, the most ever for a tight end. The previous record (1,329) was set by Rice tight end James Casey in 2008.
CBSSports.com currently has the 6-foot-5, 260 pound tight end is ranked as the No. 27 overall prospect -- No. 2 tight end behind North Carolina's Eric Ebron -- in the 2014 draft class. Amaro is projected as a first or second round draft pick, but he is already considering life after football.
"I'm 21 years old, but I also have to start thinking about my future after my playing career is over," Amaro said. "Whenever I'm done playing football, I'm not going to sit on a boat fishing every day. It's inspiring to see players make the transition into media after they're done playing."
Rhoads led Iowa State to three bowl games in seven years as head coach

The Georgia middle linebacker is one of the most valuable players in college football

Explaining my 2017 Heisman Trophy ballot and Jackson's tremendous season
Mayfield is the sixth Oklahoma player to win the Heisman since its inception

The Heisman Trophy will be presented to the best college football player this season

Army topped Navy for the second straight year in an absolute thriller in Philadelphia