Texas turns to Applewhite to take on its latest offensive identity crisis
After two years, nine losses and countless quarterback changes, the offense Bryan Harsin bequeaths to his successor is as far from a coherent identity as it has ever been.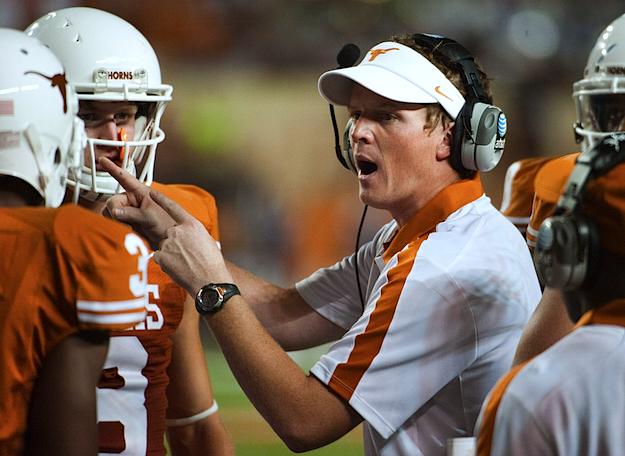 Former Texas quarterback Major Applewhite is taking over primary play-calling duties. (US Presswire)
The Alamo Bowl on Dec. 29 will mark the end of Texas' 15th season under head coach Mack Brown, and the best of those seasons have been defined by an unmistakable identity on offense. Initially, Brown lifted the Longhorns back into the national elite on the indefatigable legs of two traditional, I-formation workhorses, Ricky Williams and Cedric Benson. Vince Young took the offense to another level operating out of shotgun spread sets, the catalyst for a 20-game winning streak, back-to-back BCS wins and, in 2005, Texas' first national championship in nearly four decades. Adapting the spread from Young's legs to Colt McCoy's arm produced a nearly identical run in 2008 and 2009. Williams won the Heisman Trophy, Young and McCoy both finished as runners-up and Texas won more games in Brown's first 12 seasons than any other team in the nation.
Brown's offensive coordinator for all 12 of those seasons was an old colleague, Greg Davis, who -- adaptability and winning percentage notwithstanding -- was routinely maligned for his lack of imagination, eventually fired on the heels of a shocking 5-7 disaster in 2010. (He's now being maligned for his lack of imagination at Iowa.) As of Tuesday night, Davis' successor in that role, Bryan Harsin, is on his way to Arkansas State to take over as head coach. But despite the ostensible promotion, he's leaving with the reconstruction in Austin only half-finished, at best: After two years, nine losses and countless quarterback changes, the offense Harsin bequeaths to his successor as the primary play-caller, former Longhorns quarterback Major Applewhite, is as far from a coherent identity as it has ever been.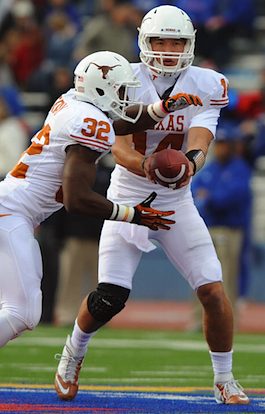 It's not only that the ongoing, post-McCoy malaise has failed to produce another reliable headliner from a pipeline of touted recruiting classes. (Junior lineman Trey Hopkins, announced last week as a second-team All-Big 12 pick, is the only offensive player to earn an all-conference nod from opposing coaches since 2009, first or second team.) At this point, the system has endured so many phases -- from spread passing to downhill, power-running to the zone read, to a grab-bag of all of the above -- it's still a mystery who that headliner might be, or how he's going to emerge.
The obvious candidate for anyone watching the Horns this year was sophomore quarterback David Ash, though he was as maddening in his first season as the full-time starter as he was promising.
On paper, the 2012 offense was the best in Austin since 2008, surpassing even the 2009 attack that played for the BCS title in terms of yards per game, yards per play, third-down percentage, giveaways and almost every other conventional category. At one point early in the season the Longhorns went over 40 points in four consecutive games against New Mexico, Ole Miss, Oklahoma State and West Virginia, and later hung 56 on Baylor.
For every explosive outing, though, there were also dismal afternoons like the one against Oklahoma, when Texas managed just eight points in the first three quarters of a 63-21 debacle -- the first definitive sign this team was still a long way from turning a corner after the disappointments of 2010 and 2011. Two weeks later, at Kansas, the Longhorns trailed the hapless Jayhawks 14-7 at the end of the third quarter, and were forced to rally for the winning touchdown in the final minute of the fourth to avoid a humiliating upset.
On Thanksgiving, they committed four turnovers and found the end zone only once, in the fourth quarter, in a 20-13 flop against TCU. That was the sixth game Texas has dropped since 2010 as at least a seven-point favorite -- all six at home -- and brought the momentum of a four-game winning streak to a screeching halt.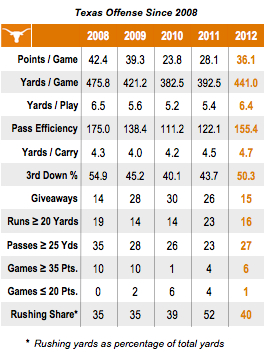 In both of those games, Ash was temporarily benched for junior backup Case McCoy, a regression to the same frustrating revolving door that defined the team's stagnation in 2011. Against Kansas, McCoy came on to lead two late touchdown drives, including the game-winner, but with the same opportunity against TCU he served up an ugly, floating interception to clinch the loss. Filling in for an injured Ash in the regular season finale, McCoy was picked off twice more by Kansas State. But if Ash is in no danger of being permanently supplanted by McCoy, after 16 career starts, he's still far from entrenched.
The running backs, while boasting enviable depth, have been every bit as inconsistent: Out of three blue-chip candidates -- sophomores Joe Bergeron and Malcolm Brown and freshman Johnathan Gray -- none emerged as a reliable, every-down workhorse for more than a game or two at a time, and only then against the most forgiving defenses; the ground game as a whole was held below 3.5 yards per carry in all four losses. Five full years have passed since a UT back has even come close to a 1,000-yard season.
The good news for Applewhite is that the current lineup is still relatively young: Barring any unexpected attrition between now and September, the 2013 offense will return both quarterbacks, the top four running backs, four of the top five receivers and all five regular starters on the offensive line. The 2013 recruiting class will feature one of the most hyped incoming quarterbacks in the country, Tyrone Swoopes, who has drawn explicit comparisons to Vince Young. Applewhite has been on staff for five years, and carried the title of "co-offensive coordinator" for the last two.
Just like this year's lineup, it will be pegged by just about everyone next fall for a breakthrough after another year of growing pains. All the individual pieces are there, on paper. If things go well in the bowl game, the enthusiasm might lift the roof off the Alamo Dome.
Just like this year's lineup, though, all future returns are based on assumptions about the Longhorns' potential, not their results, which have continued to lag behind. If Ash turns a corner as a junior, the record will likely follow; ditto whichever of the gifted young running backs can stay healthy long enough to become a week-in, week-out anchor. But the windows on their careers, and on fans' patience, are closing fast.
From Chip Kelly to Billy Napier, did these schools and coaches make the right calls this silly...

SportsLine's computer model simulated every college bowl game 10,000 times, with surprising...

Everything you need to know to watch and pick the Boca Raton Bowl on Tuesday
College football recruiting begins earlier than normal with a National Signing Day in Dece...

Getting Leavitt back was obviously high on Cristobal's list of priorities

Cristobal's first game at Oregon ended the same way Chip Kelly's did